Fruit Ninja
FX2

TouchFX
Touchscreen
Video Game

Optional Ticket Redemption !



---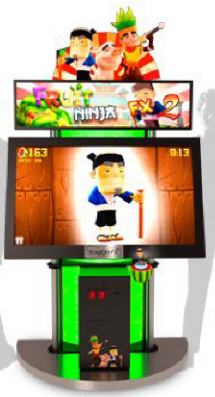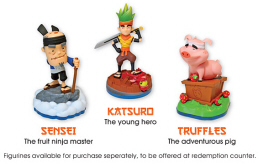 $ 8475 !
(1 Player)

$ 16575 !
(2 Player)

$ 22475 !
(3 Player)




Fruit Ninja FX2 Arcade Touchscreen Video Game
With Ticket Redemption Feature - Newly updated version of the original Fruit Ninja FX Arcade, the FX2
adds new blades, fruits, visuals and the Pomegranate bonus ! Players can add (optional) characters to the
game using small figurines purchased at your redemption counter, which are placed on the "watermelon" stand on the front of the cabinet to select the character to play with

Players quickly swipe fingers across the touchscreen to slash and splatter fruit like a true ninja warrior ! But they need to be careful of bombs - they are very explosive
to touch and will put a swift end to their juicy adventure!

TouchFX offers players the opportunity to experience popular and future iPhone games on its "super-sized" multi-touch monitor, with (6) simultaneous touch points
that are instantly recognized on screen, allowing a unique and "super-fun" two-handed video game play experience!

Fruit Ninja FX2 Video Arcade Game Features:

▪ Fast, Fun, Intuitive and Quick Touchscreen Game Play !
▪ New Optional Figurines For Special Character Play !
▪ Stunning Cabinet Design Draws Attention !
▪ Supersized Multi-Touch Screen Experience !
▪ Ticket Redemption Option Can Be Turned On or Off
▪ Customizable Ticket Redemption Reward Structure

BONUS ! All 2 and 3 Player Models come standard with
all screens playing Fruit Ninja FX, but you can have any combination of TouchFX Games installed by request !



Fruit Ninja FX2 Game Brochure



TouchFX Series Service Manual



Fruit Ninja FX2 Factory Video



Optional Sensei/Katsuro/Truffle Figurines - Add $125



Product Condition : Brand New In Factory Box


Factory Warranty : Click For OEM Warranty Info


Power Requirements : 110 Volts | Optional 220 V


Monitor : 46" HD LCD Color Touchscreen Display


Players : 1, 2 & 3 Player Touchscreen Video Games

Fruit Ninja FX2 1 Player Touchscreen Dimensions :


Height: 106", Width: 48", Depth: 24", Weight: 351 Lbs

Fruit Ninja FX2 2 Player Touchscreen Dimensions :


Height: 106", Width: 50, Depth: 50", Weight: XXX Lbs

Fruit Ninja FX2 3 Player Touchscreen Dimensions :


Height: 106", Width: 50, Depth: 50", Weight: 701 Lbs




Frightfearland

47" Deluxe Cabinet Model

Video Arcade
Shooting Game



---



FACTORY LEAD TIME 3 - 5 WEEKS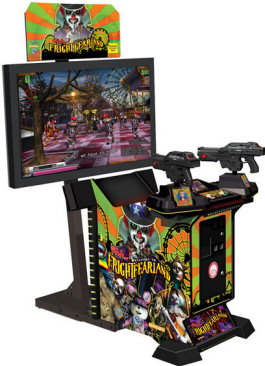 (Shows Standard & Deluxe Models)




$ 7975 !




FrightFearLand Deluxe 47" Video Arcade Game
FrightFearLand is a very exciting new video light-gun shooter arcade game from Taito and Global VR, and is actually the sequel to Taito and GameWax's "Haunted Museum" game, called "Haunted Mansion 2" in Japan.

FrightFearLand revolves around the weird disappearance of 100 people in a nameless city, where players become
a "Special Agent', who investigate the disappearances.

The Deluxe Model of FrightFearLand comes with (2) Force-Feedback Guns, a very unique LED "Edge-Lit" Control Panel, plus a eye-catching 3D Marquee and
larger 47" HD Flat Panel Display - And Deluxe model owners can add a additional TV or flat panel monitor
that tracks live gameplay, in order to attract attention
to the game, and also allow spectators a better view.

The primary enemies the player will face throughout the game in FrightFearLand are some very creepy, scary and funny "Killer Clowns", which will remind some players of the great play found in the older "CarnEvil" video game.

There are barrels, boxes and other objects for players to shoot at, pick-ups that players can shoot for points, along with "ammo pick-ups" and hostage s- When a hostage is saved, the game shows the name of the person saved and will track that. There is no reload feature -how many bullets you have is shown next to the target reticule on the screen and you will find many ammo pick-ups as you play.

FrightFearLand 47" Model Video Game Features:

• Reliable Force-Feedback Gun Action !
• Unique Edge-Lit Control Panel !
• Unique Eye-Catching 3-D Marquee
• Back-Lit Speakers That Enhance Game Play !
• (15) Game Levels + One Bonus Level !
• (12) "Mini-Game" Missions + 6 "Boss" Characters
• (3) Different Game Endings, Depending On Gameplay
• 1 Player or 2-Player Cooperative Gameplay
• Selectable Game Difficulty Levels



FrightFearLand
Games Brochure

FrightFearLand
Operators Manual

FrightFearLand 47" Monitor
Manual

FrightFearLand
Live Games Video
(Shows Standard & Deluxe Models)

Optional 220 Volt Power Conversion - Add $275



Product Condition :
Brand New In Factory Box


Factory Warranty :
Click For OEM Warranty Info

Power Requirements
: 110 Volts | Optional 220V

Monitor
:

47" High Resolution LCD Widescreen


Players

:

1 - 2 Player

Video Arcade Shooting Game



FrightFearLand 50" Deluxe Arcade Game Dimensions :


Height: 85", Width: 52", Depth: 57", Weight: 446 Lbs