JVL Echo

Countertop
Touchscreen
Video Game

Commercial or Free Play Use

Non-Coin, Coin
& DBA Models





---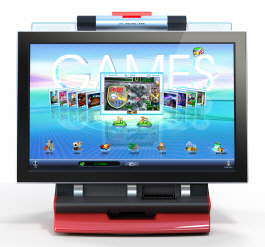 (Shows Very Similar JVL Encore Model)





$ CALL !
(Non-Coin)

$ CALL !
(DBA + Coin)




JVL Echo
Touchscreen Video Bar Game
- The World's FIRST High Definition Countertop Video Game Entertainment Center that delivers TRUE HD QUALITY !

Experience brilliant HD Game Graphics on the Encore's
new Super Bright 22" HD LCD Widescreen Monitor, with
an new extra-wide viewing angle, and a incredible new sound system that enhances video game play anywhere !

The JVL Echo comes with iTouchHD3 + 11 software
with more than 150 games in seven stimulating and
entertaining categories, plus iTouch11 is now available
in over seven different languages including English
Spanish, Italian, French, German, Polish and Russian !



JVL Echo Countertop Video Game Features:

■ First Intuitive Dynamic 3D Graphical User Interface (GUI)
■ Super Bright 22" 16:9 High Definition LCD Wide Screen !
■ High-Fidelity Sound System : 25 Watt + 4 Way Speakers
■ Powerful Built-In Subwoofer For Bass-Thumping Sound !
■

Fully Adjustable /

Customizable

Game Settings / Volume


■ High Performance Game Board w / Dedicated 3D Engine
■ Enhanced Thermal Design Reduces Overheating / Noise
■ Front Access For Easy Maintenance Of Components
■

Online Management Software /

Touch and Win Ready
■ Can Make Your Own Custom Advertising Screens !

■ High Speed 4GB Digital (SD) Card Storage Media
■ DBA / Coin Model Takes Quarters and $1 / $5 Bills


And the Echo, like all JVL Touchscreen Games uses
Non-Volatile Flash Memory, which means NO Hard
Drives, NO CD-ROMs and NO moving parts to break !

Game set up allows you to control all game options,
including

free play mode f

or home use and ability
to turn on or off any "adult themed" games at any time.



JVL Echo Game Brochure

JVL Echo Service Manual

iTouch 11 Software Brochure

iTouch 11 Software Games List

iTouch 11 HD3 Game Video Review

JVL Echo Countertop Demo Video
(Shows Very Similar JVL Encore Model)

* PLEASE SPECIFY MODEL NEEDED (NON COIN,
COIN OR DBA + COIN) AT THE TIME OF ORDER



Optional 220 Volt Power Conversion - Add $CALL

Product Condition : Brand New In Factory Box


Factory Warranty : Click For OEM Warranty Info


Power Requirements : 110 Volts | Optional 220V


Monitor :
22" LCD Wide Touchscreen Monitor

Players : 1 to 2 Player Countertop Bar Video Game:

JVL Echo Touchscreen Bar Video Game Dimensions :


Height: 21" Width: 22", Depth: 15", Weight: 65 Lbs