Pac-Man's
Pixel Bash Cocktail Table

19" Monitor
Cocktail Table

Non-Coin Home Free Play Model



---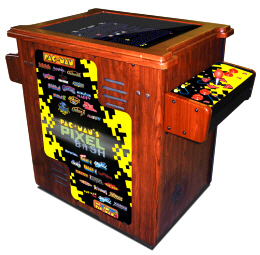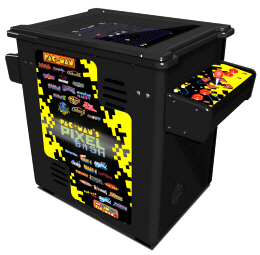 $ CALL !


Pac-Man's Pixel Bash Home

cocktail Table

Model Video Arcade Game

- This brand new and updated
Pac Man "Pixel Bash" Home Cocktail Table is packed with

32

classic 80's video arcade games and made by

Namco Bandai

, the original manufacturer of

Pac Man Arcade

!
Comes in two colors : Woodgrain and Black Color

Relive your past, and the glory days of the arcade in your very own home !! Gather around with friends and family
to experience the look, sounds and feel you can only get with the real thing - Share old memories and make new ones for years to come, and introduce the young ones
to these (32) Officially Licensed Classic 1980's Video Games, just like the ones you played in the Arcades !

Comes with (32) Classic 80's Video Arcade Games :

Pac-Man (1980), Pac-Man Plus (1982), Ms. Pac-Man (1981), Dig Dug (1982), Dig Dug II (1985), Galaga (1981), Galaga '88 (1987), Galaxian (1979), Super Pac-Man (1982), Super Xevious (1984) PLUS these games :



Baraduke

(1985),

Bosconian

(1981),

Dragon Buster

(1984),

Dragon Spirit

(1987),

Gaplus

(1984),

Grobda

(1984),

Hopping Mappy

(1986),

King & Balloon

(1981)

Mappy

(1983),

Metro-Cross

(1985),

Motos

(1985)


Pac & Pal

(1983),

Pac-Mania

(1987),

Rally-X

(1980),


New Rally-X

(1981),

Rolling Thunder

(1986),


Rompers

(1989),

Sky Kid

(1985),

Sky Kid Dlx

(1985),

Splatterhouse

(1988) and

Tower Of Druaga

(1984)





19" Commercial LCD Video Monitor

- This

Non-Coin

Pac-Man includes a

simulated, non-working

coin mech

on

the front of cabinet for "realistic" looks only.





Pac Man's Pixel Bash Cocktail Flyer

Pac Mac's Pixel Bash Cocktail Manual

Pac-Man's Pixel Bash Cocktail Video

Optional
220V Power Conversion - Add $CALL

Product Condition

: Brand New In Factory Box


Factory Warranty : Click For OEM Warranty Info


Power Requirements : 110 Volts | Optional 220V


Monitor : 19" LCD Color Monitor


Players : 1 - 2 Player Classic 80's Video Arcade Game


Pac Man's Pixel Bash Cocktail Table Game Dimensions :


Height: 30", Width: 21", Length: 37", Weight: 175 Lbs



Pac-Man
Battle Royale
Pedestal

Coin Operated
or Free-Play




---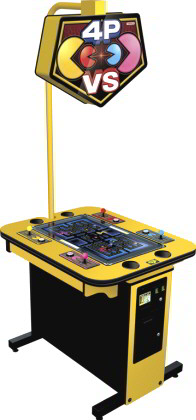 $ CALL


Pac-Man Battle Royale Pedestal Model Arcade Game
Pac-Man Battle Royale is the first four player competitive Pac-Man arcade game every made ! The original Pac-Man game concept has been given a wild and carnivorous
game twist - Eliminate your opponents by eating them,
and the last player standing wins the round !

When players eat a power pellet, they power-up by doubling in size and increasing in speed. Once powered
up, they are now able to eat non powered blue players
and ghosts. Players of the same size simply bounce off each other. Players can also be eliminated by running into ghosts if there aren't any powered up players. Eating a piece of fruit or all of the pellets resets the maze with a fresh new set of power pellets. At the end of the game, statistics are displayed for each players such as "Won Most Rounds" and "Ate Most Pac-Man" - This awesome new game is simple, competitive, and highly addictive !!!



Pac Man Battle Royale Brochure



Pac Man Battle Royale Service Manual



Pac-Man Battle Royale Live Video



Optional 220V Power Conversion - Add $CALL



Product Condition : Brand New In Factory Box


Factory Warranty : Click For OEM Warranty Info


Power Requirements : 110 Volts | Optional 220V


Monitor : 32" LCD Widescreen Flat Panel Color Monitor


Players : 1 - 4 Player Cocktail Video Arcade Game

Pac-Man Battle Royale Cocktail Arcade Game Dimensions:


Height: 90", Width: 35", Length: 45", Weight: 366 Lbs