Pump it Up !
XX 20th
Anniversary
LX Model


20th Anniversary PIU LX-XX Model
Video Arcade
Dance Machine





---







Pump It Up XX 20th Anniversary Edition Dance Arcade Machine - Pump It Up XX is Bigger, Better and LOUDER than any PIU before it ! The original Pump It Up, released in 1999, became a huge global success and
pop culture icon, which commands a very large and zealous fan base - With the new Pump It Up XX 20th Anniversary Game, Andamiro introduces several new features, like "Renewals" for Song / Step Difficulties
and over 100 "Reward Titles" - Both Renewals and Reward Titles are key parts of the new PIU game interface. Renewals allow players to continue (or "renew") their dance sessions where they left off,
and Reward Titles are titles assigned to a player's
PIU User ID; like "Advanced," "Specialist" or "Newbie,"
among many others. The PIU-XX even rocks a brand
new "Online Matchmaking System", which can match players of similar abilities from around the world !

The World's #1 Dance Simulation Game celebrates over
20 years with a brand new, enhanced game interface which makes it easy to learn, fun to play but difficult to master, which encourages repeat plays and visits - And comes with tutorials for beginners so they can learn how to play quickly ! The 20th Anniversary PIU comes in
a very eye-catching cabinet with brilliant new light show upgrade, a large, crystal-clear, mesmerizing 55" High Definition HD Graphics Screen Display, (4) High-Output Speakers and (2) Massive Subwoofers, to offer players the very "best-in-class" sounds and the biggest song list ever for a new PIU release, with 100 + new songs and 500 + in total, the largest of any PIU ever ! Operators and fans can also expect new song updates six times a year. And the PIU-XX comes with a Integrated Camera System, and Andamiro's "Online Matchmaking System" to help connect players of similar abilities to challenge each
other ! Many game modes are available, including the
"Rival System", "Auto Velocity", "Random Train" + Rank modes, and language support includes English, Spanish, Portuguese, Chinese, and Korean. Players also have the ability to purchase Andamiro's "AM.PASS" Player Cards
to keep track of their games, progress, scores and to
login to their own account - (10) Cards are included.

Pump It Up 20th Anniversary LX-XX Game Features

▪ (2) Powerful Subwoofers and (4) Tweeter Speakers !
▪ Powerful 1200 Watt Professional Sound Amplifier !
▪ Large 55" HD Color Monitor + Bright Marquee Light Bar
▪ Four (4) Modes of Play + "Easy Mode" for Beginners
▪ Hip Hop, Dubstep, Techno Drum, Bass, Pop & More !
▪ 100 + New Dance Songs - Over 500 Songs In Total !
▪ New Integrated Camera System + RFID Card Reader
▪ Online Matchmaking System Matches Like Players !

Pump It Up XX Information Page

Pump It Up XX Game Brochure

Pump It Up XX Service Manual

Pump It Up XX Factory Trailer 2

Pump It Up XX New Song Samples

Optional AM PASS Player Cards - Add $CALL
Optional 220 Volt Power Conversion - Add $CALL

Product Condition : Brand New In Factory Box
Factory Warranty: Click For OEM Warranty Info
Power Requirements : 110 / 220 Volts | 1200 Watts
Monitor : 55" HD Widescreen Color Display
Players : 1 to 2 Player Dance Video Arcade Game

Pump It Up 20th Anniversary LX-XX Model Dimensions :
Height: 94", Width: 80", Depth: 66", Weight: 1112 Lbs
(Plus Add 6" - 18" Space From Cabinet End to Steps)




Rabbids
Hollywood

65" Model

Video Arcade
Shooting Gallery

Optional Ticket Redemption




---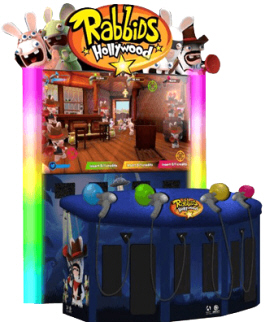 $ CALL




Rabbids Hollywood 65" Video Arcade Shooting Gallery Game - Are you a sharp shooter? Compete
with your buddies to stop the Rabbids invasion of Hollywood. Shoot all the crazy creatures during a
four-player adventure and explore 3 different movie
sets in this new 1-4 player arcade video shooting
gallery game machine from Adrenaline Amusements !

Rabbids Hollywood was created in partnership with Ubisoft and features the popular Rabbids, with over
14 Million video games sold to date, along with over
230 TV episodes and more than 1 Billion online views. Warning: This game comes with edgy humor and
never-ending fun!

Rabbids Hollywood Shooting Gallery Features :

▪ Large 65" HD Screen For Never-Ending Fun !
▪ 1 to 4 Player Video Arcade Shooting Game
▪ 3 "Rabbidized" Movie Settings


Rabbids Hollywood Game Brochure

Rabbids Hollywood Service Manual

Rabbids Hollywood 65 Game Video

Rabbids Hollywood Gameplay Video

Optional

220 Volt Power Conversion -

Add $CALL

Product Condition : Brand New In Factory Box
Factory Warranty : Click For OEM Warranty Info
Power Requirements : 110V@3A | 220V@1.5A
Display : 65" High Definition HD Display Screen
Players : 1 - 4 Player Video Arcade Shooting Game

Rabbids Hollywood 65" Shooting Gallery Dimensions :
Height: 101", Width: 55", Depth: 66", Weight: 652 Lbs




Rabbids
Hollywood

120" Model

Video Arcade
Shooting Gallery

Optional Ticket Redemption




---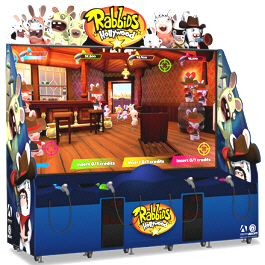 $ CALL




Rabbids Hollywood 120" Video Arcade Shooting Gallery Game - Are you a sharp shooter? Compete
with your buddies to stop the Rabbids invasion of Hollywood. Shoot all the crazy creatures during a
four-player adventure and explore 3 different movie
sets in this new 1 - 4 player arcade video shooting
gallery game machine from Adrenaline Amusements !

Rabbids Hollywood was created in partnership with Ubisoft and features the popular Rabbids, with over
14 Million video games sold to date, along with over
230 TV episodes and more than 1 Billion online views. Warning: This game comes with edgy humor and
never-ending fun!

Rabbids Hollywood Video Shooter Features :

▪ Huge 120" HD Screen For Never-Ending Fun !
▪ 1 to 4 Player Video Arcade Shooting Game
▪ 3 "Rabbidized" Movie Settings


Rabbids Hollywood Game Brochure

Rabbids Hollywood Service Manual

Rabbids Hollywood 120 Game Video

Rabbids Hollywood Gameplay Video

Optional

220 Volt Power Conversion -

Add $CALL

Product Condition : Brand New In Factory Box
Factory Warranty : Click For OEM Warranty Info
Power Requirements : 110V@3A | 220V@1.5A
Display : 120" High Definition HD Display Screen
Players : 1 - 4 Player Video Arcade Shooting Game

Rabbids Hollywood 120" Shooting Gallery Dimensions :
Height: 111", Width: 107", Depth: 42", Weight: 902 Lbs




Rampage

Video Arcade
Shooting Game

Optional Ticket Redemption




---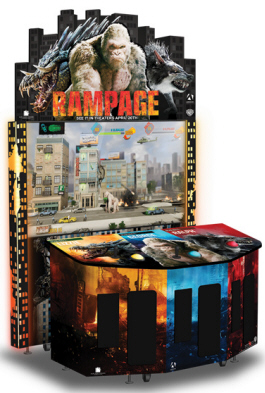 $ CALL




Rampage Arcade Videmption Shooting Game -
Adrenaline Amusement's brand new Rampage Arcade Shooting Game features three-player mayhem and endless destruction ! Players can embody classic characters, Ralph, Lizzie and George—but with updated visuals from the new movie. Set in Chicago, the monsters can undergo a three-stage evolution thanks to bonuses and with endless levels, there is no stopping Rampage's fury on the city! Fun references to the original arcade game, including the lady with the red dress and electric signs and pay tribute to the game's widespread appeal in

this brand

new player video arcade shooter!

Rampage Arcade Video Shooting Game Features :

▪ Big 65" HD Screen For Never-Ending Fun !
▪ 1 to 3 Player Mayhem & Demolition Game Theme !
▪ Players Must Destroy Everything To Win A Bonus !
▪ Endless Experiences & Tribute To The Arcade Classic !




Rampage Arcade Game Brochure

Rampage Arcade Service Manual

Rampage Arcade Game Video

Optional
220 Volt Power Conversion -
Add $CALL

Product Condition : Brand New In Factory Box


Factory Warranty : Click For OEM Warranty Info


Power Requirements : 110V@2.5A | 220V@1.25A


Display : 65" HD Display Screen


Players : 1 - 3 Player Video Arcade Shooting Game

Rampage Video Arcade Shooting Game Dimensions :


Height: 101", Width: 55", Depth: 66", Weight: 651 Lbs

RedLine Rampage
Gas Guzzlers

Racing / Shooting
Video Arcade Game



---



FACTORY LEAD TIME 4 - 6 WEEKS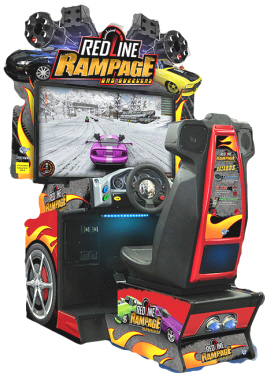 $ CALL




RedLine Rampage Gas Guzzlers Video Arcade Racing / Shooting Game - Global VR has done it yet again with this innovative new road racing video arcade machine, with the dual ability to shoot as well as race !

RedLine Rampage Arcade is the best of both worlds, combining the thrill of racing with the excitement of a shooter! Select from a range of cars including muscle, exotics, or imports; (6) unique and beautifully rendered tracks make each game a true arcade adventure !

Red Line Rampage Video Arcade Game Features

▪ (5) Road Tracks + (1) Unlockable Road Track
▪ (7) Race Cars + (1) Unlockable Cars Including
Exotic Cars, Muscle Cars and Import Cars !
▪ Stylized Marquee With Special-Effects Lighting !
▪ State-of-the-Art Cabinet Design For Proven Earnings
▪ Power Pickups - Landmine, NOS, Oil Slick, Smokescreen
▪ Selectable "Guns" or "No Guns" Feature To
Allow For AAMA Yellow / Green Label Use
▪ Exciting Road Hazards and Power Pickups !

UP TO 4 UNITS CAN BE JOINED TOGETHER FOR
TRUE HEAD TO HEAD REALTIME COMPETITION !



RedLine Rampage Game Brochure



RedLine Rampage Service Manual



RedLine Rampage Factory Video



Optional 220 Volt Power Conversion - Add $CALL



Product Condition : Brand New In Factory Box


Factory Warranty : Click For OEM Warranty Info


Power Requirements : 110 Volts | Optional 220V


Monitor : 42" High Resolution LCD Widescreen


Players : 1 Player Video Arcade Racing Game

RedLine Rampage Video Racing Game Dimensions :


Height: 84", Width: 60", Depth: 68", Weight: 486 Lbs
New Video Arcade Game Machines For Sale
| Deluxe, Sitdown & Upright Models
|
PS - R


1 - A | B - C | D - D | E - F | G - G | H - L | M - O | P - PR | PS - R | S - S | T - Z