Pump it Up
2018 Prime 2 LX Model


55" Monitor
Video Arcade
Dance Machine



---





Pump It Up Prime2 2018 LX Dance Video Arcade
Game - Players worldwide super excited to play the
new Pump It Up Prime 2 LX Model, with more than (300) popular songs from Hip Hop, Dubstep, Techno, Drum N' Bass, Pop, K-Pop and more, including over (100) new songs, a brand new Player Card System and new game modes for beginners and experienced players to enjoy !

Andamiro has completely redesigned the PIU Prime 2 LX Cabinet, which now features an attractive and modern white metal exterior decorated with bright and attractive
LED lighting on the cabinet and around the speakers, plus
a huge 55" High-Definition LED Monitor and phenomenal 1200 Watt High-Powered Sound System pumped through (4) High-Fidelity Speakers and (2) Massive Subwoofers,
and comes with over 3,000 Step Charts to choose from !

Pump It Up 2018 Prime 2 LX also comes with brand new
AM.PASS Player Card Login System, where players
can see their rankings and rivals in real-time, and allows
players to compete in various categories like Top Score Ranking and Top 10 Step Charts to stimulate repeat plays (10 AM.PASS Cards are included with each game), and new "Game Tutorials" to teach beginners how to play.
plus brand new Game Modes, including Rival System,
Auto Velocity and Random Train Game Play Modes !

As always, PIU Dance Machines come with multiple
English, Spanish, Portuguese, Chinese, and Korean
Language Support and online functionality with free
song updates plus a new Integrated Camera System !

Pump It Up 2018 Prime 2 Info Page

Pump It Up Prime 2 LX Brochure

Pump It Up Prime 2 LX Manual

Pump It Up Prime 2 New Song List

Pump It Up Prime 2 Factory Trailer

Pump It Up Prime 2 Game Review

Optional AM.PASS Player Cards - Add $CALL
Optional 220 Volt Power Conversion - Add $ 295

Product Condition : Brand New In Factory Box
Factory Warranty: Click For OEM Warranty Info
Power Requirements : 110 / 220 Volts | 1200 Watts
Monitor : 55" HD Widescreen Color Display
Players : 1 to 2 Player Video Dance Arcade Game

Pump It Up Prime 2 LX Model Dance Game Dimensions :
Height: 94", Width: 70", Depth: 94.5", Weight: 1175 Lbs
(Depth Assumes 18" Space From Cabinet to Steps)



Pump it Up
Prime 2 CX Model


43" Monitor
Video Arcade
Dance Machine



---






Pump It Up Prime 2 2018 CX Model Dance Game -
The new Pump It Up 2018 Prime 2 CX Model comes with over 300 hit songs from Hip Hop, Drum N' Bass Dubstep, Techno, Pop, K-Pop and other genres + 100 new songs, monthly song updates + 52 more songs to be released !

Pump It Up / PIU 2018 Prime 2 CX Models comes with
a 43" LED HD 1080p Monitor and powerful 1200 Watt
Amplifier plus (2) Subwoofers and (4) Twitters, and
comes with over 3,000 step charts to choose from !

Pump It Up 2018 Prime 2 CX also comes with brand
new AM.PASS Player Card Login System, where
players can see their rankings + rivals in real-time, and
gives players various categories to compete in, including Top Score Ranking and Top 10 Step Charts to stimulate repeat play (10 AM.PASS Cards Included With Game),
and new "Game Tutorials" to teach beginners how to
play PIU, plus new Modes, including Rival System,
Auto Velocity and Random Train Game Play Modes !

As always, PIU Dance Machines come with multiple
English, Spanish, Portuguese, Chinese, and Korean
Language Support and online functionality with free
song updates plus a new Integrated Camera System !

Pump It Up 2018 Prime 2 Info Page

Pump It Up Prime 2 CX Brochure

Pump It Up Prime 2 CX Manual

Pump It Up Prime 2 New Song List

Pump It Up Prime 2 Factory Trailer

Pump It Up Prime 2 Game Review
(Shows Larger LX Model PIU Game)

Optional AM.PASS Player Cards - Add $CALL
Optional 220 Volt Power Conversion - Add $295

Product Condition : Brand New In Factory Box
Factory Warranty: Click For OEM Warranty Info
Power Requirements : 110 / 220 Volts | 1200 Watts
Monitor : 43" HD Widescreen Color Display
Players : 1 to 2 Player Video Dance Arcade Game

Pump It Up Prime 2 CX Model Dance Game Dimensions :
Height: 85", Width: 70", Depth: 97", Weight: 868 Lbs
(Depth Assumes 18" Space From Cabinet to Steps)



Pump it Up !
Infinity
LX Model


55" Monitor
Video Arcade
Dance Machine



---





Pump It Up Infinity 2018 LX Dance Arcade Machine
The new Pump It Up Infinity LX Model offers players (4) gameplay modes : In "Easy Mode" (the default mode), players are shown a simplified user interface with a
minimal amount of game options, to eliminate confusion
for casual players. In "Arcade Mode", players access
100's of songs not available in Easy Mode, from all past
PIU models. The "Music Train Mode" have several pre-
selected courses and feature a unique theme or gimmick
for advanced players. "Mission Mode" can be unlocked
by players inserting a USB drive into the game, present
new goals for advanced players to meet. Missions can
be as simple as a different step pattern to familiar songs,
or can be as complex as modifications to the PIU Game Interface. When a player attempts or clears a mission,
they are granted EXP (experience points) to advance further in this mode.

Pump It Up Infinity 2018 LX Model Game Features

▪ (2) Powerful Subwoofers and (4) Tweeter Speakers !
▪ Powerful 1200 Watt Professional Sound Amplifier !
▪ Large 55" HD Color LED Monitor & Marquee Light Bar
▪ Four (4) Modes of Play + "Easy Mode" for Beginners
▪ Hip Hop, Dubstep, Techno Drum, Bass, Pop & More !
▪ 30 + New Dance Songs - Over 400 Songs In Total !

Pump It Up Infinity Information Page

Pump It Up Infinity LX Game Brochure

Pump It Up Infinity LX Service Manual

Pump It Up Infinity Factory Trailer

Pump It Up Infinity LX Review Video

Optional USB Drives (20 Drive Pack) - Add $CALL
Optional 220 Volt Power Conversion - Add $295

Product Condition : Brand New In Factory Box
Factory Warranty: Click For OEM Warranty Info
Power Requirements : 110 / 220 Volts | 1200 Watts
Monitor : 55" HD Widescreen Color Display
Players : 1 to 2 Player Dance Video Arcade Game

Pump It Up Infinity 2018 LX Model Game Dimensions :
Height: 85", Width: 70", Depth: 96.5", Weight: 1012 Lbs
(Depth Assumes 18" Space From Cabinet to Steps)




Pump it Up !
Infinity CX Model


43" Monitor
Video Arcade
Dance Machine



---





Pump It Up Infinity 2018 CX Model Dance Game
The PIU Infinity CX Model is the first Pump It Up Video
Arcade Machine to offer two different timing windows. "Classic Mode" keeps traditional timing windows, while
the "PRO Mode" tightens the window !

Pump It Up Infinity CX Model offers players (4) gameplay modes : In "Easy Mode" (the default mode), players are shown a simplified user interface with a minimal amount
of game options, to eliminate confusion for casual players.
In "Arcade Mode", players can access 100's of songs
not available in Easy Mode, from all past PIU models.
"Music Train Mode" have pre-selected courses and feature a unique theme or gimmick to them, for advanced players. "Mission Mode", unlocked by players inserting a USB drive into the game, present new goals for advanced players to meet. Missions can be as simple as a different step pattern to a familiar song, or can be as complex as modifications to the game's interface. When a player attempts or clears a mission, they are granted EXP (experience points) to advance further in this mode.

Pump It Up Infinity 2018 CX Dance Game Features

▪ (2) Powerful Subwoofers and (4) Tweeter Speakers !
▪ Powerful 1200 Watt Professional Sound Amplifier !
▪ Large 43" HD Color Monitor & Marquee Light Bar
▪ Four (4) Modes of Play + "Easy Mode" for Beginners
▪ Hip Hop, Dubstep, Techno Drum, Bass, Pop & More !
▪ 30 + New Dance Songs - Over 400 Songs In Total !

Pump It Up Infinity Information Page

Pump It Up Infinity CX Game Brochure

(Shows Similar PIU Infinity 2013 Model)

Optional USB Drives (20 Drive Pack) - Add $CALL
Optional 220 Volt Power Conversion - Add $295

Product Condition : Brand New In Factory Box
Factory Warranty: Click For OEM Warranty Info
Power Requirements : 110 / 220 Volts | 1200 Watts
Monitor : 43" HD Widescreen Color Display
Players : 1 to 2 Player Dance Video Arcade Game

Pump It Up Infinity CX Model Dance Game Dimensions :
Height: 85", Width: 70", Depth: 97, Weight: 868 Lbs
(Depth Assumes 18" Space From Cabinet to Steps)

Putt !
Champion
Edition

Non-Coin
Free Play Model

Video Arcade
Miniature Golf
Simulator Game

---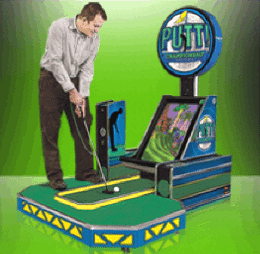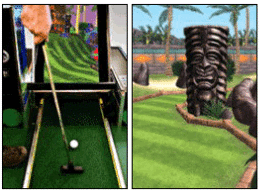 (Shows Coin Operated Model)



(Lift Gate-Curb)


$ 4495 !


Putt Championship Edition Miniature Golf Video Arcade Machine - Non-Coin / Free Play Model -
he Putt Championship Edition Free Play Model is the
first video arcade mini golf game to use a real putter
and golf ball, and two nine hole courses equals 18
holes of challenging and competitive miniature golf play !



The new Putt! Championship Golf cabinet comes with a highly reliable LCD Monitor that gives players a crystal clear and breath-taking view of highly detailed golf holes.





Putt Championship Edition Golf

features eighteen hyper-realistic miniature golf courses for 1 to 4 player action,
which encourages friendly competition between friends and families of all ages. Secret, hidden "short cuts" are
placed throughout the game to add to player excitement

and designed to help improve players' scores and play!



Putt! will be loved by players of all ages, and with its compact footprint (slightly larger that a pinball machine)
makes it a game that you can put in a variety of different places from homes, clubs, offices, factories and waiting rooms to dorms, colleges and many other locations !



Putt ! Championship Game Brochure

Putt ! Championship Service Manual

Putt ! Championship Game Video
(Shows Coin Operated Model)



Optional Dollar Bill Acceptor (DBA) - Add $450


Optional

220V Power Conversion -

Add $250



Product Condition: Brand New In Factory Box


Factory Warranty : Click For OEM Warranty Info


Power Requirements :
110 Volts | Optional 220V

Monitor : 32" LCD High Resolution Color Monitor


Players : 1 to 4 Player Miniature Golf Arcade Game

Putt Championship Edition Non-Coin Model Dimensions:


Height: 72", Width: 54.5", Depth: 67.5", Weight: 476 Lbs

RedLine GT

Game Theater
Home Simulator

Pro-Quality
Full Immersion
Multi-Game / 3D
Auto Racing and Flying Simulator
Game Machine

"Free-Play"
Non-Coin Use




---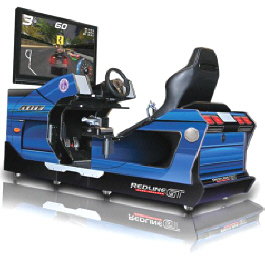 Shown Above with Monitor (Not Included)





Real Automotive Sports Racing Seat !

Quick-Tilt Technology allows the seat to be instantly adjusted ! | Solid Lateral Support for hours of comfort
Quality Rich Leather Look | Full Range Seat Slide

State-Of-The-Art 3D Racing Now At Home !

Using a 3D-Capable TV, or choose from 1000's
of other great 2D + 3D Video Racing Games !

Optional Flight Simulator Controls !

Flight Simulator mounting hardware allows the Redline GT to be used as a fully loaded flight simulator | Optional Flight Controls pivot from a stored location in seconds





(Shows Factory Produced Video Clip)







(Lift Gate-Curb)

$ 2995 !


# 1 MOST POPULAR HOME RACING SIMULATOR !
FREE CURBSIDE DELIVERY IN ALL 48 STATES !

RedLine GT Game Theater Automobile Racing +
Air Flight Full Immersion 3D Simulator Machine -

State-Of-The-Art REAL 3D Auto Racing available using
3D-Capable TV | Arcade-Quality Cabinetry is made in Chicago, USA by the premier manufacturer of coin-operated games | 5-Way, Fully Adjustable Cockpit
allows player to adjust for optimal comfort in seconds; Adjustments include Seat Slider, Quick-Tilt Seat and Telescoping Race Steering Wheel | Logitech G27
Driving Controls: Most advanced driving controls on
the market ! Includes True Force Feedback Steering,
Tri-Pedal Assembly (Gas Pedal, Brake Pedal and Clutch Pedal) plus a Six (6) Speed Pro Shifter | Immersive Audio with Custom-Build Five (5) Channel, 170 Watt Audio Amplifier, coupled with Four (4) Quality Speakers which
immerse the player in rich vibrant Digital Audio Sound !
Rapid-Adjust Pedals allow player to move the pedals
forward / back before locking into place, and the Quick
Set Armrests raises armrests instantly + Locks in place
High Energy, 100 Watt Vibration Transducer rattles the
player physically reproducing every nuance of the road !
Bright Blue LEDs illuminate the undercarriage creating a blue halo effect under the game | Game Control Switch : Press a button and instantly switch from Driving to Flight Simulator Controls, or from a PC to PS3 or Xbox ! Play PC Games, or with the push of a button, play console games without unplugging cables ! | Rear Storage Area - Can accommodate a PC if desired, or serve as extra storage area for your favorite games and gaming peripherals. Keyboard Drawer for quick access to Keyboard/Mouse Supports All PS3, Xbox and PC-Based Games.

The RedLine GT Driving Simulator does not come with
Monitor, PC, PS3 or Xbox Console - You will need to buy
a inexpensive Flat Panel TV (42" Recommended

NOTE : SOME LIGHT ASSEMBLY IS REQUIRED



RedLine GT Home Simulator Info Page

RedLine GT Simulator Owners Manual

RedLine GT Simulator Factory Video

RedLine GT Simulator Live Video

Optional Flight Simulator Controls - Add $CALL


Optional 220 Volt Power Conversion - Add $375



Product Condition: Brand New In Factory Box


Factory Warranty : Click For OEM Warranty Info


FREE Warranty : BMI Gaming One Year Warranty

Extended Warranty : Available - Click For Details


Power Requirements :
110 Volts | Optional 220V


Monitor : User Supplied (LCD or Plasma Flat Panel)


Players : 1 Player Racing / Flight Simulator Machine

Redline GT Game Theater Assembled Dimensions :


Height: 35", Width: 35", Depth: 82", Weight: 485 Lbs
(Ships In Two Pieces: Seat and Main Cabinet Sections
will fit through any standard doorway 32" or wider)

RedLine Rampage
Gas Guzzlers

Racing / Shooting
Video Arcade Game



---



FACTORY LEAD TIME 3 - 5 WEEKS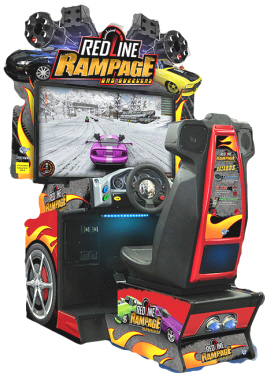 $ 8575 !




RedLine Rampage Gas Guzzlers Video Arcade Racing / Shooting Game - Global VR has done it yet again with this innovative new road racing video arcade machine, with the dual ability to shoot as well as race !

RedLine Rampage Arcade is the best of both worlds, combining the thrill of racing with the excitement of a shooter! Select from a range of cars including muscle, exotics, or imports; (6) unique and beautifully rendered tracks make each game a true arcade adventure !

Red Line Rampage Video Arcade Game Features

• (5) Road Tracks + (1) Unlockable Road Track
• (7) Race Cars + (1) Unlockable Cars Including
Exotic Cars, Muscle Cars and Import Cars !
• Stylized Marquee With Special-Effects Lighting !
• State-of-the-Art Cabinet Design For Proven Earnings
• Power Pickups - Landmine, NOS, Oil Slick, Smokescreen
• Selectable "Guns" or "No Guns" Feature To
Allow For AAMA Yellow / Green Label Use
• Exciting Road Hazards and Power Pickups !

UP TO 4 UNITS CAN BE JOINED TOGETHER FOR
TRUE HEAD TO HEAD REALTIME COMPETITION !



RedLine Rampage Game Brochure



RedLine Rampage Service Manual



RedLine Rampage Factory Video



Optional 220 Volt Power Conversion - Add $275



Product Condition : Brand New In Factory Box


Factory Warranty : Click For OEM Warranty Info


Power Requirements : 110 Volts | Optional 220V


Monitor : 42" High Resolution LCD Widescreen


Players : 1 Player Video Arcade Racing Game

RedLine Rampage Video Racing Game Dimensions :


Height: 84", Width: 60", Depth: 68", Weight: 486 Lbs
New Video Arcade Game Machines For Sale
| Deluxe, Sitdown & Upright Models
|
PS - R


1 - A | B - C | D - D | E - F | G - G | H - L | M - O | P - PR | PS - R | S - S | T - Z