Official

iBowling
Lanes



Regulation-Sized Professional
Bowling Lanes
---



LEAD TIME
4 - 8 WEEKS



THE COMPLETE TURNKEY BOWLING CENTER SOLUTION !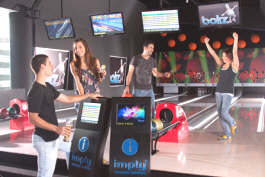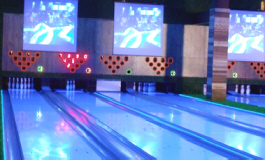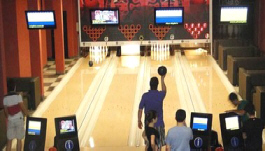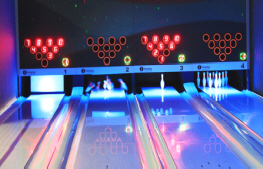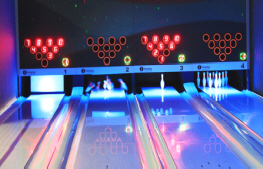 EVERYTHING YOU NEED IS INCLUDED FOR
ONE PRICE, DOWN TO THE BOWLING BALLS, SHOES AND EVEN ON-SITE INSTALLATION !


$ 33675 !
(65' Lane)



Official iBowling Regulation Bowling Alley Lanes -
High Quality Bowling Lanes built to Official ABC (American Bowling Congress) specifications, at about half the price
of other brands, with twice the product features, and can be deployed and used with most major global languages!

Constructed of Eco-Friendly, Durable Wood Phenolic Synthetic Laminates, the iBowling System provides the most "state-of-the art" bowling innovations anywhere !

THE COMPLETE TURNKEY BOWLING ALLEY SOLUTION !
Price quoted included EVERYTHING needed to start and run your new Bowling Alley from the Bowling Lane, Pin Setters, Ball Return, Lane Dividers, Player Control Kiosk, Overhead Scoreboard, Lighting Systems, Bowling Pins, Bowling Balls, Bowling Shoes and Player Area Furniture, right down to the advanced Bowling Operations and Management Computer System and Software, plus
FREE On-Site Bowling Lane Installation Worldwide !

iBowling Full Sized Bowling Alley Lane Features :

▪ Large 32" Overhead LCD Scoreboard Display With
3D Animations For Increased Player Fun & Interactivity!
▪ Personalized Live On-Screen Messages and Off-Duty
Monitor Screen Saver - Use For Promotions or Ads !
▪ Multi-Function LCD Touchscreen Player Terminal
With Multi-Language Capability In English, Spanish,
Portuguese, French and Other Languages Available !
▪ Advertising / Publicity Panels Show While Pin Resets
For Location Promotions or Additional Ad Revenues !
▪ Integrated Fault Line With Individual Configuration
▪ Integrated "Lane-To-Lane" Messaging Allows Player
Communication, Or To Ask Bowling Center For Help !
▪ Synthetic Phenolic Lane Laminates-10,000 Cycle Duty !
▪ LED Lane Lighting Embedded In Each Lane That
Can Provide Several Cool Lane Lighting Effects!
▪ Lanes Come Embedded With Invisible "Glow In The
Dark" Pigments That Activate Under UV Black Light !
▪ Automatic Gutter Bumpers For New Player/Kids Use!
▪ "BowlingNet" System For Remote Lane Management
and Revenue Reports Anywhere In The World 24/7 !
▪ Comes With Bowling Lounge Furniture (Table & Sofa)
In Your Choice Of Various Colors, Along With





NOTE : SHIPS DIRECT FROM FACTORY | FOB : BRAZIL

FINAL ONSITE INSTALLATION OF THESE LANES ARE FREE FROM IMPLY BY FACTORY-TRAINED IMPLY TECHNICIANS ! (YOU PAY FOR TRAVEL EXPENSES)

* PRICE SHOWN IS FOR 1-2 LANES - ADDITIONAL DISCOUNTS FOR MULTI-LANE ORDERS AVAILABLE



Official iBowling Information Page



Official iBowling Alley Brochure



Official iBowling Alley Video Clip



Product Condition: Brand New In Factory Container


Factory Warranty : Click For OEM Warranty Info


Power Requirements: 110 Volts | 220 Volts


Players: Full Sized Professional Bowling Alley Lane

iBowling Professional Bowling Alley Lane Dimensions :


Total Alley Width: 6'-7.5" / 202cm (One Lane)


Total Alley Length: 96'-9.5" / 1917cm

Imply
Bowling Cafe





Small Space
Club/Bar/Arcade
Bowling Alley


---



LEAD TIME
4 - 8 WEEKS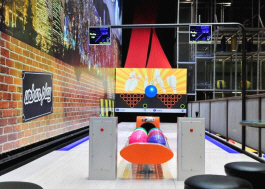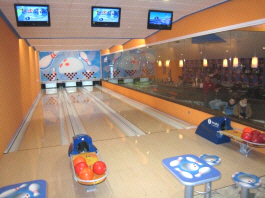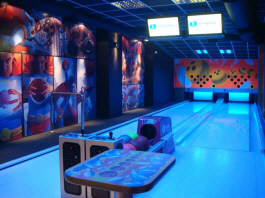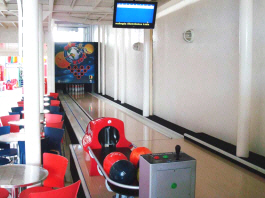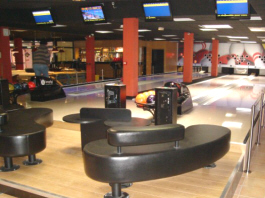 $ 23875 !
(55 Ft Lane)
$ 25375 !
(65 Ft Lane)



Imply Bowling Cafe - Compact Bowling Alley Lanes Imply's new bowling alley concept, the Imply ▪ Bowling Cafe provides players all the excitement of official bowling lanes in a compact size without using any attendants !

The Imply Bowling Cafe is the perfect solution for getting big profits in smaller locations such as Arcades, FEC's, Malls, Theaters and other Location-Based Entertainment (LBE) venues. Bowling Cafe provides the thrill of bowling for all ages, and suitable for all entertainment applications.

Imply ▪ Bowling Cafe provides LBE locations guaranteed revenues for family fun, happy hours, birthday parties, corporate team events and more ! Up to (6) players can compete on the same lane, but in a casual, no pressure atmosphere that doesn't require the use of special shoes.

Bowling Cafe Lanes come with special "glow-in-the dark" inks embedded in all components, which interact with the use of optional UV "Backlights", along with LED Lighting embedded along both sides of the lane, which literally turns the Bowling Cafe into a very eye-catching display
of lights and colors, helping to attract and keep players !

And with optional Imply ▪ Bowling Lounge Furniture, you can create a real "lounge" type atmosphere around your lanes, to provide greater comfort to your customers and maximizing the time they spend in your bowling center.

Imply Bowling Cafe Bowling Alley Features :

▪ NO Attendants ! Uses Coins, Tokens or Smart Cards
▪ Large 32" Overhead LCD Player Scoreboard Display
With 3D Animations For Increased Player Fun, Plus
Optional Display Of DVD, Live TV or Sporting Events !
▪ LED Lane Lighting Embedded In Each Lane That
Can Provide Several Cool Lane Lighting Effects!
▪ Lanes Come Embedded With Invisible "Glow In The
Dark" Pigments That Activate Under UV Black Light !
▪ Includes Official Imply Bowling Pins and UV Glow-In
The-Dark Bowling Balls In Various Weights and Colors !
▪ Advertising / Publicity Panels Show While Pin Resets
For Location Promotions or Additional Ad Revenues !
▪ Optional Themed Bowling Lounge Furniture Available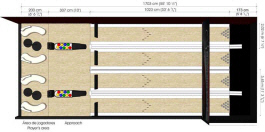 NOTE : SHIPS DIRECT FROM FACTORY | FOB : BRAZIL

FINAL ONSITE INSTALLATION OF THESE LANES ARE FREE FROM IMPLY BY FACTORY-TRAINED IMPLY TECHNICIANS ! (YOU PAY FOR TRAVEL EXPENSES)

* PRICE SHOWN IS FOR 1-2 LANES - ADDITIONAL DISCOUNTS FOR MULTI-LANE ORDERS AVAILABLE



Imply Bowling Cafe Brochure



Imply Bowling Cafe Video Clip



Optional Players Lounge Sofas + Table - Add $ CALL



Product Condition: Brand New In Factory Crate


Factory Warranty : Click For OEM Warranty Info


Power Requirements: 110 Volts | 220 Volts

Imply Bowling Cafe Bowling Lanes - 55' & 65' Dimensions :


Total Alley Width (One Lane) : 6'-7.5" / 202cm


Total Alley Length (55' Lane) : 55'-10.5" / 1703cm


Total Alley Length (65' Lane) : 65'-11.5" / 2010cm



Bowling Lane Length : 33'-6.75" / 1023cm


Approach Area Length : 10' / 307cm


Player's Area Length : 6'-6.75" / 200cm