i-Bowl Dinos
Virtual
Virtual Mini Bowling Game
Optional Ticket Redemption
---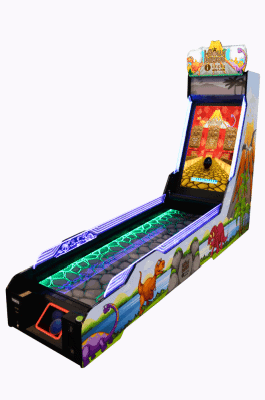 $ CALL



iBowl Dinos Virtual Mini Bowling Alley - The new
I-Bowl Dinos by IMPLY® is a virtual bowling game that combines the attractiveness of bowling, the interactivity
of video arcade games, and the fun of a neat dinosaur theme ! When players roll the ball, it is transported through sensors, in the direction of the virtual pins, for scoring many strikes! And its 43″ vertical LCD screen displays
3D animations ! The iBowl Dino's futuristic lighting system with colorful RGB LEDs will impress you too ! Can be operated by credit button, tokens, coins or smartcard,
and is also prepared for ticket redemption. Features adjustable leveling shoes and wheels for easy handling.

i-Bowl Virtual Mini Bowling Lane Machine Features :

▪ More Info Coming Soon...!




iBowl Virtual Mini Bowling Brochure



iBowl Dinos Virtual Bowling Video

iBowl Dinos Virtual Bowling Video 2

Optional
Coin Acceptor -
Add $CALL

Optional
Token Acceptor -
Add $CALL

Optional
Ticket Dispenser -
Add $CALL

Optional
Dollar Bill Acceptor -
Add $CALL

Product Condition
: Brand New In Factory Box


Factory Warranty : Click For OEM Warranty Info


Power Requirements
: 110 Volts | 220 Volts


Monitor
: 43" Vertical 3D LCD Color Monitor


Players

:

1 - 6 Player Virtual Video Bowling Game

iBowl Dinos Virtual Mini Bowling Alley Lane Dimensions :

Height: 86.5", Width: 27", Length: 117", Weight: 552 Lbs