Hot Wheel

King Of The Road Arcade

4 or 6 Player
Ticket Video Racing Game

Optional Ticket Redemption




---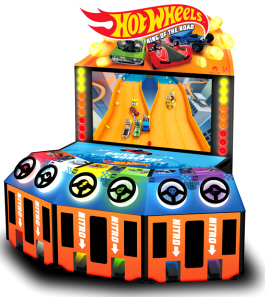 $ CALL

(4 Player)

$ CALL

(6 Player)


Hot Wheels King Of The Road Video Arcade Game -
Get behind the wheel of six iconic Hot Wheels Cars !.
Each Hot Wheels Arcade Racing Machines have (2) player cameras that take player snapshots ! Players
can drive through one of (3) exciting Racetracks as
they via for Tickets and the title of "King Of The Road" !

Each player is identified by their own Hot Wheels
Racing Car, so players always know where their
cars are in the race, further increasing the sense
of competition !. And Player Cameras come standard
with each new "Hot Wheels King Of The Road" Game..

Hot Wheels KOTR Video Arcade Game Features :

▪ 4 and 6 Players Models Available
▪ (2) Live Players Cameras
▪ Ticket Redemption or "Play For Fun" Modes

Hot Wheels Arcade Game Brochure

Hot Wheels Arcade Service Manual

Hot Wheels Arcade Game Video

Hot Wheels KOTR Camera Feature

Optional

220 Volt Power Conversion -

Add $CALL



Product Condition : Brand New In Factory Box
Factory Warranty : Click For OEM Warranty Info
Power Requirements : 110V@4A | 220V@2A
Players :4 and 6 Player Videmption Race Games

Hot Wheels King Of The Road 4 Player Game Dimensions :
Height: 105", Width: 78", Depth: 55", Weight: 1501 Lbs

Hot Wheels King Of The Road 6 Player Game Dimensions :
Height: 102", Width: 110", Depth: 59", Weight: 1700 Lbs



Mario Kart
Arcade GP DX


Video Arcade Driving Game
---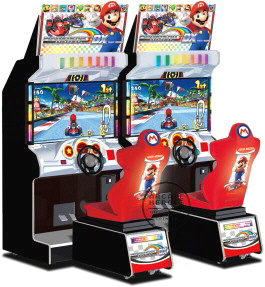 (Shows Factory-Produced Game Video)

$ CALL
(Single)

$ CALL
(Twin )


Mario Kart Arcade GP DX Video Arcade Game - This
classic video arcade racer gets even better with (10)
new courses, (22) new cars, (90) new items and (12) new characters, and features a multi-colored LED lighted cabinet with a 42" HD Monitor. The popular NAM-CAM feature is also included ! NAM-CAM places players faces over the kart they are driving - and players can stretch, squeeze, and transform their faces into many different appearances with the new "Funny Face Frames" update!

Mario Kart Arcade GP-DX comes with (3) Gameplay
Modes : Grand Prix, Versus, and Co-Op. In Grand Prix mode, players can compete through 40 rounds over (5) selectable cups. Versus Mode offers competitive racing excitement for all players. And the new 2-Person Co-Op Mode features " Fusion Karts" play - One person drives while the other "shoots" other competitors - wild fun !

As Mario Kart GP DX was built as a "online" game,
it requires a $50 monthly subscription fee and internet connection to operate, and comes with
yearly updates included, which adds new courses,
cars, characters and items to the existing content,
making Mario Kart always current and exciting to play,
with (5) years of major game updates. After the 5th year, the fees end, and the game can then be operated offline.

* UP TO 4 UNITS CAN JOIN FOR HEAD TO HEAD PLAY !
* $50 MONTHLY ONLINE GAMING CHARGE PER UNIT

Mario Kart Arcade GP Game Brochure

Mario Kart Arcade GP Service Manual

Mario Kart Arcade GP Factory Video

Optional 220V Power Conversion - Add $CALL

Product Condition
:

Brand New In Factory Box




Factory Warranty : Click For OEM Warranty Info


Power Requirements :

110 Volts | Optional 220V




Monitor :

42" HD LCD Widescreen Color Monitor

Players : 1 Player Video Arcade Jet Fighting Game

Mario Kart Arcade GP DX Video Game Dimensions :


Height: 94", Width: 41", Depth: 63", Weight: 534 Lbs






MotoGP
Arcade

Motorcycle
Video Racing
Simulator Game
---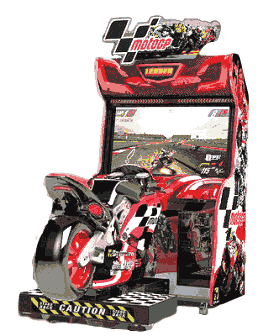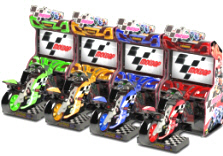 MotoGP Arcade Motorcycle Simulator Video Game -
Official licensed MotoGP ™ motorcycle simulator arcade game with authentic "MotoGP-style" motorcycle mounts !

Available in (4) different color schemes for added location excitement, the MotoGP video motorcycle racing gameplay
is displayed on a stunning 42" HD LCD Display equipped with a Front-Facing Face Camera that puts players and their friends or competitors (up to 8 riders with both local + online multiplayer modes) into the game. MotoGP comes with very faithful recreations of famous MotoGP circuits from around the world, with (3) difficulty levels - Novice, Normal and Pro - Join one of the (13) MotoGP teams as a newcomer and race against famous riders like Valentino Rossi, Marc Marquez, Jorge Lorenzo, Dani Pedrosa and more ! Includes a Front-Mounted Fan for realistic wind simulations, and ability to race head-to-head between
all units / game locations, a first for the arcade industry !

Moto GP Arcade Deluxe Video Game Features :


▪
Officially Licensed MotoGP Product

▪
Link up to 8 bikes for local Multiplayer racing action !

▪
Lean into turns on an authentic MotoGP motorcycle !

▪
Front-facing camera puts you and friends in the game !

▪
Local + Online Internet Multiplayer Modes

▪
Online Driver Stat Tracking + Stunning HD Display

▪
Front-mounted Fan Simulates Wind Speeds

▪
Faithful recreations of famous MotoGP World circuits

▪
3 Difficulty Levels: Novice, Normal and Pro Racer


* PLEASE SPECIFY GREEN, ORANGE, PURPLE OR RED
CABINET COLOR IF DESIRED AT THE TIME OF ORDER



MotoGP Arcade Game Brochure

MotoGP Arcade Service Manual

MotoGP Arcade Factory Video

Optional 220V Power Conversion - Add $CALL



Product Condition

:

Brand New In Factory Box




Factory Warranty : Click For OEM Warranty Info


Power Requirements :

110 Volts | Optional 220V




Monitor :

42" HD LCD Widescreen Color Monitor

Players : 1 Player Video Arcade Jet Fighting Game

Moto GP Arcade Motorcycle Video Game Dimensions :


Height: 83", Width: 43", Depth: 82", Weight: 534 Lbs

RedLine Rampage
Gas Guzzlers

Racing / Shooting
Video Arcade Game



---



FACTORY LEAD TIME 3 - 5 WEEKS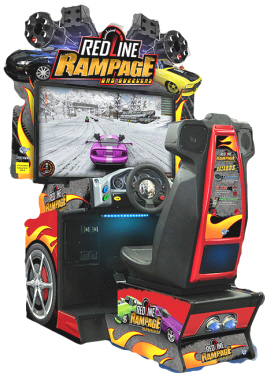 $ CALL




RedLine Rampage Gas Guzzlers Video Arcade Racing / Shooting Game - Global VR has done it yet again with this innovative new road racing video arcade machine, with the dual ability to shoot as well as race !

RedLine Rampage Arcade is the best of both worlds, combining the thrill of racing with the excitement of a shooter! Select from a range of cars including muscle, exotics, or imports; (6) unique and beautifully rendered tracks make each game a true arcade adventure !

Red Line Rampage Video Arcade Game Features

▪ (5) Road Tracks + (1) Unlockable Road Track
▪ (7) Race Cars + (1) Unlockable Cars Including
Exotic Cars, Muscle Cars and Import Cars !
▪ Stylized Marquee With Special-Effects Lighting !
▪ State-of-the-Art Cabinet Design For Proven Earnings
▪ Power Pickups - Landmine, NOS, Oil Slick, Smokescreen
▪ Selectable "Guns" or "No Guns" Feature To
Allow For AAMA Yellow / Green Label Use
▪ Exciting Road Hazards and Power Pickups !

UP TO 4 UNITS CAN BE JOINED TOGETHER FOR
TRUE HEAD TO HEAD REALTIME COMPETITION !



RedLine Rampage Game Brochure



RedLine Rampage Service Manual



RedLine Rampage Factory Video



Optional 220 Volt Power Conversion - Add $CALL



Product Condition : Brand New In Factory Box


Factory Warranty : Click For OEM Warranty Info


Power Requirements : 110 Volts | Optional 220V


Monitor : 42" High Resolution LCD Widescreen


Players : 1 Player Video Arcade Racing Game

RedLine Rampage Video Racing Game Dimensions :


Height: 84", Width: 60", Depth: 68", Weight: 486 Lbs
Driving Arcade Games | Racing Video Arcade Games | Speedboat Games | H - R


A - G
| H - R |
S - Z