Dark Escape 4D

4D Theater
Shooting Game
3D Graphics



---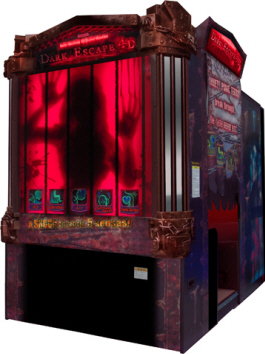 (Shows Factory-Produced Video Clip)
$ CALL !




Best Of Show Award - 1st Place - BOSA 2013 !

Dark Escape 4D Video Arcade Game Theater Style
Cabinet
-
This 4D shooting game is in a class of its
own! Wearing 3D glasses, players try to escape from
a mad man's sick and twisted game by shooting their
way out with weapons that he provides. Experimental creatures and the undead leap out from Dark Escape's huge 46" high definition display screen !.

Players can choose to play any of the four fear-themed
stages. A bonus fifth stage is available once all four
stages are completed, and the GAME KNOWS WHEN
YOU ARE SCARED ! Panic sensors display each player's
heart rate on the screen and records every panic attack.

You don't just see the monsters, BUT YOU FEEL THEM
TOO ! With built-in Air Blowers in both the front and back,
players feel the breath of a chasing zombie on the back
of their necks or a blast of air on their face when a monster lunges at them ! plus heavy-recoil guns and a cool rumble seat provide additional terrifying game elements that complement the immersive game play !

Each player has their own 5.1 Channel Digital Surround Sound Speakers plus a subwoofer) so they can truly experience the terror coming from all around. All of
these intense features combine to create one of the most unique and frightening arcade gaming experiences ever !


Dark Escape 4D Game Brochure

Dark Escape 4D Service Manual

Dark Escape Factory Trailer

Dark Escape Factory Trailer 2

Optional

220V Power Conversion -

Add $245



Product Condition

: Brand New In Factory Box


Factory Warranty
:
Click For OEM Warranty Info

Power Requirements :

110 Volts | Optional 220V




Monitor : 46" HD 3D Enabled Widescreen Monitor


Players : 1 - 2 Player 3D/4D Theater Shooting Game

Dark Escape 4D Video Arcade Theater Dimensions


Height: 89", Width: 63", Depth: 96", Weight: 1405 Lbs

The Swarm
3D
47" Model

3D or 2D
Switchable
Video Arcade
Shooting Game
---

FACTORY LEAD TIME 3 - 5 WEEKS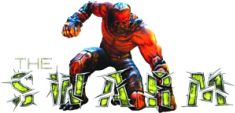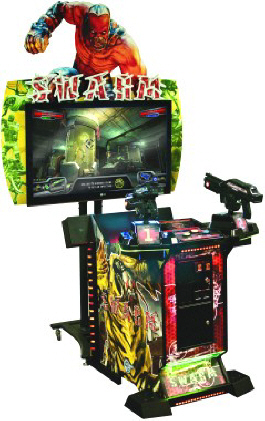 $ 8675 !






Best Of Show Award- IAAPA 2013 !

The Swarm 47" 3D / 2D Video Arcade Shooting Game - Amazing new "ground-breaking" video arcade game from Global VR which offers both Operator and Player selectable 2D or 3D Game Modes, and in 3D mode, The Swarm uses Real-D 3D Glasses just like in theatres !

Just an ordinary day.. But an extraordinary event unfolds.
Moscow is in shambles, and our player "hero" must ward off a unbelievably intense alien "onslaught", in order to save themselves and the human race at the same time..

Moving across the famous "Red Square" at the doors of the Kremlin, and through underground Moscow, players faces super aliens of unparalleled size and strength.

With each exciting game challenge presented, players
find themselves becoming just like the aliens they are fighting against, and also discover they are able to use
the aliens "special powers" to defeat them. The crucial decisions players must make throughout the game will determine the fate of the human race as we know it !

The Swarm 3D 47" Video Arcade Game Features :

▪ Operator / Player Selectable 3D or 2D HD Game Modes !
▪ Uses Real-D 3D Glasses - Just Like In Movie Theaters !
▪ (7) Exciting "The Swarm" Game Levels To Experience !
▪ (13) Secret, Hidden "The Swarm" Rooms To Find !
▪ Multiple Game Play Paths On Every Game Level !
▪ Contemporary Cabinet Design + Proven Gun Technology



The Swarm 3D Arcade Game Brochure



The Swarm 3D Factory Preview Video



The Swarm 3D Arcade Game Video



Optional 220 Volt Power Conversion - Add $275


Optional 3D Tethered Glasses (2) - Add $75


Optional 3D Disposable Glasses (50) - Add $50



Product Condition : Brand New In Factory Box


Factory Warranty : Click For OEM Warranty Info


Power Requirements : 110 Volts | Optional 220V


Monitor : 47" 3D and 2D HD Widescreen Monitor


Players : 1 - 2 Player Video Arcade Shooting Game

The Swarm 3D 47" Video Arcade Game Dimensions :


Height: 97", Width: 56", Depth: 72", Weight: 446 Lbs