Ticket Monster

Ticket
Redemption
Wheel Game


---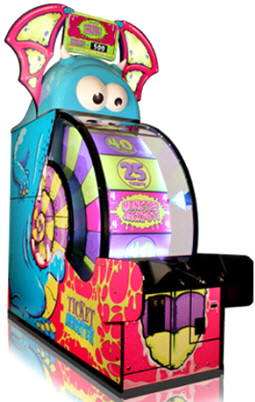 (Shows Factory Produced Video Clip)

$ CALL


Ticket Monster Arcade Ticket Redemption Wheel Game - Hear kids screaming from joy with this monster ! Ticket Monster is the same great game as very popular
Big Bass Wheel, but with a new, updated and different look that is sure to make GIANT revenues in any FEC !!

Players step up to the ticket Monster and pull the handle
to spin the monster's big tongue. When the tongue stops, players are awarded tickets ! Ticket Monster is equipped with a progressive feature, so each time someone plays, the Monster Jackpot go up in value ! There will be big screams when players achieve the Monster Jackpot !

The sounds and graphics of Ticket Monster make this game grab attention from players all over the room.
Ticket Monster also has dual ticket dispensers for
more capacity and quicker ticket dispensing.

The only way Ticket Monster might scare you is by the great revenue it generates! Ticket Monster comes with dual ticket dispensers for higher capacity and quicker dispensing. And it comes with a user-friend menu too !



Ticket Monster Game Brochure



Ticket Monster Service Manual



Ticket Monster Jackpot Manual



Ticket Monster Factory Video



Optional Progressive Jackpot Kit - Add $CALL


Optional 220 Volt Power Conversion - Add



Product Condition : Brand New In Factory Box


Factory Warranty : Click For OEM Warranty Info


Power Requirements : 110 Volts | Optional 220V


Players : 1 Player Ticket Redemption Arcade Game

Ticket Monster Redemption Wheel Game Dimensions :


Height: 117", Width: 32", Depth: 91", Weight: 1061 Lbs



Treasure Quest Arcade


Ticket Redemption Wheel Game


---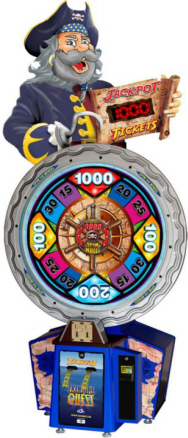 $ CALL




Treasure Quest Arcade Ticket Redemption Game -
From "sea to shining sea", you can't miss with the new
Treasure Quest ticket redemption game masterpiece !

Treasure Quest has cast off for locations worldwide as this highly anticipated 4' foot tall pirate themed spinning wheel game is soaring off the production floor! Game play doesn't get any simpler: Spin the wheel left or right and try to land on the jackpot bonus or other high value spots and win tickets! The stunning cabinet design and colorful back-lit pirate and wheel encourages game play for the entire family over and over again, as players enjoy their chance
at spinning of the wheel to capture the "Pirate's Bounty" !

Treasure Quest is equipped with superb "pirate themed" graphics and dynamic surround sound. Treasure Quest also offers an Optional dollar bill acceptor and can easily be made card ready to accommodate any location need.

Treasure Quest Arcade Brochure

Treasure Quest Service Manual

Treasure Quest Arcade Video
(Shows Older Model)

Optional Swipe Card Install (Each) - Add $125
Optional Dollar Bill Acceptor / Stacker - Add $395
Optional 220 Volt Power Conversion - Add $CALL

Product Condition : Brand New In Factory Box
Factory Warranty : Click For Warranty Information
Power Requirements : 110 Volts | Optional 220V
Electrical Usage : 110V @ 6A | 220V @ 3A
Players : 1 Player Ticket Redemption Wheel Game

Treasure Quest Arcade Wheel Game Dimensions :
Height: 105", Width: 46", Depth: 32", Weight: 422 Lbs