Infinity Blade
FX

TouchFX
Touchscreen
Video Arcade
Battle Game

Optional Ticket Redemption Feature !


---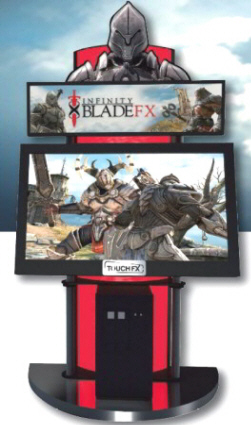 1 Player Model Shown - 2 & 3 Player Models Available







$ 8275 !
(1 Player)

$ 16575 !
(2 Player)

$ 22675 !
(3 Player)






Best Of Show Award - Mention - BOSA 2011

Infinity Blade FX - Touchscreen Video Game (With
Ticket Redemption Feature) - Infinity Blade FX comes
with gorgeous visuals, adrenaline-fueled battles and advanced characters ! Using basic finger swipe moves, players spar with a variety of challenging opponents,
plus upgrade skills, weapons and armors. Players take
the "ancestral sword" of their forefathers to fight foes
and as heroic knights they battle against the sinister
God-King and his brutish Titans in this thrilling game !

Infinity Blade FX Video Arcade Game Features:

▪ Fun, Challenging Touchscreen Swiping Gameplay
▪ Stunning Cabinet Design Draws Attention !
▪ Supersized Multi-Touch Screen Experience !
▪ Ticket Redemption Option Can Be Turned On or Off
▪ Customizable Ticket Redemption Reward Structure

BONUS ! All 2 and 3 Player Models come standard with
all screens playing Infinity Blade, but you can have any combination of TouchFX Games installed by request !



Infinity Blade FX Game Brochure



Infinity Blade FX Service Manual



Infinity Blade FX Gameplay Video



Optional 220 Volt Power Conversion - Add $245



Product Condition : Brand New In Factory Box


Factory Warranty : Click For OEM Warranty Info


Power Requirements : 110 Volts | Optional 220 V


Monitor : 46" HD LCD Color Touchscreen Display


Players : 1, 2 & 3 Player Touchscreen Video Games

Infinity Blade FX 1 Player Video Game Dimensions


Height: 106", Width: 48", Depth: 24", Weight: 351 Lbs

Infinity Blade FX 2 Player Video Game Dimensions


Height: 106", Width: 48", Depth: 48", Weight: XXX Lbs

Infinity Blade FX 3 Player Video Game Dimensions :


Height: 96", Width: 50, Depth: 50", Weight: 701 Lbs

Arcade
Legends 3

New LCD
Monitor Model

New Model
Comes With
135 Games !

Multi-Game
Video Arcade Game Machine

"Free-Play"
Non-Coin Use



---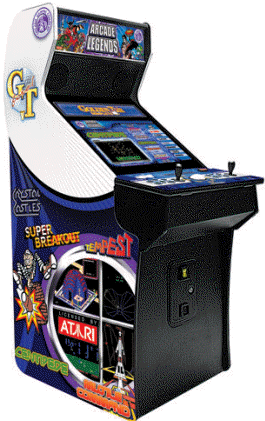 135 Classic Video Games + Comes With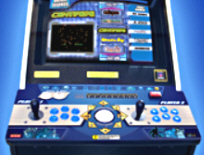 Arcade Legends 3 Game Info Guide





(Shows Same Model But With Older CRT Monitor)







(Lift Gate-Curb)

$ 2995 !


# 1 VIDEO ARCADE GAME FOR HOME & OFFICE !
FREE CURBSIDE DELIVERY TO ALL 48 STATES !



Arcade Legends 3 ™ Upright Multi-Game Video Arcade Game Machine with New LCD Monitor !


The only fully authentic, licensed multigame arcade machine on the market! Arcade Legends 3 comes with
135 authentic classic video games wrapped in its commercial quality cabinet - Plus you can expand the
system with Arcade Legends 3 Upgrade Packs !

Games are selected using the scrolling on-screen menu
using the joystick, and game operating instructions for
each game are explained on-screen for first-time users.
A very user-friendly system, the Arcade Legends 3 is a perfect fit for home or office game rooms. Capture all the fun and excitement of all of your old favorite games !

Arcade Legends III comes completely assembled with (2)
8-Way Commercial Joysticks + (2) 6-Button Game Control Areas plus (1) 3" Commercial Trackball, (12) Play Control Buttons, (1) One Player, (1) Two Player + (1) Exit Game Buttons

plus traditional (but non-functioning) coin door.



Arcade Legends 3 Upright Model Game Features :

• Long-Lasting, Power Saving LCD Flat Panel Monitor
• User Friendly Graphical User Interface Game Menu
• Commercial Quality Happ Controls Joysticks, Player
Control, Fight and Fire Buttons + Smooth 3" Trackball
• Volume Control, Individual Game Settings, System
Menu Control Buttons located Inside Lockable Door,
with all settings modified via On-Screen GUI Menu

Game volume and settings are accessed using the on-screen Setup, Service and Game Customization Menus, which allows changes to any original game parameters.



Arcade Legends 3 Information Page

Arcade Legends 3 Games List

Arcade Legends 3 Game Brochure

Arcade Legends 3 Service Manual

Arcade Legends 3 Live Video
(Shows Older Model With CRT Monitor )


Optional 20 Game Upgrade Package - Add $395


Optional 220 Volt Power Conversion - Add $375


Optional First Floor Inside Delivery (US) - Add $295



Product Condition: Brand New In Factory Box


Factory Warranty : Click For OEM Warranty Info


FREE Warranty : BMI Gaming One Year Warranty


Extended Warranty : Available - Click For Details


Power Requirements :
110 Volts | Optional 220V


Monitor : 26" LCD Flat Panel Color Monitor

Players : 1 to 8 Player Classic Video Arcade Machine

Arcade Legends 3 Upright Arcade Game Dimensions :


Height: 67.5", Width: 26.5", Depth: 40", Weight: 381 Lbs