Pac-Man
Battle Royale
Pedestal

Coin Operated
or Free-Play




---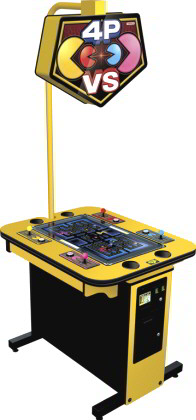 $ CALL


Pac-Man Battle Royale Pedestal Model Arcade Game
Pac-Man Battle Royale is the first four player competitive Pac-Man arcade game every made ! The original Pac-Man game concept has been given a wild and carnivorous
game twist - Eliminate your opponents by eating them,
and the last player standing wins the round !

When players eat a power pellet, they power-up by doubling in size and increasing in speed. Once powered
up, they are now able to eat non powered blue players
and ghosts. Players of the same size simply bounce off each other. Players can also be eliminated by running into ghosts if there aren't any powered up players. Eating a piece of fruit or all of the pellets resets the maze with a fresh new set of power pellets. At the end of the game, statistics are displayed for each players such as "Won Most Rounds" and "Ate Most Pac-Man" - This awesome new game is simple, competitive, and highly addictive !!!



Pac Man Battle Royale Brochure



Pac Man Battle Royale Service Manual



Pac-Man Battle Royale Live Video



Optional 220V Power Conversion - Add $245



Product Condition : Brand New In Factory Box


Factory Warranty : Click For OEM Warranty Info


Power Requirements : 110 Volts | Optional 220V


Monitor : 32" LCD Widescreen Flat Panel Color Monitor


Players : 1 - 4 Player Cocktail Video Arcade Game

Pac-Man Battle Royale Cocktail Arcade Game Dimensions:


Height: 90", Width: 35", Length: 45", Weight: 366 Lbs





World's Largest
Pac Man

Classic Video Arcade Game

Coin Operated
or Free Play Use



---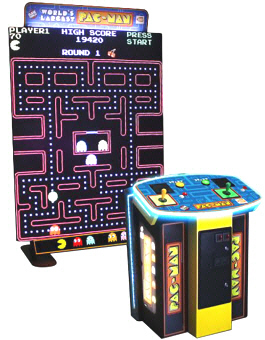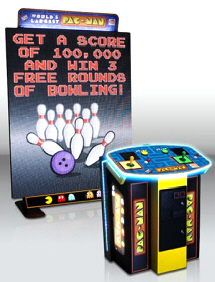 $ CALL


World's Largest Pac Man Video Arcade Game -
The World's Largest Pac-Man & Friends is a awesome new video arcade attraction piece, great for any Arcade, FEC, Retail Store or even the Home ! Players can now
get their chance to play Pac-Man on the BIG SCREEN !

With the new World's Largest Pac-Man Arcade Game,
the original Pac-Man video game has now been faithfully reproduced to be played on a HUGE 108" LED Display Screen, where players get to eat the dots, ghosts and power pellets to complete the all the mazes, and also offers the world's first 2 player simultaneous gameplay mode, where 2 players can simultaneous cooperate to complete all the mazes in Pac-Man ! During two player cooperative play, Pac-Man characters become different colors to avoid player confusion, with Player 1 assigned the classic "yellow" Pac-Man, while Player 2 gets to control the new "green" Pac-Man !

Another addition to World's Largest Pac-Man Game is the ability to "continue" play after a player loses their last life - In the original Pac-Man, players did not have this ability, and would have to start from the beginning to try and break the highest score - And the World's Largest Pac-Man Game has brand new "High Score Tables" allowing
longer players names to appear instead of the original 3 character names, as well as a unique new "Bragging" Screen" that lists the accomplishments of players at the end of each level, which shows players that "ate the
most dots", "ate the most ghosts" and summarizes the player's in-game accomplishments for all to see !.

The World's Largest Pac-Man Arcade Game features
fully interactive, rotating, multi-colored LED Lights which surrounds the entire Control Panel pedestal, and comes with some great operator features, such as "Adjustable Lives", which gives operators the ability to easily adjust the number of lives given per player, and the unique "Advertisement Feature", where operators can upload their company logo, drink specials, party packages, upcoming store promotions or outside advertisements
to the game via USB Flash Drive, and then these ads or messages are displayed during the game's Attract Mode.

World's Largest Pac-Man also offers game expansion
and flexibility for future updates to increase the amount
of classic game titles for players to choose from - Expect
the classic Galaga Game to be offered as an update soon !


World's Largest Pac-Man Brochure



World's Largest Pac-Man Manual

World's Largest Pac-Man Ad Manual

World's Largest Pac-Man Review

Optional 220V Power Conversion - Add $245



Product Condition

: Brand New In Factory Box


Factory Warranty : Click For OEM Warranty Info


Power Requirements :

110 Volts | Optional 220V




Monitor :

108" LED Vertically Mounted Display

Players : 1 - 2 Player Classic Video Arcade Game

World's Largest Pac Man Video Game Dimensions :


Height: 105", Width: 69", Depth: 105", Weight: CALL




Galaga
Assault

Ticket Videmption
Arcade Game


---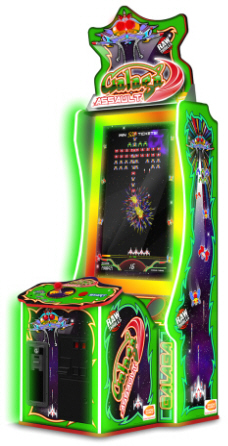 $ CALL


Galaga Assault Ticket Videmption Arcade Game -
For those who are or have been Galaga fans for years and for the ticket redemption rookies who may be playing Galaga for the first time, Bandai Namco and Raw Thrills have joined forces again to present Galaga Assault.

Players must destroy a wave of enemy ships for a
chance to defeat the mother ship and win the bonus !
And Galaga Assault comes with a new "add ships"
feature that allows the player to buy more ships and expand to an armada of up to 12 attacking ships.

And players can also automatically post their high
scores in Galaga Assault directly to Facebook with
Galaga Assault's unique QR Code scanning feature

With it's stunning 42" 1080p HD Monitor and Visuals,
along with its blazingly colorful cabinet and LED lights
Galaga Assault might be the most fun you'll ever have shooting down aliens and winning tickets in arcades !

Galaga Assault Game Brochure

Galaga Assault Service Manual

Optional
220V Power Conversion -

Add $CALL



Product Condition

: Brand New In Factory Box


Factory Warranty

:

Click For OEM Warranty Info


Power Requirements :
110 Volts | Optional 220V


Monitor :
42" HD 1080p Color Monitor


Players : 1 Player Ticket Redemption Video Game


Galaga Assault Ticket Videmption Game Dimensions


Height: 109", Width: 34", Depth: 43", Weight: CALL