Arcade
Legends 3

New LCD
Monitor Model

New Model
Comes With
135 Games !

Multi-Game
Video Arcade Game Machine

"Free-Play"
Non-Coin Use



---


135 Classic Video Games + Comes With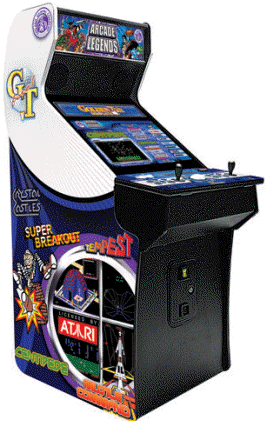 Arcade Legends 3 Game Info Guide






(Shows Same Model But With Older CRT Monitor)





$ 2995 !


# 1 VIDEO ARCADE GAME FOR HOME & OFFICE !



Arcade Legends 3 ™ Upright Multi-Game Video Arcade Game Machine with New LCD Monitor !


The only fully authentic, licensed multigame arcade machine on the market! Arcade Legends 3 comes with
135 authentic classic video games wrapped in its commercial quality cabinet - Plus you can expand the
system with Arcade Legends 3 Upgrade Packs !

Games are selected using the scrolling on-screen menu
using the joystick, and game operating instructions for
each game are explained on-screen for first-time users.
A very user-friendly system, the Arcade Legends 3 is a perfect fit for home or office game rooms. Capture all the fun and excitement of all of your old favorite games !

Arcade Legends III comes completely assembled with (2)
8-Way Commercial Joysticks + (2) 6-Button Game Control Areas plus (1) 3" Commercial Trackball, (12) Play Control Buttons, (1) One Player, (1) Two Player + (1) Exit Game Buttons

plus traditional (but non-functioning) coin door.



Arcade Legends 3 Upright Model Game Features :

• Long-Lasting, Power Saving LCD Flat Panel Monitor
• User Friendly Graphical User Interface Game Menu
• Commercial Quality Happ Controls Joysticks, Player
Control, Fight and Fire Buttons + Smooth 3" Trackball
• Volume Control, Individual Game Settings, System
Menu Control Buttons located Inside Lockable Door,
with all settings modified via On-Screen GUI Menu

Game volume and settings are accessed using the on-screen Setup, Service and Game Customization Menus, which allows changes to any original game parameters.



Arcade Legends 3 Information Page

Arcade Legends 3 Games List

Arcade Legends 3 Game Brochure

Arcade Legends 3 Service Manual

Arcade Legends 3 Live Video
(Shows Older Model With CRT Monitor )


Optional 20 Game Upgrade Package - Add $395


Optional 220 Volt Power Conversion - Add $375


Optional First Floor Inside Delivery (US) - Add $295



Product Condition: Brand New In Factory Box


Factory Warranty : Click For OEM Warranty Info


Power Requirements :
110 Volts | Optional 220V


Monitor : 26" LCD Flat Panel Color Monitor

Players : 1 to 8 Player Classic Video Arcade Machine

Arcade Legends 3 Upright Arcade Game Dimensions :


Height: 67.5", Width: 26.5", Depth: 40", Weight: 381 Lbs

Included in the New Golden Tee Complete Model : All 29 Golden Tee Courses From 2002 to 2005 !



Release

Courses Included

#

GT Fore

Mystic Hills, Suerte Del and Sol Crimson Rock

3
GT 2002
Pine Meadow, Bay Side, Rattlesnake, Maple Acres
and Castle Shire
5
GT 2003
Buckhorn, Crawdad Kings, Cactus Canyon, Kiwi Springs
and Bluestone
5
GT 2004
Kings Canyon, Blue Stone, Heartland Creek, Eagles Peak,
Tropical Falls, Blue Horizon and Swords Pointe
7
GT Xtra !
Cedar Meadows and Shadow Swamp
2
GT 2005
Blue Horizon, Eagles Peak, Ridgewood, Painted Gorge,
Oak Hollow, Sapphire Springs and Balmoral Greens
7

TOTAL COURSES INCLUDED WITH GOLDEN TEE FORE COMPLETE :

29