Spin Out

Ticket
Redemption Wheel Game


---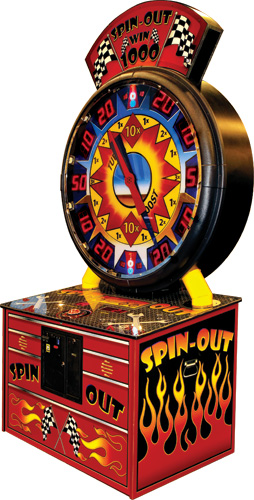 $ CALL




Spin Out Ticket Redemption Wheel Game
- Giant
new Spinning Wheel Ticket Redemption Attraction piece from the very creative folks over at Coastal Amusements.

Spin Out Giant Redemption Wheel Game Features :

▪ "Larger Than Life" Attraction for Higher Earnings !

▪ Winner Every Time Keeps Players Coming Back
▪ (16) Different Ways to Win Progressive Bonus !
▪ Fantastic Lights, Digital Sounds, Music and Voice !
▪ Attract Players From Everywhere In Any Location !



Spin Out Arcade Game Brochure

Spin Out Arcade Operators Manual

Spin Out Arcade Factory Video

Optional
$1 to $20 Bill Acceptor -
Add $350

Optional 220

Volt Power Conversion -

Add $CALL


Product Condition: Brand New In Factory Box


Factory Warranty : See Factory Game Warranties


Power Requirements : 110 Volts | Optional 220V


Players :
1 Player Wheel Ticket Redemption Game

Spin Out Ticket Redemption Wheel Game Dimensions :


Height: 117", Width: 59", Depth: 39", Weight: 764 Lbs



Sweet Shoppe
Candy Crane

Candy Crane
Redemption Machine


---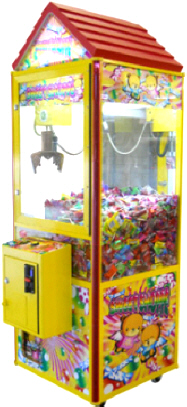 $ CALL




Sweet Shoppe Candy Crane
-
As seen in stores
and arcades everywhere! Great for parties as well !
Sweet Shoppe Candy Crane Machine Features :
▪
All Steel Cabinet

▪
Attractive

▪
Programmable Pricing and Options

▪
Electronic Sounds

▪
Prize Detection

▪
Candy Storage

▪
Pad Lock Bar

▪
Electronic Coin Comparator


Sweet Shoppe Crane Brochure



Sweet Shoppe Operators Manual

Sweet Shoppe Candy Crane Video

Optional
$1 to $20 Bill Acceptor -
Add $350

Optional

220 Volt Power Conversion -

Add $CALL



Product Condition

: Brand New In Factory Box


Factory Warranty : See Factory Game Warranties


Power Requirements : 110 Volts | Optional 220V


Players :
1 Player Candy Crane Claw Machine

Sweet Shoppe Candy Crane Game Dimensions :


Height: 74", Width: 24", Depth: 29", Weight: 201 Lbs



Subway Surfers
Arcade

Ticket Videmption
Arcade Game



---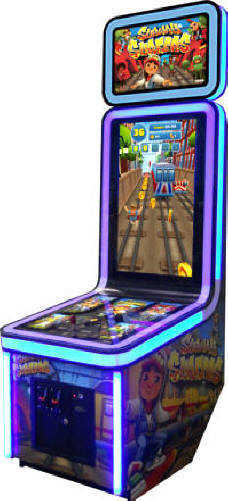 $ CALL




Subway Surfers Arcade Ticket Videmption Game - Subway Surfers Arcade is based on the globally-popular mobile video app game, with over 425 million downloads worldwide to date, and can be used as either a ticket redemption machine or a standalone video arcade game.

Subway Surfers is running obstacle game, where the players try to collect as many coins as they can while avoiding obstacles and creatures trying to catch them !
Players can choose from one of (30) different "Surfers"
and over (17) different "Subways" to surf on, including London, Tokyo, Moscow, Miami, NYC, LA and more !

Once players selects their character and subway, they are thrown into the deep end to start surfing, and use
the 4-Way Joystick control to surf and avoid the various trains, barriers and obstacles in their way, as well as avoiding the inspector and his dog trying to catch them,
as they collect coins and race against time for tickets !

Players can get help in the game by grabbing various "power-ups", including the Hoverboard, Jetpack, Coin Magnet, Power Jumper and Super Sneakers, and the
game includes a "Bonus Feature", which players must
collect all the letters of the word BONUS from the stage
to add an extra 1000 coins to their score ! There is also
a "Continue Play" feature that allow players to continue
the game for extra credits when they fail, without losing anything like their collected BONUS letters, coins, etc.

Subway Surfers Arcade Brochure

Subway Surfers Arcade Manual


Subway Surfers Factory Video

Optional
$1 to $20 Bill Acceptor -
Add $350

Optional

220 Volt Power Conversion -

Add $CALL



Product Condition: Brand New In Factory Box


Factory Warranty : See Factory Game Warranties


Power Requirements : 110 Volts | Optional 220V


Monitor :
55" Vertically-Mounted HD LCD Monitor

Players : 1 Player Ticket Videmption Game

Subway Surfers Arcade Videmption Game Dimensions :


Height: 106", Width: 32", Depth: 44", Weight: 522 Lbs



Subway Surfers
65

Ticket Videmption
Arcade Game



---










$ CALL




Subway Surfers 65 Ticket Videmption Game - Subway Surfers 65 is based on the globally-popular mobile video app game, with over 425 million downloads worldwide to date, and can be used as either a ticket redemption machine or a standalone video arcade game.

Subway Surfers 65 Is running obstacle game, where the players try to collect as many coins as they can while avoiding obstacles and creatures trying to catch them !
Players can choose from one of (30) different "Surfers"
and over (17) different "Subways" to surf on, including London, Tokyo, Moscow, Miami, NYC, LA and more !

Once players selects their character and subway, they are thrown into the deep end to start surfing, and use
the 4-Way Joystick control to surf and avoid the various trains, barriers and obstacles in their way, as well as avoiding the inspector and his dog trying to catch them,
as they collect coins and race against time for tickets !

Players can get help in the game by grabbing various "power-ups", including the Hoverboard, Jetpack, Coin Magnet, Power Jumper and Super Sneakers, and the
game includes a "Bonus Feature", which players must
collect all the letters of the word BONUS from the stage
to add an extra 1000 coins to their score ! There is also
a "Continue Play" feature that allow players to continue
the game for extra credits when they fail, without losing anything like their collected BONUS letters, coins, etc.

Subway Surfers 65 Arcade Brochure

Subway Surfers 65 Arcade Manual


Subway Surfers 65 Factory Video

Optional
$1 to $20 Bill Acceptor -
Add $350

Optional

220 Volt Power Conversion -

Add $CALL



Product Condition: Brand New In Factory Box


Factory Warranty : See Factory Game Warranties


Power Requirements : 110 Volts | Optional 220V


Monitor :
65" Vertically-Mounted HD LCD Monitor

Players : 1 Player Ticket Videmption Game

Subway Surfers 65 Videmption Game Dimensions :


Height: XX", Width: XX", Depth: XX", Weight: XXX Lbs
Coastal Amusements Arcade & Redemption Games |
2020 Catalog | I - S


A - H
| I - S | T - Z

See Products By Category
| See Products By Manufacturer