BRAND NEW GAME DESIGN AND EXPLOSIVE PLASMA SCREEN RACING
AND DRIVING ACTION SETS THE STAGE FOR THE RELEASE OF THE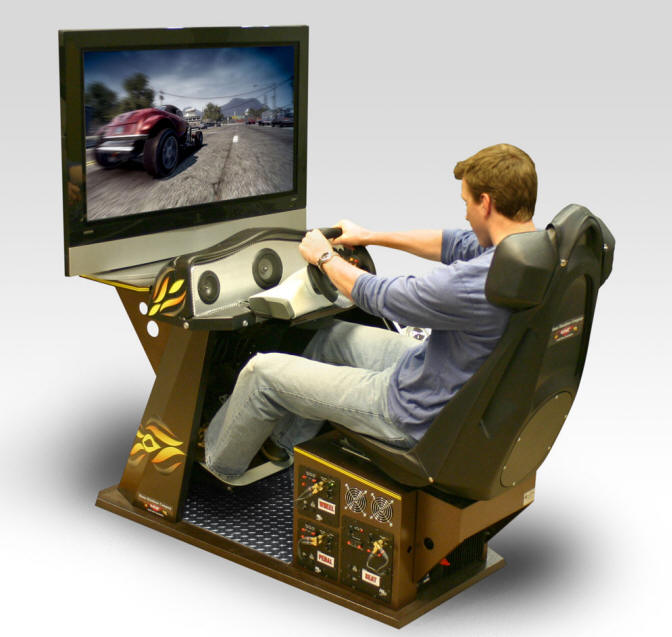 Shown with Optional Monitor Above - Now Only Available In Red Color Cabinet
Leather

Hunsaker

Racing Seat w/Built-In Speakers and Rumbler

Realistic Seating So You No Longer Have to Sit on the Floor !

Adjustable Pedals Seat Accommodate Most Sized Rides !

5.1 Dolby Surround Sound Audio with 1000 Watts of Power

Fine Tuning with Individual Audio Feedback Controls

Instant Access to Audio Functions Via Control Unit
Imagine sliding into the cockpit of a Formula F1 race car with over 750 horses under the hood. You scream around the track at 220 MPH. Your body is rocked by the intense vibrations of the motor. You hug each curve tightly as your custom seat does its best to keep you from being thrown out. You reach to your side and shift into 6th gear- you're screaming now as you push the gas pedal through the floor.
THIS is how you should feel when you race. THIS is how the HRS Pro puts you inside the game!

On the Track and Streets :

You've spent months tricking out your new ride. You've got the horsepower, you've got the accessories and trim. You've got all of the custom parts and you want to feel it. The other cars rev their engines all around you and the adrenaline pumps through you. The car shakes like it's about to fall apart and you're being rocked with the intensity - then you slam it into first and squeal off the line as you're being plowed into the back of your seat. You grip the wheel with white knuckles as you swerve in front of a competitor, narrowly cutting him off. You crush the clutch and slam it into second as you eye the first corner up ahead. The sound of the guy you just passed comes roaring up from the rear left side of the car- he's catching up. You block the pass as you drift around the first corner at 92 MPH. THIS is how you should feel when you race. THIS is how the HRS Pro Home Racing Video Simulator puts you inside the game!

In The Air, Space, Field or Battle :

Whether you're into Halo, Madden, Half Life, Warcraft, Fight Night, Hitman or ANY other type of game, you're going to be floored when you play in the HRS Pro. This machine rocks you with every hit.
You are 100% surrounded within the game environment, thanks to the SIX Dolby 5.1 speakers that
point all around you, coupled with HRS's super-powerful subwoofer system and seat shaker motors.
A normal game turns into an extraordinary game. THIS is how the HRS puts you inside ANY game!







---


Home Racing Pro Simulator Arcade Machine - With the new Home Pro Racing Simulator Arcade Machine, you can finally enjoy all the latest racing and driving games on the market for Xbox, Xbox 360? , PS/3 and PC platforms like Project Gotham Racing, Need For Speed Underground, Grand Theft Auto, NASCAR, Gran Turismo, The Fast and The Furious, plus many more, and with a quick change of the
steering wheel for a flight yoke, awesome flight simulator programs, all in the very first high-definition
video arcade game racing simulation system created specifically for the residential market, and totally designed for a completely immersive and awesomely realistic racing environment within its top-quality commercial-grade industrial metal cabinet and housing built for years of carefree fun and excitement !

The Home Pro Racing Simulator comes with a unique THX-certified, 1000-watt
5.1 Digital Surround Sound System that offers everything you could possibly want? and then some! All controls are adjustable right from the comfort of your custom
black Hunsaker Racing Seat - So you will enjoy the most intense and exhilarating racing experience ever possible with your new Home Pro Racing Simulator, and
for that matter, a totally radical gaming experience, no matter what type of other
video games (flying, fighting, shooting, kids, etc) you play! And amazingly powerful sound controls like the Digital SoundTouch? Control Center lets you manage
volume to all speakers (bass shaker units are controlled separately) and more!

You can simultaneously connect up to five other audio sources, including other console games,
personal computers, DVD players, CD players or iPod's - and control them all from the centrally
located Digital SoundTouch? Control Center, so your Home Pro Racing Simulator can pull
"double-duty" and actually be used as your DIGITAL SURROUND HOME MUSIC CENTER !!!

With its immersive sound stage, it creates the absolute perfect atmosphere for gaming, whether you
are speeding through a checked flag while driving at Daytona, flying stealth bombers over the desert
on a bombing run, or in the middle of a shootout with terrorists in Houston. With its very powerful 10" subwoofer behind your seat, 3 front speakers, and multiple multiplexed rear speakers, you *are*
right in the middle of the action on the race track or any other game you choose to play on it!

It is unlike anything you have ever experienced in gaming, and you have to feel it in person to believe it !!

And at full volume, the system pumps out an astounding 115 decibels
of clean sound! In fact, the system can be turned up so loud (if you wish), that some BMI Gaming employees have even worn racing helmets and gloves for added realism, and yet hear everything like in a real race car!
Feel your seat, steering wheel, and pedals pulsate with realistic vibration action! You have full vibration control with 3 modules located at various locations on the unit - plus you can sit back and enjoy a true movie cinema experience with this unit by watching Hollywood blockbusters with full and accurate Dolby Digital Surround Sound while relaxing in your adjustable seat - Or even enjoy your favorite CDs and DVD's from the comforts of your racing seat. You can also hook up headphones for a private audio experience and still be able to enjoy the deep bass sound of the audio. The Simulator also comes with a "hideaway" keyboard platform for use with PC-based games and software - One of our clients even uses his simulator for daytrading... if you can believe it! (with the help of his keyboard located on the included "hideaway" remote keyboard platform and his attached PC)

YOU CAN RACE 100'S OF OTHER PLAYERS FROM ALL ACROSS THE WORLD USING THE XBOX 360? + OPTIONAL XBOX LIVE SERVICE FROM MICROSOFT - AND UP TO 2 GAMES
CAN BE LINKED USING XBOX 360? FOR REAL HEAD TO HEAD RACING COMPETITION !!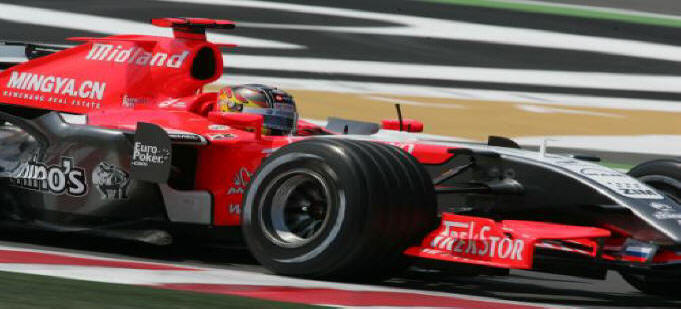 ---


Home Pro Racing Simulator Sound System features: (All Models)



THX? Certification :
The absolute "seal of approval" for studio-quality speakers. It is the highest assurance that our speakers accurately recreate the full sonic experience of a actual movie theater.
The system used in the Home Pro Racing Simulator is one of a select few speaker systems in the
world that meets the rigid standards for unparalleled THX-Quality Approved Sound.

Dolby? Digital 5.1 Support :
Xbox?, Xbox360?, PlayStation? 2, cable, satellite TV, and HDTV's all
use Dolby Digital Surround Sound. Our unit includes a hardware-based Dolby Digital 5.1 digital
decoder for full, rich, alive and interactive surround sound!

DTS? Digital Surround :
Delivers 5.1 digital sound that rivals master soundtracks. DTS soundtracks are included in many DVD videos, DVD Audio discs, and some Xbox? and PlayStation? 2 games. Our unit includes a hardware-based DTS digital decoder for master-quality sound, and also includes support for
DTS 96/24, an enhanced, higher-resolution, studio format available on many DVD video and audio discs

Powerful, Distortion-Free Bass:
The large 10-inch, long-throw subwoofer driver with flared bass port delivers almost
200 watts of thunderous bass, and coupled with the 3 hi-powered, super-low bass response "seat shakers makes
this the ultimate home driving simulator, and with this very powerful system in place, you can create sound pressure
levels approaching that of actual in-car racing experience (>115 decibels) if you so choose!


Auto Digital Equalization :
Actively adjusts frequency response in real time for the cleanest, most accurate sound reproduction.
Amplifier:
Ultra-linear, high-capacity analog. Signal to noise ratio: >93.5 dB, typical 100 Input impedance: 8,000 ohms. Hardware decoding for Dolby? Digital, DTS?, and DTS?, 96/24 soundtracks, Dolby Pro Logic II (Movie and Music modes).
6 Channel Direct. Stereo (x2). Supported digital formats: Dolby Digital, DTS and DTS 96/24, PCM (uncompressed stereo): 44.1 kHz / 16 bit through 96 kHz / 24 bit
Source Inputs:
Digital optical Xbox?, Xbox30 PlayStation? 2, DVD or CD players with digital outputs. Digital coaxial for DVD or CD players or PC sound cards (requires coaxial cable, sold separately) 6 channel direct (3 stereo-mini connectors) for 2, 4, or 6 channel PC sound cards OR 6 channel direct (3 stereo-mini connectors) for 3 stereo analog mini audio sources, like iPod's, CD and DVD players. Analog stereo-mini (on side panel of control center) for portable CD, MP3,or MiniDisc? players
---

General Home Pro Racing Simulator Arcade Machine Features : (All Models)

Base System with Optional Steering Wheel + Pedals, configured for your choice of Xbox, Xbox 360?, PS/3, or PC Hookup
Optional New Factory Sealed Xbox 360? Console with Hi-Def 1080i output, Project Gotham Racing and Bonus Game
Optional New Factory Sealed 42" LCD Widescreen HDTV 1080i
Free Bonus "Hideaway" PC Keyboard Stand for dual use with a computer (PC)
Free Bonus "Plasma Cowl" for use with 42" Plasma and LCD Flat Screen monitors

Game Features:

Fully Adjustable Black Custom Professional Hunsaker Racing Seat
Fully Adjustable Steering Wheel, Gas Pedals and Brake Pedestal Stands
(4) THX-Certified Digital Class Amplifiers with 1000 + Watts Of Audio Power
(3) Bass Seat Rumblers with Adjustable Car Vibration Level Controls
(1) 10" Long Throw Subwoofer
Digital SoundTouch? Control Center with customizable Dolby Digital Controls for personalized sound stages
Microsoft Wireless Xbox360 Racing Wheel supplied for all Xbox360 Models (suitable for all ages and all sizes)
Logitech G25 Force Feedback Steering Wheel supplied for all PS/3 & PC Models (suitable for all ages and all sizes)
Never becomes obsolete, and can use all new and existing PC's and gaming systems!
Easily adaptable to include flight yokes, joysticks, game pads and guns for use with other video games
Can be easily moved anywhere in your house - Plus can use all your existing TV, Plasma or LCD displays!



While the Home Pro Racing Simulator Arcade Machine

is best experienced with a large (36"to 45") Dedicated
Plasma monitor as displayed in the photo above, it can also be connected to and placed in front of any existing
CRT TV, LCD or Plasma Monitor, or Projector Screen in your home, office or business.

Custom colors and other customizations are also available - Please contact us for details!