Pac-Man's
Arcade Party

30th Anniversary
Limited Edition

25" LCD Monitor
Standard Cabinet

Commercial
Coin Operated Arcade Model




---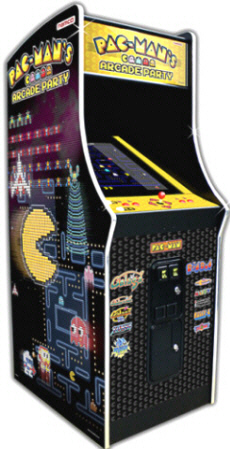 (Lift Gate-Curb)
$ 3075 !


Pac-Man's Arcade Party - 30th Anniversary Edition
Coin Operated Model - This new 30th Anniversary
Edition, packed with 13 classic 80's video arcade games
is called "Pac Man Arcade Party" and made by Namco
Bandai, the original manufacturer of Pac Man Arcade

Relive your past, and introduce young ones to the classic 1980's games just like the ones you played in the arcades ! Comes with (12) TWELVE Classic 80's Games : Pac-Man, Pac-Mania, Galaga, Galaga '88, Bosconian, Dragon Spirit, Dig Dug, Galaxian, Mappy, Rally X, Rolling Thunder and Xevious ! | Coin Model Does Not Include Ms. Pac Man.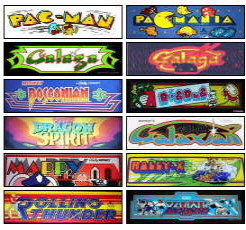 25" Commercial LCD Color Video Monitor - This Coin Operated Cabaret Model includes Two (2) Working
Quarter Coin Mechanisms + can be set for free-play.



Pac Man's Arcade Party Coin Brochure



Pac Man Arcade Party Coin-Op Manual



Pac-Man's Arcade Party Live Video



Optional 220V Power Conversion - Add $245



Product Condition : Brand New In Factory Box


Factory Warranty : Click For OEM Warranty Info


FREE Warranty : BMI Gaming One (1) Year Warranty


Power Requirements : 110 Volts | Optional 220V


Monitor : 25" Diagonal LCD Flat Panel Color Monitor


Players : 1 - 2 Player Classic 80's Video Arcade Game

Pac Man Arcade Party 25" Coin Model Dimensions :


Height: 68", Width: 24", Depth: 33", Weight: 395 Lbs




Pac-Man Chomp Mania
Arcade

Tickets or
Gift Card Videmption
Arcade Game




---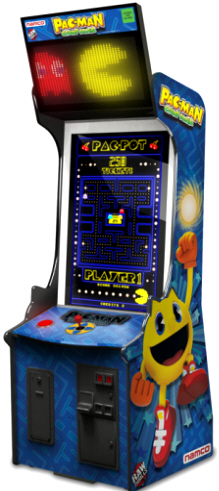 $ CALL !
(Tickets)

$ CALL !
(Gift Cards)


Pac-Man Chomp Mania Arcade Ticket / Gift Card Video Redemption Game - Raw Thrills and Namco join forces to create the new Pac-Man Chomp Mania Game !
The Pac-Man Chomp Mania Cabinet is beautifully lit from top to bottom with multi-colored LEDs plus a spectacular LED marquee, which vibrantly displays player score, in-game messages plus various fun Pac-Man animations !

This new redemption game brings the classic Pac-Man game concept and combines it with the excitement of winning tickets! Players win tickets by munching on as many dots and fruits as they can while being chased by the ghosts; Inky, Blinky, Pinky, and Clyde. Grabbing the Power Pellets and eating the "frightened" blue ghosts
earn players extra points. If the level is cleared, players advance to bonus stage where the "PAC-POT" jackpot is !

When players win the "PAC-POT", they are treated to mesmerizing Pac-Man animations and superb LED light show! Pac Man Chomp Mania gameplay is specially
tailored to please both Pac-Man vets and novices alike !

SPECIAL GIFT CARD MERCHANDISER OPTION !

Pac-Man Chomp Mania can also double as a gift card merchandiser for street locations that don't use tickets !. With a few simple adjustments in the test menu and the addition of a gift card dispenser, your Pac-Man Chomp Mania game can offer gift card prizes instead of tickets.
It also has custom gift card image support which allows the upload of gift card images directly into the game via
any USB drive. Your gift card image is then be displayed on screen during both attract mode and gameplay mode !

* SELECT EITHER GIFT CARD OR TICKET REDEMPTION CABINET MODEL AT THE TIME OF YOUR ORDER



Pac Man Chomp Mania Brochure



Pac Man Chomp Mania Service Manual



Pac Man Chomp Mania Video



Optional 220V Power Conversion - Add $245



Product Condition : Brand New In Factory Box


Factory Warranty : Click For OEM Warranty Info


Power Requirements : 110 Volts | Optional 220V


Players : 1 Player Ticket Redemption Video Game

Pac-Man Chomp Mania Videmption Game Dimensions :


Height: 96", Width: 31", Depth: 33", Weight: 366 Lbs