2 Minute Drill
Football
Throwing
Simulator
Ticket
Redemption
or Free Play
---





(Shows Older NFL-Branded Model)

2 Minute Drill Football Arcade Game - It's been quite
a while since the industry has seen such a great coin
operated football arcade game, and ICE has designed
this phenomenal new football arcade game machine !

The 2 Minute Drill Football Arcade Game is one of the
most unique and interactive sports arcade games
around! The playfield of the game is 100% interactive
with SIX random "Pop-Out" targets in which player's
skill / accuracy in throwing "pigskins" is definitely tested!

2 Minute Drill also includes 3 different size scoring holes
for each skill level, so everyone from beginners to pro
athletes can be challenged ! Play to achieve "Hall of Fame"
status. Please note that the new 2012 Model of 2 Minute
Drill does not come with NFL Logos as shown on left.

2 Minute Drill Brochure | Options
(Shows Older NFL-Branded Model)

2 Minute Drill Service Manual

2 Minute Drill Football Game Video
(Shows Older NFL-Branded Model)

* CHOOSE EITHER THE TICKET REDEMPTION OR
'JUST FOR FUN' CONTROL PANEL WITH ORDER

Optional Ticket Dispenser- Add $225
Optional Beacon Light - Add $125
Optional Game Link + Beacon Light - Add $150
Optional Deluxe Marquee Sign - Add $2175
Optional Dollar Bill Acceptor / Stacker - Add $375
Optional 220V Operation (Transformer) -
Add $295

Product Condition : Brand New In Factory Box


Factory Warranty :
Click For OEM Warranty Info

Power Requirements :
110 Volts | Optional 220V

Electrical Usage : 110V @ 4A | 220V @ 5A

Players :

1 - 2 Player Football Throwing Machine



NFL 2 Minute Drill Football Throwing Game Dimensions :


Height: 120", Width: 36", Depth: 106", Weight: 1165 Lbs


Kick Off

American Style
Football Kicking Arcade Machine

Optional Dollar
Bill Acceptor
---



BUILT TO ORDER
FACTORY LEAD TIME 4 - 8 WEEKS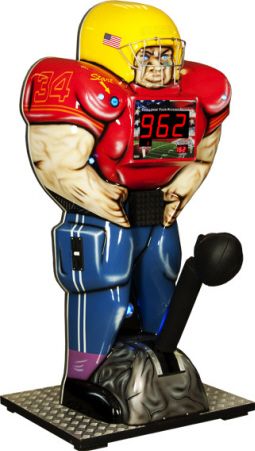 18 Country or Team-Specific Models Available !



$ 4875 !




Kick Off American Football Kicking Arcade Machine
The Kicker American-Style Football Kicking Arcade Machine is a great coin-operated machine for football
fans ! It challenges players to measure the strength
of their football kick, and offers funny voice messages !!

Multi-Language Capable ! Comes in English, Spanish, French, German and Russian language options, and the ability to add 1 or 2 Optional Bill Acceptors (DBA) and/or Optional Second Coin Mechanism for redundancy !

With the Optional Prize Receipt Printer, you can offer
any prize you like (t-shirts, toys, free drinks, mugs, etc)
on the receipts using the special printer software included

With the Optional Ticket Dispenser, this boxer turns into a ticket redemption game with programmable payouts.

* COMES IN 18 DIFFERENT COUNTRY/TEAM MODELS
PLEASE SELECT MODEL CHOICE AT TIME OF ORDER.



Kick Off Football Game Brochure



Optional Bill Acceptor (ICT) - Add $245


Optional Bill Acceptor (MEI) - Add $375


Optional Second Coin Mech (NRI) - Add $195


Optional 220 Volt Power Conversion - $ FREE



Optional Prize Receipt Printer (ICT) - Add $245


Optional Ticket Dispenser (Deltronic) - Add $245



Product Condition : Brand New In Factory Box


Factory Warranty : Click For OEM Warranty Info


Power Requirements : 110 Volts | Optional 220V


Players : 1 - 6 Player Coin Operated Soccer Machine

Soccer Kicker Football Kicking Game Dimensions :


Height: 69", Width: 56", Depth: 33", Weight: 436 Lbs