SuperCade
Arcade Game

Classic 80's
Video Arcade Game Machine

Non-Coin
Home Use Only



---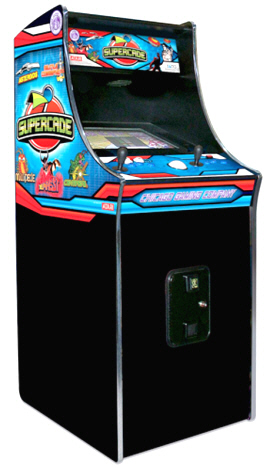 $ CALL !




LEAST EXPENSIVE REAL HOME VIDEO ARCADE GAME !


SuperCade ™ Classic 80s Video Arcade Machine - This legal and fully licensed Multi-Game Video Arcade Machine comes with 50 Authentic Classic 80s Video
Games, all in one compact + great looking commercial
cabinet created specifically for home and office play !

Games are selected using the scrolling on-screen menu
using the joystick, and game operating instructions for
each game are explained onscreen for first-time users.
A very user-friendly system, SuperCade is the perfect
game for home gameroom and game enthusiasts alike!

SuperCade controls, including game volume, can easily
be accessed from the front door of the game and also includes a self-test and diagnostic button for entering
the adjustments and diagnostics system menu, plus
monitor adjustment controls for picture adjustments.


SuperCade comes completely assembled with (2) 8-Way Joysticks + (2) 3-Button Game Control Areas plus (1) 3" Trackball plus a traditional (but non-functioning) coin mechanism door, along with rolling cabinet casters !



Here Are Just Some Of The 50 Games Included !

Arkanoid • Asteroids • Berzerk • Battlezone • Berzerk
Centipede • Gravitar • Lunar Lander • Missile Command
Millipede • Moon Patrol • PONG • QIX • Space Invaders
Super Breakout

•

Tempest • Plus 34 More Classic Games



Scroll Down For Complete List Of Games Included !



Optional 220 Volt Power Conversion -
Add $375

Product Condition
: Brand New In Factory Box

Factory Warranty
:
Click For OEM Warranty Info

Power Requirements
: 110 Volts | Optional 220V

Monitor : 19" Color Display Monitor

Players
: 1 - 2 Player Classic Video Arcade Machine

SuperCade Arcade Classic 80's Video Game Dimensions :

Height: 63", Width: 24", Depth: 30", Weight: 268 Lbs