Dance Dance Revolution X3




Video Arcade
Dance Machine


---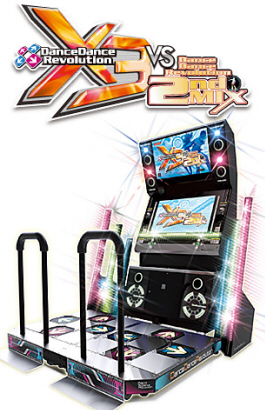 Dance Dance Revolution X3 Video Arcade Dance Game - Possible (Unconfirmed) Release of DDRX3 in Japan in Q2 / 2012. Other than a Japanese Language version available in Japan only, all future DDR games are permanently discontinued and not available
for sale outside of the Japanese market.

Best bet for a new dance arcade game would be the Pump It Up ! Dance Games From Andamiro




DDR X3 Arcade Dance Game Brochure



DDR X3 Dance Arcade Game Video



Optional 220 Volt Power Conversion : Add $CALL



Product Condition : Brand New In Factory Box


Factory Warranty : Click For OEM Warranty Info


Power Requirements : 120 Volts / Optional 220V


Monitor : XX" LCD HD Widescreen Color Monitor


Players : 1 or 2 Player Dance Video Arcade Game

Dance Dance Revolution X3 Dance Game Dimensions :


Height: XX", Width: XX", Depth: XX", Weight: XXX Lbs



Dance Dance Revolution X2

Video Arcade
Dance Machine


---


$ SOLD



Dance Dance Revolution X2 Video Arcade Dance Game - The DDR Revolution started many years ago when Konami announced the release of the first Dance Dance Revolution - Now 10 years later, Konami has now delivered yet another huge arcade dance floor hit, the new Dance Dance Revolution X2 Video Dance Floor Arcade Game, the latest installment in this superstar game series !

New DDR players, as well as older fans of the previous DDR releases will find plenty of music that they can dance
and sing to. Not just an arcade game, the Dance Dance Revolution X2 has made an impact on both the health and
fitness industries, by combining authentic video arcade game entertainment with an * intense * aerobic workout !

Novice players can get right into the action by selecting "Happy Mode" while hard-core players can select "Pro Mode" that will allow them to customize their game experience to their skill set. The DDRX2 Dance Floor
has been re-engineered to endure the high volume of
play associated with this successful game. Konami has
also added 70 brand new songs, combined with the
huge library of DDR hits from previous years to bring
the total DDR dance song catalog to over 400 tracks !

The new DDR X2 sports a modern and totally redesigned cabinet, which features a 37? LCD Widescreen Flat Panel Monitor, new lighting treatments and a powerful sound system - The Dance Dance Revolution X2 is built to turn any location or home into one of the hottest clubs in town !



DDR X2 Arcade Dance Game Brochure



DDR X2 Dance Arcade Game Video



Optional 220 Volt Power Conversion : Add $CALL



Product Condition : Brand New In Factory Box


Factory Warranty : Click For OEM Warranty Info


Power Requirements : 120 Volts / Optional 220V


Monitor : 37" LCD HD Widescreen Color Monitor


Players : 1 or 2 Player Dance Video Arcade Game

Dance Dance Revolution X2 Dance Game Dimensions :


Height: 91", Width: 77.5", Depth: 98", Weight: 805 Lbs
(Dimensions above are for a fully assembled unit, model comes in two (2) pieces : Dance Pads and Monitor Unit)