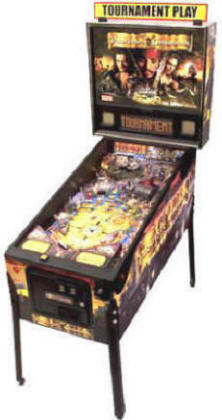 Here's the overview of the playfield. The red plastics
and decals are just placeholders for the final artwork.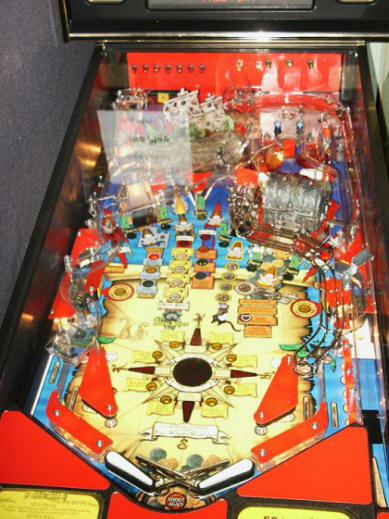 This two-flippered game has a wide open lower playfield which
contrasts sharply with the crowded upper half. The compass
dominates the lower playfield which shows the tasks to be
completed to light Four Winds Multiball.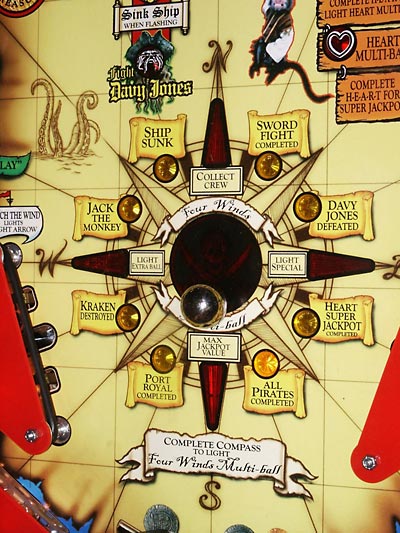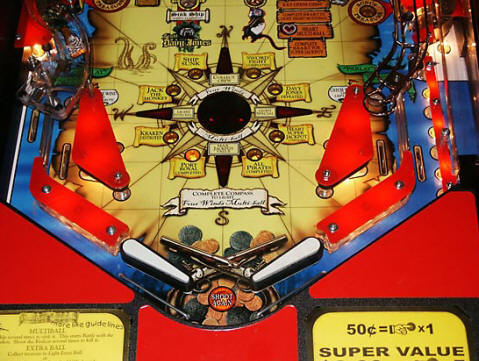 There is the usual one inlane and one outlane on each side.
Both inlanes can be fed from ramps.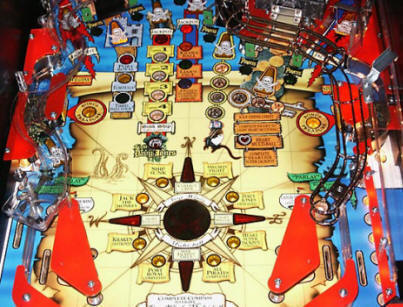 There is are unusual side shots through a short lane under each
ramp, with matching Bonus Treasure standup targets in front.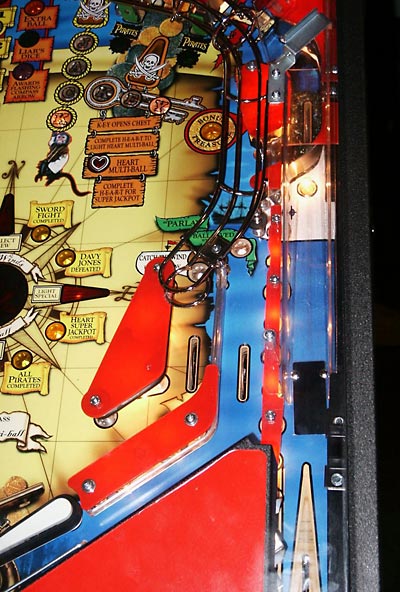 The launcher lane takes the ball up onto a clear plastic ramp to
the top right of the playfield or onto the ramp feeding the right inlane.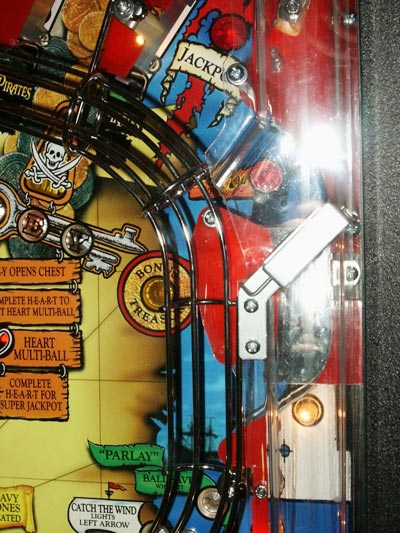 The central playfield area is packed full of inserts showing your
progress through the features and the various awards available.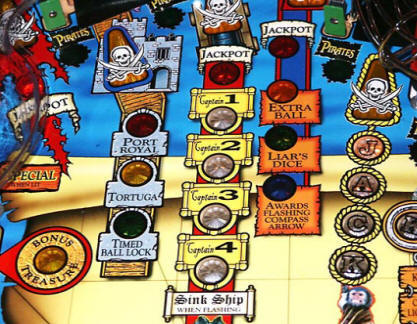 So it looks like there are nine paths to shoot for - left lane,
left loop, left ramp, the ship, the centre loop, right ramp,
the chest, the right loop and the right lane - plus the
other various targets spotted around the playfield.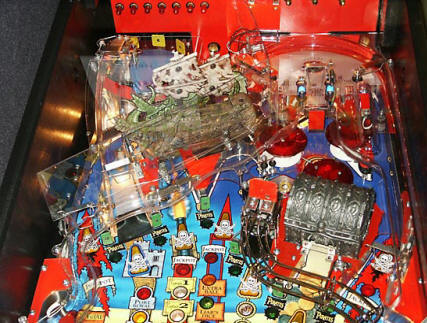 The upper part of the playfield in incredibly busy and dominated
by the two big toys in the game - the ship and the chest.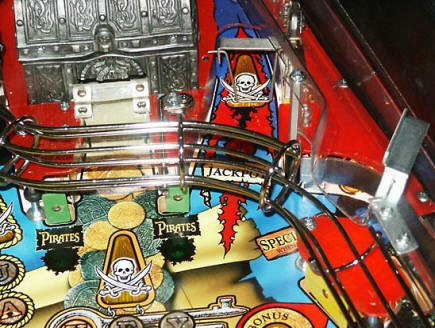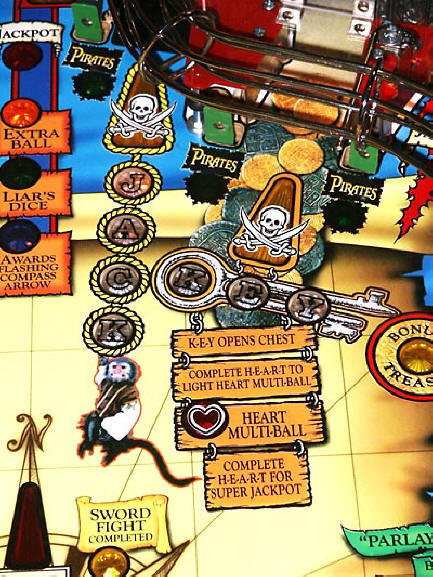 The chest, when K-E-Y is completed, opens up
to reveal the treasure and the heart within.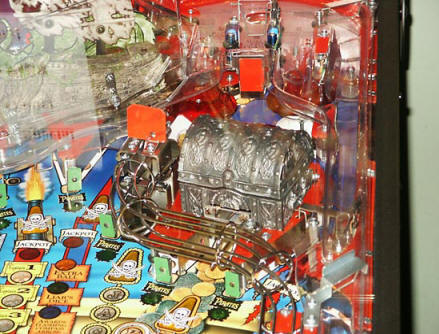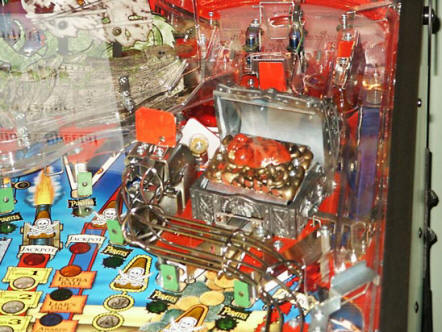 The other big toy is the ship which can sink into the playfield.
In this test game it is surrounded by clear plastic panels.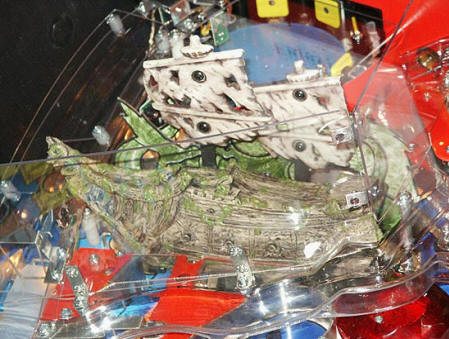 In the top left corner is another toy - rotating
mini-playfield with a game controlled exit.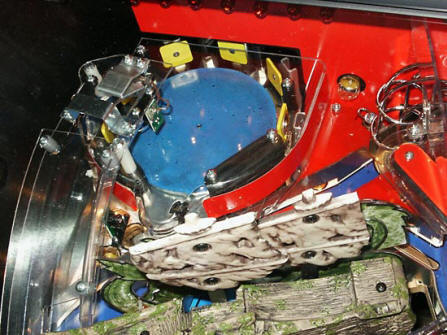 The shooter lane leads to this raised area at the top right of the
playfield. Balls can exit through one of three lanes - Rum Ramp,
Walk The Plank or Broadside - or drop onto the main
playfield through the Parlay hole.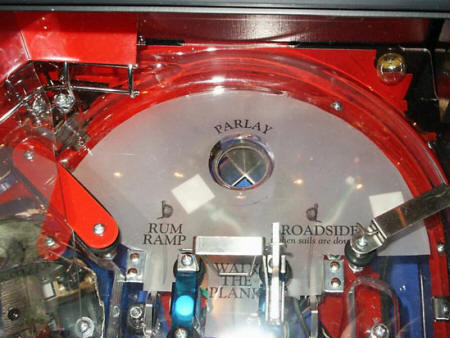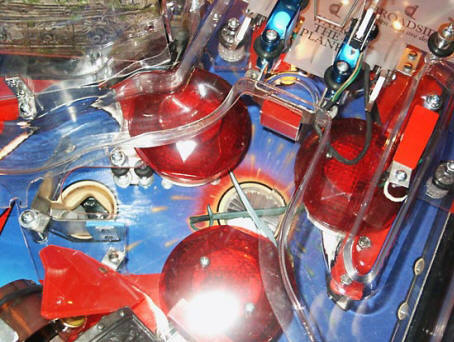 The cabinet artwork is what we saw before but with the
addition of the siderails and flipper buttons.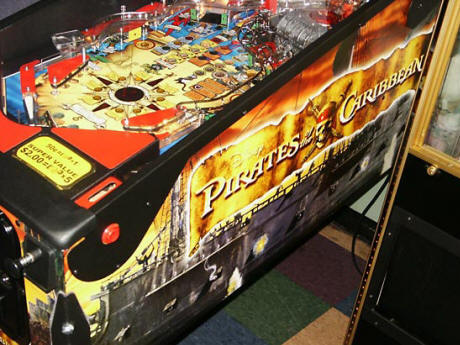 There's a nice comic touch to the rules card,
although it's rather brief at present.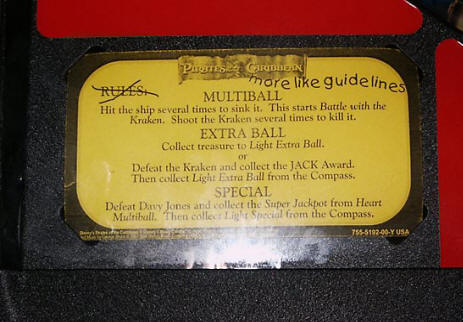 Short Video of the POTC In Action !




So there we have it. Our first look at the Pirates of the Caribbean playfield.

▪ Pinball News

Click here for the Official Stern Pinball Press Release for POTC !


---
For more information about Pirates Of The Caribbean ▪ Pinball Machines , please