Welcome to the start our coverage of Stern's next game; NBA
Yes, no sooner had "24" started to appear in bars, arcades and
game rooms than Stern announced their next licensed game, NBA.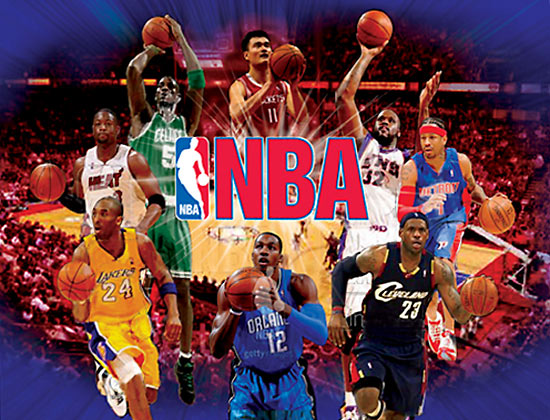 The game is a re-worked Space Jam machine, with new artwork, a different arrangements of inserts, the way some shots work has changed and there
is a new spinning disc in the centre of the playfield.
With the Warner Bros. characters and Michael Jordan taken out of the game,
their places have been taken by a number of popular NBA players. With no fans
of NBA here at Pinball News HQ we didn't know any of them, but thanks to Roman Kunovic we now know they are: Yao Ming, Shaquille O'Neal, Allen Iverson, LeBron James, Dwight Howard, Kobe Bryant, Dwayne Wade and Kevin Garnett (backglass).
---
The 20 NBA Team Players Featured in the NBA Pinball Machine !
(Sorted By Player's Last Name - Added to this article by the Staff @ BMIGaming.com )

Carmelo Anthony | Denver Nuggets
Gilbert Arenas | Washington Wizards
Elton Brand | Philadelphia 76'ers
Kobe Bryant | L.A. Lakers
Baron Davis | L.A. Clippers
Kevin Durant | Oklahoma City Thunder
Vince Carter | New Jersey Nets
Kevin Garnett | Boston Celtics
Dwight Howard | Orlando Magic
Allen Iverson | Detroit Pistons
Lebron James | Cleveland Cavaliers
Yao Ming | Houston Rockets
Dirk Nowitzki | Dallas Mavericks
Shaquille O'Neal | Phoenix Suns
Tony Parker | San Antonio Spurs
Chris Paul | New Orleans Hornets
Nate Robinson | New York Knicks
Derrick Rose | Chicago Bulls
Brandon Roy | Portland Trailblazers
Dwayne Wade | Miami Heat
---
The picture below is a mock-up, so things like the missing tournament button,
the metallic top of the backbox and the ratio of the DMD split between the
score and the animations are all artistic licence and not to be taken at face value.

Taking an existing design and modifying it is one way in which Gary Stern can create new models without needing any extra design staff. There is talk this new game is aimed primarily at the Chinese market where pinball has yet to make any impression but where the NBA and basketball in general has become very popular.



A Big Thanks to Our Friends at PinballNews.com for their
continuing coverage of the Pinball Machine industry !


Click Below For A Video Of The NBA Basketball Pinball Machine !


---

For more information about the NBA Pinball Machine from Stern Pinball , please
contact BMIGaming at (866) 527-1362 | + (314) 396-8500 or Contact Us Via Form