Madden Football

?


Non-Tournament
Home Edition


Coin-Operated



---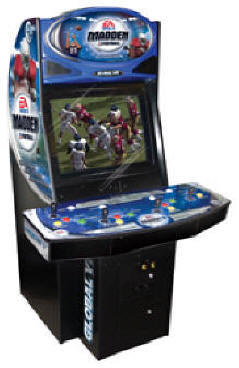 $ SOLD

EA SPORTS™ MADDEN NFL ? FOOTBALL HOME EDITION takes you to the field with all the action and excitement of the NFL! Accurate NFL team rosters,
bone-jarring deluxe audio, 49-way digital control and groundbreaking graphics deliver the "real" stadium experience, as football has never been played before!

Same exact play and cabinet as the Tournament Edition, but cannot be used for online play, and does not have
coin mechs - For "free play" home or office use only !

MADDEN NFL™ FOOTBALL HOME delivers innovative and very engaging football action with 2 Play Modes :

Training Camp - Teaches advanced controls
Exhibition - For quick-start informal pick-up games

Please note that the width of this game is 43", and WILL NOT FIT THROUGH STANDARD SIZED DOORS!
But if you take off the front control panel (About 20-30
min work) the game width is REDUCED TO 29" WIDE
and will fit through most standard doorways !

29" Monitor - 2 to 4 Player Game
Height: 80", Width: 43", Depth: 44", Weight: 475 Lbs
*Game Width with Control Panel Taken Off: 29" Wide

The # 1 selling sports video game of all time has finally come to arcade game world !!



EA SPORTS ™ MADDEN NFL FOOTBALL ™ 2005 / 2006 GAME
takes you to the field with all the action and excitement of the NFL!

Accurate 2005-2006 team rosters, bone-jarring deluxe audio, 49-way
digital gameplay controls and groundbreaking graphics deliver the real
stadium experience, as it's never been played before, anywhere!

MADDEN NFL™ FOOTBALL 2005 / 2006 delivers innovative and
very engaging football action with 5 Exciting Play Modes!


:
Training Camp - Teaches advanced controls

Exhibition - For quick-start informal "pick-up" games

Career - Challenge all the teams of the NFL™

Competition - For live events with automatic ladders and leaderboards

Tournaments - With all-cash prizes !!

Now any night is Game Night ! "Competition Mode" allows equipment operators and
location staff to set up live tournament events right in the game!