Golden
Tee
? Golf

Live 2011
2





Factory Pedestal Showpiece Cabinet Model



Commercial
Online Use Only!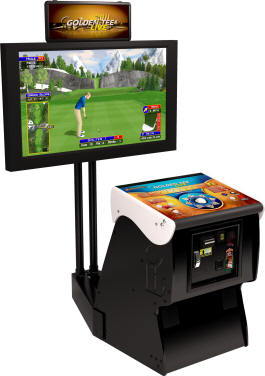 Shown above with TV + Optional Integrated
Flat Panel Mount (TV & Stand Not Included)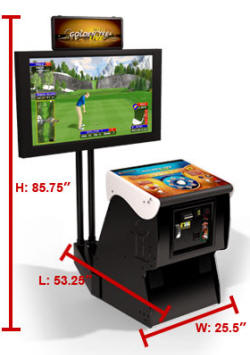 NEW ! GT 2011 allows players to sign into their Facebook account to let their friends know that they are playing GT at your location !

$ SOLD



Golden Tee Golf LIVE 2011 Factory Showpiece Cabinet Edition - Golden Tee LIVE 2011 represents the future of video golf and out-of-home game experiences ! With Golden Tee 2011, you'll find that anytime is Tee Time ! Besides 5 of the most breathtaking and challenging new GT courses ever created (by award-winning golf video designer Jim Zielinski) players will be introduced to many fun new features, and
up to 16 players can play at once!

And a new feature in GT 2011 allows players to sign into their Facebook account while playing the game to let their friends know that they are playing GT at your location !

Golden Tee LIVE 2011 introduces (5) brand new 18-hole courses ( Laurel Park, Alpine Run, Timber Bay, Falcon
Sands and Grizzly Flats ) all with new challenges and spectacular graphics. All the best features of the past
six years have been redesigned and enhanced, and
provides new player options and revenue for operators !

Now video golfers across the world can compete in live head-to-head contests for prizes or glory, Golden Tee
LIVE 2011 takes excitement to new heights by simply combining it with real-time competition! From the comfort
of their local bar and restaurants, thousands of players can play live and compete simultaneously globally, while scores are updated universally, hole-by-hole in real time !

In the 21st Anniversary Model of this extremely addictive video arcade game, GT Live 2011 features 5 unbelievable new courses, "Closest-to-the-Pin" Live (which allow 50 players to compete across the country in a fast-paced tournament for a $ 50 Top Prize, and the "Great Shot Feature" which allows players to upload their "greatest" shots for the world to see online, anytime on YouTube !

New Golden Tee Golf LIVE 2011 Game Features :

• (5) New Golden Tee 2011 18-Hole Courses – Unique
exotic course locations create individual play styles,
with (30) Courses total from Golden Tee 2006 - 2011 !

• Adjustable Golden Tees – Find the perfect tee spot
on every Golden Tee LIVE hole !

• Anytime / Anywhere YouTube™ Shots – Share your
most memorable moments online with friends & family!

• New GT LIVE Golf Balls and Golf Club Sets – Select
from dozens of new and standard ball and club sets !

• Multiple Play Modes – Casual Play, Skins Play, Stats
Play, Glory Play, Prize Play, CTTP Play & More !

• New Customized Clothing - Play more to collect them all !

Then there's the GT "Hit List", a free optional "Background Music" Feature, with big name bands like Dave Matthews
and OAR, interspersed with up-and coming artists. Its 10-song list changes every Monday, allowing users to continually discover new music, while the new Callaway
Big Bertha and Odyssey White Hot "Virtual Clubs" give players more powerful clubs to play with, along with the new "Crazy" Customized Clothing Feature, which allows players to customize and dress up from head to toe !

Other features include live-action commentary from golf
pros Peter Jacobsen Gary Player, Chris DiMarco, and
Laura Diaz - plus announcer Jim Nantz, and even more helpful video tips from Steven Sobe, 3-Time GT Champ !

Plus all Golden Tee Live machines use real-time, wireless technology so players from across the world can compete
in real time - while accepting credit cards, debit cards, bills and quarters for easy payments and profits! Golden Tee
2011 comes with a FREE wireless cell modem, which
allows online play in locations without internet service!
Costs are about $10 per month, with service from Sprint.

Golden Tee LIVE 2011 also offers the ability to hookup a
2nd monitor to display unique Leaderboard Stats live, plus hookups for external audio (to either the HDTV or Amp) !
You just need to supply any inexpensive LCD or Plasma Monitor of your choice (recommended size 42"). and if
not mounting the monitor on a wall, we highly recommend that you add the Integrated TV Bracket Mount below !

Comes with BOTH Coin AND Dollar Bill Acceptors !



Golden Tee Live 2011 Live Brochure



Golden Tee Live Operators Manual



Integrated Flat Panel TV Mount - Add $



Product Condition : Brand New In Factory Box


Factory Warranty : Click For OEM Warranty Info


Power Requirements : Standard 120 Volts


Monitor : User Supplied (LCD or Plasma Flat Panel)


Players : 1 to 4 Player Golf Video Arcade Game

Golden Tee Live 2011 Video Arcade Game Dimensions :


Height: 39", Width: 24.5", Depth: 30", Weight: 205 Lbs
(Approx w/42" LCD : Height: 86", Width: 41", Depth: 54")