Golden
Tee
?

Live 2008

Factory Upright Cabinet Model

0


Commercial Use Online Edition
---
Tournament Play
Coin / DBA / CC's
---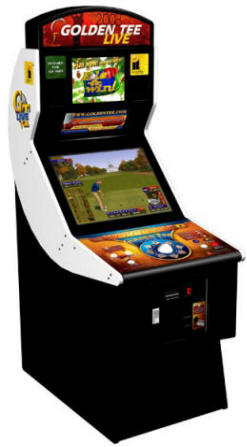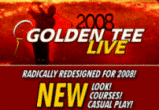 $ SOLD




The Golden Tee Live! 2008 Factory Tournament Model with TWIN Monitors and designed for both
Novice and Pro Players with more features ever !

PLEASE NOTE: FOR COMMERCIAL USE ONLY
HOME / NON-COMMERCIAL USE WILL CAUSE
FACTORY TO SHUT OFF GAME REMOTELY.

• Play for Glory and Fun or for Prizes with
an All New Player Tournament System!
• All New Practice Facility Mode !
• Unique "Course Sampler" Mode !
• Immediate Play Feedback and Rewards !
• Revolutionary Help Feature Offers
Game Solutions During Play!
• Revolutionary Player Ranking System!
• Realistic Game Environments with All New
Particle Effects for Sand and Water areas !
• Now with Seasonal Course Conditions !

And even MORE new features!

• Players can customize their on-screen
characters, choosing faces, clothes, gear!
• Get this: for the first time women can choose
a female golfer on Golden Tee Live!
• Players and spectators can now check the
second LCD monitor for interactive, real-time
leaderboard information and player status!!
• Live-action commentary from golf pros Peter
Jacobsen, Gary Player, Chris DiMarco, and
Laura Diaz - plus announcer Jim Nantz!
• Even more helpful video tips from Steven
Sobe, 3-Time GT national Champ! •

And more features for Registered ITNET
Business users!

• Golden Tee Live! utilizes new real-time,
wireless technology so players coast-to
coast can compete in real time! And GT
Live now accepts credit and debit cards!
• Gamers can win or purchase golf
equipment, courtesy of Top Flite!
• Every game can be a tournament game!
Win cash prizes with every game you play!
• Compete Against Players with Similar
Skills From Across the Country !

Accepts Quarters, Dollar Bills and Credit Cards !

27" + 15" Flat-Screen Monitors - 1 to 4 Player Game
Height: 80", Width: 27.5", Depth: 40.5", Weight: 495 Lbs


Radically Redesigned Fresh
Look Attracts New Players !

Fun, Friendly and Approachable

Easier Game Entry

Rewarding Game Play

Radically Redesigned Play Modes

Simple Choices for Any Skill Level!

New Casual Play Mode

Easy to Start, Play and Compete!

Best-In-Bar Leaderboards

Adjustable Difficulty Settings

Advanced Play Mode

Play for Prizes on Every Game

More Prize Winners than Ever

Worldwide Player Rankings & Stats

Custom Clothing and Equipment
Radically Redesigned Courses

Every Game is a New Experience!

More Tee & Pin Positions !!

For Golden Tee Golf 2008 Live Commercial Online Edition, You Get (5) New Challenging Courses
plus choice of 5 out of 10 Courses from Golden Tee Live 2006 & 2007, for a total of (10) Courses !

Comes with 5 New Golden Tee Golf Live 2008 Courses + 10 Other GT Live Courses !

#

Course Name /
Year Introduced

Course Logo

Course Screenshot

1

Bayou Bay Country Club


(2008)

Bayou Bay : Deep in the blackwater swamps of Louisiana lies the hazard-filled Bayou Bay. As dangerous as it is
striking, Bayou brings with it serious water challenges on every hole ! Its numerous island greens and hundreds
of tee locations add variety-filled entertainment - But keeping your ball dry will be nothing short of an adventure !
2


Cypress Cove C. C




(2008)

Cypress Cove : Set alongside the vast Pacific Ocean in the Monterey Peninsula of California , this course offers
some of the most stunning scenery ever offered in Golden Tee history ! But no matter how easy on the eyes
Cypress is, its countless bunkers and stiff ocean breeze turn a scenic stroll into a duffing disaster in a hurry !
3


Eagle Crest Golf Resort




(2008)

Eagle Crest : A course of monumental proportions based in

Washington DC

, Eagle Crest melds fantasy & reality !
Course gives players the opportunity to golf among America's most famous monuments. From putting on the White
House lawn to playing through the Jefferson Memorial - literally ! Eagle Crest is sure to become a national treasure.
4


Misty Springs Country Club

(2008)

Misty Springs : Winding through Yellowstone National Park is the geyser-filled creation tagged Misty Springs.
A woodland golfer's gem, players must be sure not to get caught up in its rustic beauty; because any slip up will
be punished - Misty's massive trees, sprawling layout and challenging greens make it a shot-shapers paradise !
5


Summit Lakes Country Club

(2008)

Summit Lakes : Buried deep within the frozen tundra of the barren Yukon Territory sits Summit Lake; a sight
never before seen in video golf ! The vast Brooks Mountain Range sets the stage for this links-style challenge.
Ice, snow, cliffs, rocks and winds make Summit Lakes as fun as a snow day... but as welcoming as a blizzard !
Click on the big arrow below to view a short
Video Preview of Golden Tee Live 2008 in action !