Golden Tee Golf ? 2015 Home Edition

Factory Showpiece Cabinet Model

Home Online
Play Mode!

Residential or


Free Play

Use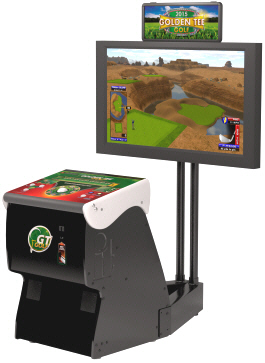 Shown With Optional TV Mount (TV Not included)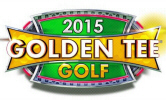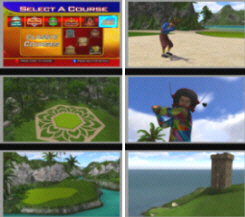 $ SOLD !

Golden Tee Golf 2015 Home Online Pedestal Edition The Golden Tee Golf 2015 Home Edition is perfect for casual use in homes, apartments, offices, social clubs, colleges and many other "free-play" type applications.

But now with a small optional monthly subscription fee, you can play Golden Tee anywhere ONLINE at last !
Includes "live-action" commentary from golf pros Peter Jacobsen Gary Player, Chris DiMarco, Laura Diaz and
Jim Nantz, plus video tips from GT Champ Steven Sobe !

COURSES : FIVE (5) NEW Golden Tee 2015 Courses PLUS (35) Golden Tee Courses From 2006 to 2014 !

Golden Tee Golf 2015 Home Edition Game Features :

▪ Play Offline or Online with Optional Home Subscription !
▪ Post Your Best Shots Live On YouTube From The Game !
▪ New Adjustable Golden Tees - Lets you adjust your
tee to help you find the perfect tee spot on every hole !
▪ Players can customize their on-screen characters,
choosing faces, clothes, gear and clubs (limited)
▪ Women can choose Female golfers now on GT Golf !
▪ Helpful video golf instructional tips from Steven Sobe,
▪ Local Scoring and Local Leaderboards Included !
▪ Premium Golf Clubs, Balls & 100's Of Clothing Options !
▪ Practice Facility Mode & Unique Course Sampler? Mode !
▪ Revolutionary Help Feature Offers Solutions During Play !
▪ Adjustable / Different Player Difficulty Levels

You just need to purchase a Flat Panel Monitor (32"-52")
and if not mounting monitor on a wall, we recommend you
add the Integrated Flat Panel Mount shown below..



Golden Tee Golf 2015 Info Page



GT Golf 2015 Home New Course List



GT Golf 2015 Home Users Manual



GT Golf 2015 A/V Connection Guide



GT Golf 2015 Flat Panel Mount Guide



Golden Tee 2015 Home Model Video



Optional Integrated Flat Panel Mount - Add $


Optional 220 Volt Power Conversion - Add $



Product Condition : Brand New In Factory Box


Factory Warranty : Click For OEM Warranty Info


FREE Warranty : BMI Gaming One (1) Year Warranty


Power Requirements : 110 Volts | Optional 220V


Monitor : User Supplied (32" to 60" Flat Panel Monitor


Players : 1 to 4 Player Golf Video Arcade Game

Golden Tee Golf Home Edition 2014 Model Dimensions :


Height: 39", Width: 24.5", Depth: 30", Weight: 205 Lbs
(With TV Stand : Height: 86", Width: 25.5", Depth: 54")

Golden Tee Golf ? 2015
Coin Edition

Factory Showpiece Cabinet Model

Commercial Offline Model
Coin, Bill or
Credit Card
Operated Model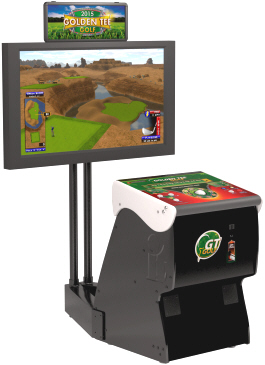 Shown With Optional TV Mount (TV Not included)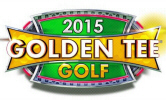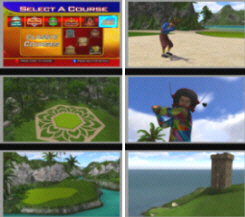 $ SOLD !

Golden Tee Golf 2015 Coin Operated Offline Model Pedestal Cabinet - The coin operated "offline" edition
of Golden Tee LIVE. With the same stunning courses and cutting edge graphics as GT LIVE, GT Golf 2015 offers players a great video golf experience without taking
away from the competitive factor that has made Golden Tee Golf the huge barroom hit game and staple it is today!

Golden Tee Golf 2015 Office was designed for coin operated and is perfect for bars, restaurants, clubs homes, colleges, offices, arcades and other locations !

COURSES : FIVE (5) New Golden Tee 2015 Courses PLUS (45) Golden Tee Courses From 2006 to 2014 !

Golden Tee Golf 2015 Video Golf Game Features :

▪ New Adjustable Golden Tees - Lets you adjust your
tee to help you find the perfect tee spot on every hole !
▪ Use Premium Clubs and Balls and Customize Golfer
with a Free Limited Selection (per game only)
▪ Players can customize their on-screen characters,
choosing faces, clothes, gear and clubs (limited)
▪ Women can choose female golfers now on GT Golf !
▪ Helpful video golf instructional tips from Steven Sobe !
▪ Live Commentary from Peter Jacobsen and others !
▪ Practice Facility Mode & Unique Course Sampler? Mode !
▪ Revolutionary Help Feature Offers Solutions During Play
▪ Realistic Environments and Seasonal Course Conditions

You just need to purchase a Flat Panel Monitor (32"-52")
and if not mounting monitor on a wall, we recommend
adding the Integrated Flat Panel Mount shown below.

Coins + $1 to $20 Bill Acceptors Included In Price !
Can also be easily set on "Free-Play" for home/office use



Golden Tee Golf 2015 Info Page



GT Golf 2015 New Courses List



GT Golf 2015 Operators Manual



GT Golf 2015 A/V Connection Guide



GT Golf 2015 Flat Panel Mount Guide



Optional Integrated Flat Panel Mount - Add $


Optional 220 Volt Power Conversion - Add $



Product Condition : Brand New In Factory Box


Factory Warranty : Click For OEM Warranty Info


Power Requirements : 110 Volts | Optional 220V


Monitor : User Supplied (32" to 60" Flat Panel Monitor


Players : 1 to 4 Player Golf Video Arcade Game

Golden Tee Golf 2015 Golf Arcade Game Dimensions :


Height: 39", Width: 24.5", Depth: 30", Weight: 205 Lbs
(With TV Stand : Height: 86", Width: 25.5", Depth: 54")