DJ Max Technika

3
Studio

Crew Challenge

Video Arcade Bemani Music
Rhythm Game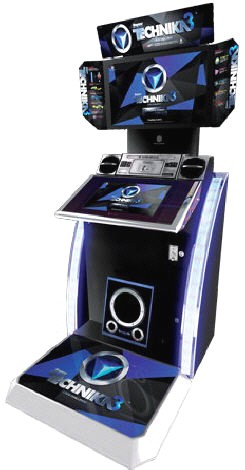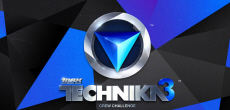 DJMax Technika 3 : Crew Challenge Studio Model Video Arcade Bemani Rhythm Arcade Game - The
new DJ Max Technika 3 Video Game is a very unique and extremely popular music rhythm game from Pentavision.

This DJ Max Music Game is played on a cutting edge 32" HD LCD Touchscreen Monitor, with a overhead monitor that showcases the current gameplay for spectators.
As songs play, notes will scroll across the screen, and players must touch the notes as the time line crosses
them. If they miss a note, they lose their "combo" and a portion of your "HP". You also regain HP as you hit the
notes correctly. When the HP reaches zero, game over !

There are 4 Game Types to choose from - Lite Mix,
Popular Mixing, Technical Mixing and Platinum Mixing
One of the notable features of DJ Max Technika 2 is
full-motion HD videos which show in the background
as you play, including videos that have fully rendered
3D graphics. The cabinet has a vibrating stage and a
full light and speaker system. Pentavision has also released Platinum Crew ID Cards which allow players
to access Platinum Mixing mode, as well as manage
their personal information, view rankings and buy items.

Game includes various levels of play from casual to hardcore - And the very popular DJMax "Smart Card" System allows players to use their card (operators sell these card to players) to track their progress, and store custom mixes and play in online tournaments (Smart Cards are used with your Platinum Network Internet Connection)

DJMax 3 is equipped with a high-powered Sound System, featuring Dynamic Stereo Speakers, Big Subwoofer System, Headphone Jacks and Sound Control System,
along with a Vibrating Stage Unit connected to sound system, and real-time LED Multi-Color Lighting System reacts to game music to draw in players in just about
any location it is placed ! Also comes with a Electronic
Coin Comparator to allow use with most coins or tokens.



DJ Max Technika 3 Game Brochure



DJ Max Technika 3 Live Video Clip



Optional 220 Volt Power Conversion - Add $


Optional DJMax 3 Player Cards (100) - Add $



Product Condition : Brand New In Factory Box


Factory Warranty : Click For OEM Warranty Info


Power Requirements : 110 Volts | Optional 220V


Monitor : 32" Top & 22" Bottom HD LCD HD Monitors


Players : 1 Player Video Arcade Music DJ Game

DJ Max Technika 3 Arcade Video DJ Game Dimensions :


Height: 89", Width: 39.5", Depth: 54", Weight: 691 Lbs

Click on the big arrow below to view a short
Video Preview Clip


of the older DJ Max Technika 2 Video Arcade Game Machine in action !
DJ Max Technika Voted The Arcade Heroes Game Of The Year !

DJ Max Technika the was just voted The Game Of The Year on the Arcade Heroes Video Game
Site with 41% of the votes ! There is a very good reason why the players named DJ Max Technika
the game of the year 2009, it's just that good!

Unlike other network based games, our network is free! Simply connect to the internet, and you
are up and running. DJ Max Technika is the ONLY game that updates itself EVERY WEEK! -
And, it's free! If you haven't considered buying a DJ Max Technika game yet, now is the time!

DJ MAX TECHNIKA 3 NETWORK SERVICE

DJ Max Technika will run on a network service called Platinum Crew. The Platinum Crew
service allows all DJMAX games to network a ranking system, online updates + community forums.

DJ Max Technika 3 Features:

Online Ranking-Technika gets updated daily to the Platinum Crew server. Each Technika machine
will upload the daily scores and rankings every day, and players will be able to see their scores and competitors on the Platinum Crew Website. Weekly Updates-Technika gets updated every week
with new contents. Contents include new missions, songs, and tournaments. The weekly updates
will feature new missions and songs that will only be available for that week.

When the player challenges these new songs and missions, their ranking scores will go up and
will help their chances to win a monthly tournament.

The exclusive weekly content motivates the player to come to the arcade every week and obtain
the bonus points available only from specific missions. The new missions are basically changes
or remixes in the songs that are currently available. They can be in the form of special mixes and
song layouts or just brand new modes. Every month, there will be a Network Tournament. The
weekly tournaments give players additional points that can be used towards the final score for
the monthly tournament. The monthly tournaments will give players a chance to win prizes.

The top players in the Platinum Crew Ranking will receive prizes like special Technika Cards, PlayStation 3 System, Videogame software, etc...

Player Game Customization - Technika allows the players to customize their profiles with the
purchase of the Technika Player Card. The Player Card allows the player to set one profile per
card. On these cards, the player can create their DJ Profile which will display their ranking,
score, player status, and effector items. The player can register their cards online and view
all of their accomplishments and items.

Effector Items - When the player plays Technika, they will accumulate points to purchase in
game items that will enhance their game play. Ranking Score-The player can view their ranking
scores along with their competitors on the Platinum Crew Website. The player can customize
all of their options online and bring the game play elements to the arcade through the network.