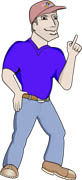 If you haven't heard the buzz, BUBBA'S EXCAVATION COMPANY is setting a new standard of earnings excellence for home entertainment and arcade ticket redemption earnings.

The action and excitement are as follows: there are 5 targets on each side of the (1 or 2 player) cabinet. The challenge for players is to get the coin/token into the slot of a target and the bulldozer takes over from there for some eye-catching excitement.

Players love to watch the bulldozer move forward tumbling mountains
of coins/tokens over the edge to dispense tickets. And, when the
player can skillfully get the coin/token in the middle slot, there's
a Progressive Jackpot that's awarded which is something today's audience is looking for when it comes to entertainment value for
their dollars.
BUBBA'S EXCAVATION COMPANY delivers all of the excitement of a pusher, and then some, in a completely legal skill-based redemption game. The best of both worlds at a time when the industry is clamoring for equipment that offers long-term earnings and a strong R.O.I. Operators and home users both have fully adjustable settings to customize games for their unique locations and needs.

O ne-year warranty is standard.
Specs: Height = 68", Width = 55",
Depth = 38", Weight = 250 Lbs (uncrated)