Pac-Man Ghost Bowling

Ticket Redemption
Alley Roller Game


---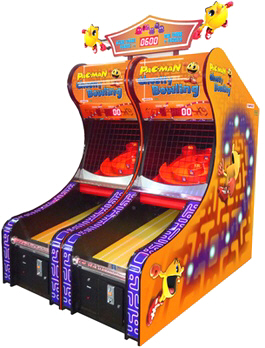 Twin Model Shown Above With Optional Marquee

$ 4375 !


(Single)

$ 8475 !


(Twin)


Pac-Man's Ghost Bowling Alley Roller Machine -
This new Pac-Man branded ticket redemption alley roller
machine has reinvented the standard alley roller, with minor changes made in traditional gameplay. In the new
Pac Man's Ghost Bowling, players roll balls up the alley and under the playfield,, and once the ball goes under the playfield, it then rolls up and wraps around the back of
he playfield, where it finally drops down from behind
into the scoring holes, like in the traditional game.

Pac Man Ghost Bowling is perfect for smaller locations,
as it it just 2/3 the length of traditional alley roller games,
and was designed with eye-catching colors + LED lights.



Pac Man Ghost Bowling Brochure



Optional 220V Power Conversion - Add $250


Optional Game Marquee / Topper - Add $CALL



Product Condition : Brand New In Factory Box


Factory Warranty : Click For OEM Warranty Info


Power Requirements : 110 Volts | Optional 220V


Players : 1 and 2 Player Alley Roller Arcade Games

Pac-Man Ghost Bowling Arcade Game Dimensions :


Height: 80", Width: 30", Depth: 80", Weight: 526 Lbs
(Game Marquee Adds 17" to Total Hieght)

iBowl +
Miniature Bowling Alley
Mini Bowl Game
Optional Ticket Redemption !


---



LEAD TIME
4 WEEKS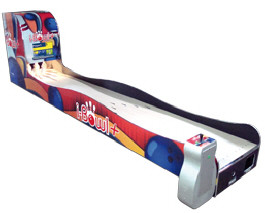 $ 8975 !
(13 Foot Lane)

$ 9975 !
(22 Foot Lane)






iBowl + Mini Bowling Alley - A fresh version for a classic game. i-BOWL+ in the perfect bowling alley for
FEC's, arcades, bars and other locations, with its very
eye-catching looks and neon cabinet colors ! Plays up
to six (6) players at once, and comes with a fantastic
LCD scoreboard monitor with 3D animated graphics !

iBowl + Mini Bowling Lanes Machine Features :

▪ Long Lasting Phenolic Synthetic Laminate Lane Surface
▪ iBowl + Accommodates Up to (6) Players Per Game !
▪ 3D Graphic Animations Displayed With Each Frame
▪ Exciting Digital Music and Game Sound Effects !
▪ 22" LCD Score Monitor For Great Player Interactivity
▪ Multi Language Software - Choose Preferred Language ▪ Friendly GUI Scoring Software With Joystick Control
▪ Neon Colors with Bright Bowling Effect Graphics
▪ Integrated Automatic Electronic Scoring System
▪ 1 Ball Per Frame, 10 Frames Per Game (Customizable)
▪ LCD Screen Can Display Your Publicity Or Ads !
▪ Coin, Bill, Token or Smart Card Payment Ready
▪ Ticket Redemption Dispenser Ready (Optional)

* NOTE : SHIPS FROM FACTORY | FOB : BRAZIL



iBowl + Mini Bowling Alley Brochure



iBowl + Mini Bowling Lane Video



Optional Coin Acceptor - Add $ CALL


Optional Token Acceptor - Add $ CALL


Optional Dollar Bill Acceptor - Add $ CALL


Optional Ticket Dispenser - Add $ CALL



Product Condition: Brand New In Factory Box


Factory Warranty : Click For OEM Warranty Info


Power Requirements: 110 Volts | 220 Volts


Players: 1 - 6 Player Miniature Bowling Alley Lane

iBowl + Mini Bowling Alley Lane 13 Ft Game Dimensions :


Height: 74", Width: 37", Length: 158", Weight: XXXX Lbs

iBowl + Mini Bowling Alley Lane 22 Ft Game Dimensions :


Height: 74", Width: 37", Length: 260", Weight: XXXX Lbs