JVL Boom

Touchscreen
Digital Internet
Jukebox Machine


Commercial or Free Play Use


Coin + DBA Model




---


BAR, RESTAURANT & BUSINESS OWNERS
NOW YOU CAN BUY YOUR OWN INTERNET JUKEBOX !

PERFECT FOR SINGLE LOCATIONS ANYWHERE !

EARN FROM $300 - $1000 + PER MONTH PROFIT !
FAST, EASY, SAME-DAY JUKEBOX ACTIVATION !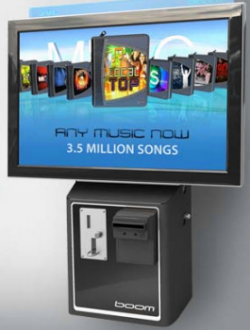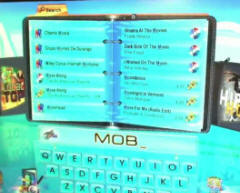 GIVES CUSTOMERS 3.5 MILLION SONG CHOICES !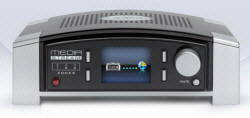 Comes complete with the
JVL MediaStream Unit Free Of Charge !

FAST, EASY, SAME-DAY JUKEBOX ACTIVATION !






$ 3875 !



JVL Boom Digital Touchscreen Internet Jukebox Machine - JVL is proud to be the first to introduce the
next generation digital "music-on-demand" platform !

These are previously-used units that have been
mechanically refurbished and tested by the factory

By pairing the JVL Boom with the MediaStream Internet Streaming HD Music Service, JVL has revolutionized the way musical entertainment is selected and delivered !

Get instant access to millions of songs streamed in real
time with the brand new JVL Boom - You can now own your very own jukebox (even for single locations) and save up to 80% of the cost of a traditional digital jukebox!

Unlike traditional jukeboxes which stores music on old
CD's or unreliable hard drives, MediaStream content is directly downloaded from JVL's Music Network (which
contains over 3.5 Million songs) so the musical content
of your jukebox is is constantly expanding and always
up-to-date with the latest, greatest and hottest music !

The JVL Boom's intuitive graphical user interface (GUI)
and highly intelligent music search function allow users
to quickly access songs from JVL's vast library of over
3.5 Million song choices (which grows daily) and have
their selections instantaneously streamed across the internet to the Boom, on demand and in real-time !

The JVL Boom comes complete with "JVL Guru", where music suggestions are automatically triggered by your specific song selections, plus the "Smart Genre" which optionally offers musical styles set specifically to your
own location and musical tastes and preferences !

JVL Boom Internet Jukebox Machine Features:

▪ No Moving Parts - Guaranteed Famous JVL Reliability !
▪ No Long-Term Contacts + Own Your Very Own Unit !
▪ Wired or Wireless Connections to the JVL Network
▪ Easily Integrated into your House Music/Audio System
▪ Song Library Continually Expanding and Up To Date
▪ Super Bright 22" 16:9 High Definition LCD Wide Screen
▪ First Intuitive Dynamic 3D Graphical User Interface !
▪ Can Make Your Own Custom Advertising Screens !
▪ Compact Wall Mount Unit + Easy Setup and Installation

JVL MediaStream Costs : No Startup or Setup Fees !!! Charge is 20% percent of the total song income, or 0.07
per song, whichever is greater - ($30/Month Min Charge) At $1.00/Song, and 30 songs are played a day (very low usage), that equals over $900 per month earnings that would net over $720 PER MONTH ! And busy locations have reported earnings from $400 to $700 PER WEEK !!

The JVL Boom connects to the JVL MediaStream through the Boom's built-in Wireless or Wired LAN connections.
And there is no paperwork or waiting for hard drives like other music services - You can setup and activate your new JVL MediaStream Jukebox the SAME DAY you get it

You can also add multiple JVL Echo Touchscreen Games
to your JVL MediaStream, which allows your customers
to play over 150 + video games while allowing jukebox selections at the same time, for increased revenues !

COMES WITH BOTH COIN + DOLLAR BILL ACCEPTOR !



JVL Boom Internet Jukebox Brochure



JVL MediaStream Jukebox Demo



Optional JVL Echo Bar Game (DBA) - Add $3575


Optional JVL Echo Bar Game (Coin) - Add $3375



Product Condition : Factory Refurbished Units


Factory Warranty : Click For OEM Warranty Info


Power Requirements : Standard 110 Volts


Monitor : 22" LCD Flat Touchscreen Monitor

JVL Boom Digital Internet Jukebox Machine Dimensions :


Height: 27.5", Width: 22.5", Depth: 6.75", Weight: 35 Lbs
(Weight above is assembled weight, not shipping weight)