The Story Behind BMIGaming.com .....

---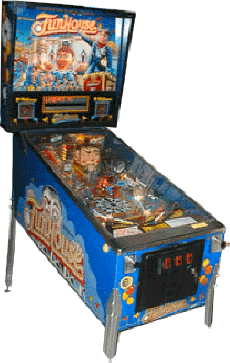 It all started back in early 2001 when the Founder and CEO of BMI Gaming,
David Young stumbled upon a small local "mom & pop" gaming repair shop in Broward County, Florida, in which he discovered and purchased his very first pinball machine (Funhouse) for his new home.

Having not played pinball in years due the lack of pinball machines in many
arcade centers, David immediately fell back in love with the game, and started
his present-day passion with first collecting, then restoring modern pinball
machines, then video games, and then just about everything else!

His pinball machine collection quickly grew from one to over fifteen pinball machines in the space of less than a year, and David was forced to rent out a
local warehouse to store them all!
Then on one historic day in late 2001, while David was taking delivery of yet another machine for his burgeoning gaming collection at the warehouse, a man walked up to David out of the blue and said :

" Wow...... You sell pinball machines ? Cool ! "
At first, David was surprised by this comment, and then told the man that no, he did not sell
pinball machines, but was in fact a private collector of them. But after the man pleaded with
David to take a look at his games, he agreed to let him inside the warehouse for a quick peek.

A few minutes into exploring his collection, the man offered David a very handsome price
for one particular machine (Twilight Zone) out of the blue, and after some thought, David agreed
to sell it to him. The very next day, the man showed up to pay for the machine, but also brought
along a friend who was also very eager to buy a pinball machine - and David wound up selling
machines to both men that day..... just so he could reinvest the handsome profits made to find
and purchase even more pinball machines for his rapidly growing collection!

From that encounter, David starting thinking about how very difficult it was to locate top quality
arcade games that were totally restored, from a "brand name" firm, who provided nationwide
delivery and service, and the apparently untapped market and demand for commercial-quality
games that could be bought, delivered, serviced and played in either the home or office.
---
From this realization, and from the profound enjoyment pinball machines and arcade games
brought to him, David started researching "on the side" the possibility of entering the emerging
market for home, office and corporate arcade gaming entertainment, and on a whim, in 2001
he decided to learn how to program in HTML and create a tiny website that initially offered just
a few machines from his collection, to "test the waters", so to speak, for a proof of concept
test for another web-based business that he was at this time deep in the middle of starting up.
And what a test it was - Within a few weeks of launching his tiny three page web site, David
sold out his entire pinball machine collection, and was receiving hundreds of emails a month
from folks and firms all across America and all over the world, wanting to buy his games.

David quickly realized that he might be onto something big, and then quickly started a in-depth
research project of the commercial and residential coin-operated machine market, by contacting
various manufacturers, game collectors and technicians across the country to learn about the
commercial side of the market, and by attending various private shows and industry trade
events featuring coin-operated products, to learn all about the industry from the ground up.
---

Based on his extensive research project, David determined three separate factors:

One, there did not exist any international firm devoted strictly to catering to the needs of both the
commercial, corporate and home user for commercial coin-op products in the USA, or anywhere
else in the world. Sure, there were plenty of small "one-man bands" and "mom and pops" working
out of basements, garages or small shops with a website, or individuals who sold older beat-up
games via eBay or other auctions sites, and a handful of commercial distributors who cater to
arcades and operators, that would occasionally sell sub-standard and heavily used products taken
in on trade, but no firm could really say they were totally focused on restoring, selling, servicing,
supporting and catering to the home, commercial and corporate markets on a nationwide basis.

Two, there currently not a way for consumer, commercial or corporate buyers to safely purchase
amusement products from a internationally recognized firm that could provide machines backed
with a rock solid warranty, international delivery and service, lifetime technical support, and at the
same time, offer buyers a safe online shopping experience, to separate the company from the
many unscrupulous dealers who frequently misrepresented the quality of their products online.
From the above observations, David (who was already a successful businessman and serial
entrepreneur with three profitable startup firms under his belt) concluded there might be a real
opportunity in the market for a nationally-based coin-op firm that would focus primarily on the
home and corporate user, but who would also plan on offering its exceptional services and
innovative ideas in the industry to the larger commercial gaming market in time.

And from these observations, the inspiration and vision of BMI Gaming was formed...
---
Since that first idea, BMI Gaming has grown to become the world's leading coin-op gaming
company catering to home and business users, not only in the USA, but all over the world, with
customers ranging from Family Entertainment Centers and Fun Centers to arcades, shopping
malls, big box stores, arenas, ball parks, sports venues, restaurants, nightclubs, bars, pubs,
hotels, resorts, casinos, cruise ships, skating rinks, bowling alleys, truck stops, break rooms,
office lobbies/waiting rooms, model homes, nursing homes, retirement centers, research labs,
recreational facilities, small businesses and many Fortune 1000 Firms, to non-profits like schools, universities, colleges, gyms, churches, youth centers, hospitals and military bases, plus local, state
and federal government entities to consumers ranging from game collectors, adults, kids, teenagers,
young families, baby boomers, retired folks, c-level professionals, sports athletes, rock musicians
and many broadcast, print, radio and movie stars across the globe from over 90 different countries.
With over 1,400,000 unique visitors per year, BMI Gaming remains the world's leading global
online marketplace, offering its clients over 1600 arcade games, amusement devices and vending
machines through our extensive online web catalog, containing over 1,500,000 words and 1000's
of product brochures, flyers, service manuals and product videos, spanning over 600 web pages.
---

BMI Gaming has been recognized for its success by Inc. Magazine, Entrepreneur Magazine, PriceWaterhouseCoopers, Internet Retailer Magazine and the South Florida Business Journal,
and has appeared in publications and broadcasts from CNN, PBS, BBC and MSNBC to The
New York Times, USA Today, El Mundo, Fortune, Newsweek, Wired and many other publications.




Click here for a list of awards and articles about BMIGaming.com



Click here to read Welcome Letter from our Founder & CEO



Click here for a list of Major Clients we have worked with



Click here to learn more about BMI Worldwide in general



Click here to read BMI Worldwide News & Press Releases