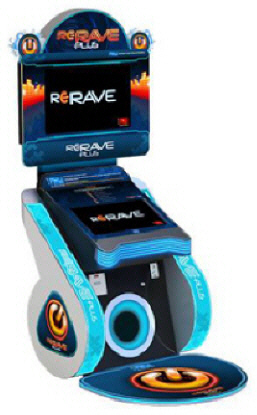 (Shows Factory Produced ReRave Plus Video)
$ SOLD

ReRave Plus Music Rhythm Video Arcade Game -
From the developers of In The Groove, Pump It Up Pro
and projects from DJMax Technika to Friction, comes the
newest model of the popular music game, "ReRave Plus",
which is also a huge hit on tablets and mobile devices !

ReRave Plus combines music rhythm, as well as physical dexterity and accuracy to create a innovative gaming experience that is both fun and challenging for all ages and skill levels. ReRave gameplay breaks the barrier of "old fashioned" scrolling and matching symbol play typically found in music rhythm games with its unique,
fun and "revolutionary" game movements. And ReRave
is the first music "interaction and reaction" based arcade game to feature a huge 42" multiplayer color touchscreen monitor in a internet-enabled cabinet, combined with a
real-time global interactive player ranking network with frequent music and software updates in the near future !

ReRave Plus Music Rhythm Video Game Features :

▪ Awesome, Powerful 1000 Watt Digital Sound System !
▪ Cool Interactive LED Light Show Enhances Gameplay !
▪ Headphone Ports For Personalized Sound Experience !
▪ 2 Player "Head To Head" Gameplay increases Revenues
▪ Global and Local Player Rankings Help Draw Competition
▪ Player Interface with ReRave iOS (On Apple App Store)
▪ (1) 32" LCD Touchscreen Monitor + (1) 26" LCD Monitor
▪ New Songs and Sequences Added Monthly for FREE !
▪ Customized Player Scores and Profiles via PIN Entry
▪ Game Support for Tokens, Coins or Swipe Cards
▪ Fully Supported Language Translations
▪ Proudly Made In The USA !



ReRave Arcade Information Page

ReRave Plus Arcade Game Brochure

ReRave Plus Factory Video Clip

ReRave Arcade Game Award Video
(Shows Gameplay On Older Cabinet)



Optional 220 Volt Power Conversion - Add $



Product Condition : Brand New In Factory Box


Factory Warranty : Factory Game Warranties Page


Power Requirements :

110 Volts | Optional 220 Volts




Monitors : 32"
LCD Multitouch + 26" LCD Top Monitor

Players
: 1 or 2 Player Music Video Arcade Game

ReRave Plus Arcade Video Rhythm Game Dimensions
:

Height: XX", Width: XX", Depth: XX", Weight: XXX Lbs