Golden Tee Golf ? 2017 Home Edition

Factory Showpiece Cabinet Model

Home Online
Play Mode !

Residential or


Free Play

Use





---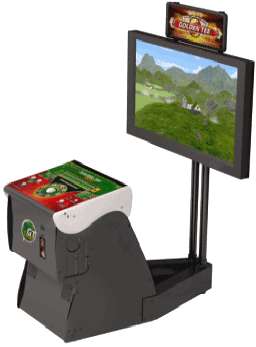 Shown Above With Optional Flat Panel Mount and
Lighted Marquee Topper - Monitor Not Included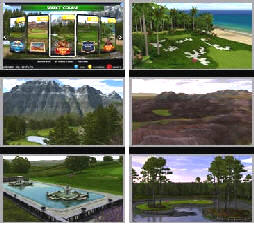 (Shows Factory Produced Video Clip)






(Lift Gate-Curb)
$ 3775 !


Golden Tee Golf 2017 Home Online Pedestal Edition The Golden Tee Golf 2017 Home Edition is perfect for casual use in homes, apartments, offices, social clubs, colleges and
is the perfect game for your mancave or basement game room ! The Golden Tee Home Edition is "Online", and can connects you and your friends to the rest of the virtual-golfing club worldwide ! Just plug it in, play, then roll it away when you?re done - Hooks up to almost any HD Television, and you can plug it into your home network and play

Golden Tee anywhere ONLINE !



COURSES : FIVE (5) NEW Golden Tee 2017 Courses PLUS (55) Golden Tee Courses From 2006 to 2016 !

Golden Tee Golf 2017 Home Edition Features :

▪ Brand-New User Interface For 2017 Golden Tee Home !
▪ Play Offline or Online with Optional Home Subscription !
▪ LIVE Tournaments + Track Your Golf Stats Online !
▪ Upload Your Best Course Shots to YouTube? !
▪ High-Performance Equipment ! (Including Build-A-Bag!)
▪ Players can customize their on-screen characters,
choosing faces, clothes, gear and clubs (limited)


▪

Women can choose Female golfers on GT Golf !




▪

Helpful video golf instructional tips from Steven Sobe,
▪ Premium Golf Clubs, Balls & 100's Of Clothing Options !


▪

Practice Facility Mode & Unique Course Sampler? Mode !


▪

Revolutionary Help Feature Offers Solutions During Play !
▪ Adjustable / Different Player Difficulty Levels

You just need to purchase a Flat Panel Monitor (32"-52")
and if not mounting monitor on a wall, we recommend you
add the Integrated Flat Panel Mount shown below..



GT Golf 2017 New Golf Courses List

GT Golf Home A/V Connection Guide

GT Golf Home Flat Panel Mount Guide

Golden Tee Golf 2017 Factory Video

Optional

Integrated Flat Panel Mount - Add $425


Optional

Lighted GT Marquee Topper - Add $150


Optional 220 Volt Power Conversion - Add $375

Product Condition : Brand New In Factory Box


Factory Warranty : Click For OEM Warranty Info


FREE Warranty : BMI Gaming One (1) Year Warranty


Power Requirements : 110 Volts | Optional 220V


Monitor : User Supplied (32" to 60" Flat Panel Monitor


Players : 1 to 4 Player Golf Video Arcade Game
Golden Tee Golf 2017 Home Edition Model Dimensions :


Height: 39", Width: 24.5", Depth: 30", Weight: 165 Lbs
(With TV Stand : Height: 86", Width: 25.5", Depth: 54")