Tower Of Tickets

Skill Ticket Redemption
Arcade Game

---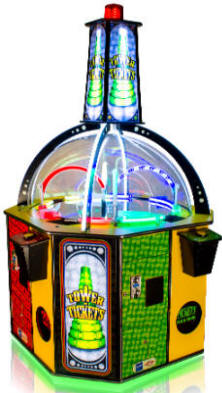 (Shows Factory Produced Video Clip)
$ CALL


Tower Of Tickets Redemption Arcade Game -
Fun for all ages, the new Tower Of Tickets Redemption Game is a 100% skill-based, 1 to 4 player arcade game
which is simple and fun to play ! Players push the button
to engage the sweeping arm in attempt to try to knock off the tower of tickets on the revolving playfield. Skillfully players have to time it just right to win the novel Tower
Of Tickets Bundles worth various ticket values. Bright colors and beautifully lit this game is a great addition to
any game room. The winner beacon will create more players as it goes off celebrating with the winner !!



Tower Of Tickets Game Brochure



Tower Of Tickets Service Manual



Tower Of Tickets Factory Video



Optional 220 Volt Power Conversion - Add $275



Product Condition : Brand New In Factory Box


Factory Warranty : Click For OEM Warranty Info


Power Requirements : 110 Volts | Optional 220V


Players : 1 - 4 Player Ticket Redemption Game

Tower Of Tickets Redemption Game Dimensions :


Height: 85", Width: 55", Depth: 55", Weight: 542 Lbs





Zombie Snatcher Arcade

6 Player
Rotary Prize Redemption Arcade Game

Optional Ticket
Dispensers and
New Auto-Reload
Game Features


---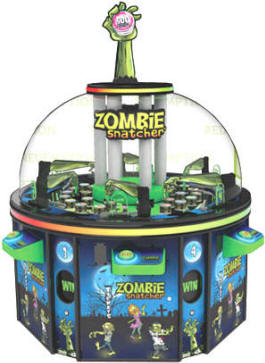 (Shows Factory-Produced Video)






$ CALL !





Best Of Show Award - 2nd Place - BOSA 2015 !

Zombie Snatcher Arcade Rotary Prize Redemption Machine - This fantastic new rotary prize redemption game from ICE & Toccata Gaming is a big hit in all
locations, with a rapid return on investment ! And 2017 Models have the new optional "Auto-Reload" feature!

This very eye-appealing, (6) Player Rotary Prize Game come with a huge transparent top, bright LED Cabinet Lighting, and is compatible with a wide variety of prize
offerings ! Zombie Snatcher's game parameters are
totally operator adjustable, and can used in all ticket redemption centers by just offering bundles of tickets!

Zombie Snatcher is constructed of highly reliable
components for years of heavy duty use, and
comes with six door panels for easy access to
all game controls, and with its easy-to-open top,
makes restocking prizes a very simple operation !

Zombie Snatcher Arcade Prize Game Features :

▪ 1 to 6 Player Rotary Prize Wheel Game 1
▪ Compatibility With Wide Variety Of Prizes !
▪ Can Be Used As A Tickets Or Prize Game !
▪ Bright LED Illuminated Cabinet and Signage
▪ Very Reliable Hardware + Cabinet Design
▪ Easy To Use Operator Controls

Zombie Snatcher Game Brochure

Zombie Snatcher Factory Video

Optional " Auto-Reload " Feature - Add $3275
Optional 6 Player Ticket Dispensers - Add $1075
Optional 220 Volt Power Conversion - Add $FREE

Product Condition: Brand New In Factory Box
Factory Warranty: Click For OEM Warranty Info
Power Requirements : 110 Volts | Optional 220 V
Players : 1 - 6 Player Rotary Wheel Prize Machine

Zombie Snatcher Rotary Redemption Game Dimensions :
Height: 60.5", Width: 84", Length: 84", Weight: 851 Lbs