Silver Strike
X Bowling

Factory Showpiece Cabinet Model

Coin + DBA +
Credit Card
Operated Model

For Offline Use


---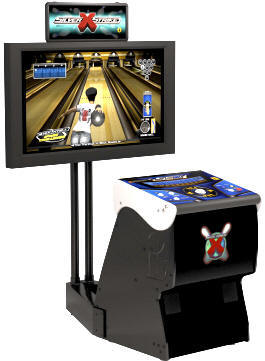 Shown With Optional TV Mount (TV Not included)






$ 3675 !


Silver Strike X Bowling Factory Showpiece Cabinet - Silver Strike Bowling X is the offline edition of the popular Silver Strike Bowling LIVE. Silver Strike X offers players
all the fun of its online counterpart, and is perfect for introducing players who want all the fun but don't care about "lifetime stats" or achievements. Players can select all of the bowling features in Silver Strike LIVE without swiping a card ! With each game players can choose
from a variety of flashy bowling balls clothing options to enhance their game experience. And a new selectable game feature with Silver Strike X, "Flash Bowling", adds
to the action, variety and challenge on the bowling lane !

Silver Strike X Video Bowling Game Details :

▪ Up To 16 Players - Choose Male Or Female Bowlers
▪ New Left and Right Handed Bowlers Capability !
▪ 5 Selectable Ball Weights + Series Play (3 Games)
▪ Color Commentary by Pro Bowler Randy Pedersen
▪ Interactive Player Camera for Quality Instant Replays!
▪ Powerful Hardware w/Stunning 3D Graphics & Effects!

Silver Strike X accepts credit cards, debit cards, bills
and quarters for easy payments and profits, and can
be can be used in locations without internet service. Connection costs are about $10 per month from Sprint

You just need to purchase a Flat Panel Monitor (32"-52")
and if not mounting monitor on a wall, we recommend
adding the Integrated Flat Panel Mount shown below.

Coin, Dollar Bill & Credit Card Acceptors Included !
DBA Accepts $1, $5, $10 and $20 Bills and Credit Cards



Silver Strike X Game Brochure



Silver Strike X Operators Manual



Silver Strike Operator Fees + Forms



Silver Strike X A/V Connect Guide



Integrated Flat Panel Mount Guide



Silver Strike X Factory Video



Optional Integrated Flat Panel Mount - Add $475


Optional 220 Volt Power Conversion - Add $375



Product Condition : Brand New In Factory Box


Factory Warranty : Click For OEM Warranty Info


Power Requirements : Standard 110 Volts Only


Monitor : User Supplied (32" to 60" Flat Panel Monitor)


Players : 1 to 16 Player Bowling Video Arcade Game

Silver Strike X Offline Video Bowling Game Dimensions :


Height: 39", Width: 24.5", Depth: 30", Weight: 205 Lbs
(w/42" TV + Stand : Height: 86", Width: 26", Depth: 54")



Silver Strike LIVE Bowling

Factory Showpiece Cabinet Model

Coin + DBA +
Credit Card
Operated Model

Commercial
Use Only
---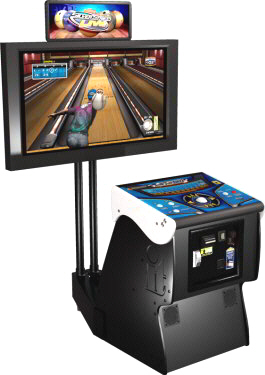 Shown With Optional TV Mount (TV Not included)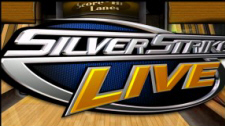 $ 3975 !


Silver Strike LIVE Bowling Factory Showpiece Cabinet - Every game counts in SSB Live, whether
playing for cash, bragging rights or just fun, as they
are played live and online ! And when players add
a extra $1 to play, they enter the "Tournament Prize Game", where if they win the 50 person tournament,
they pocket $10, or finish 20th and players win $1 !
Players also get a free game, plus a customized ball,
and can also try to win a coveted spot in the Silver
Strike Bowling LIVE $100,000 Annual Championship !

Silver Strike LIVE Video Bowling Game Details :

▪ Up To 16 Players - Choose Male Or Female Bowlers
▪ New Left and Right Handed Bowlers Capability !
▪ 5 Selectable Ball Weights + Series Play (3 Games)
▪ Color Commentary by Pro Bowler Randy Pedersen
▪ Interactive Player Camera for Quality Instant Replays!
▪ Powerful Hardware w/Stunning 3D Graphics & Effects!
▪ Optional second monitor and/or external audio can be
added to display live Leaderboard Stats + Sounds !

Silver Strike LIVE accepts credit cards, debit cards, bills and quarters for easy payments and profits, and can be can be used in locations without internet service. Connection costs are about $10 per month from Sprint

You just need to purchase a Flat Panel Monitor (32"-52")
and if not mounting monitor on a wall, we recommend
adding the Integrated Flat Panel Mount shown below.

Coin, Dollar Bill & Credit Card Acceptors Included !
DBA Accepts $1, $5, $10 and $20 Bills and Credit Cards



Silver Strike LIVE Information Page



Silver Strike LIVE Game Brochure



Silver Strike LIVE Operators Manual



Silver Strike Operator Fees + Forms



Silver Strike LIVE A/V Connect Guide



Integrated Flat Panel Mount Guide



Silver Strike LIVE Factory Video



Optional Integrated Flat Panel Mount - Add $475


Optional 220 Volt Power Conversion - Add $375



Product Condition : Brand New In Factory Box


Factory Warranty : Click For OEM Warranty Info


Power Requirements : Standard 110 Volts Only


Monitor : User Supplied (32" to 60" Flat Panel Monitor)


Players : 1 to 16 Player Bowling Video Arcade Game

Silver Strike LIVE Video Bowling Game Dimensions :


Height: 39", Width: 24.5", Depth: 30", Weight: 205 Lbs
(w/42" TV + Stand : Height: 86", Width: 26", Depth: 54")