RedLine GT

Game Theater
Home Simulator

Pro-Quality
Full Immersion
Multi-Game / 3D
Auto Racing and Flying Simulator
Game Machine

"Free-Play"
Non-Coin Use




---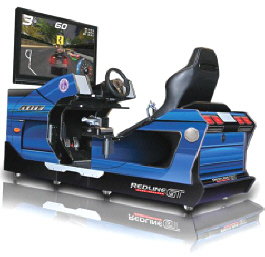 Real Automotive Sports Racing Seat !

Quick-Tilt Technology allows the seat to be instantly adjusted ! | Soild Lateral Support for hours of comfort
Quality Rich Leather Look | Full Range Seat Slide

State-Of-The-Art 3D Racing Now At Home !

Using a 3D-Capable TV + Grand Turismo 5, or
choose from 100's of great 2D racing games !

Optional Flight Simulator Controls !

Flight Simulator mounting hardware allows the Redline GT to be used as a fully loaded flight simulator | Optional Flight Controls pivot from a stored location in seconds











(Lift Gate-Curb)

$ 2995 !


# 1 MOST POPULAR HOME RACING SIMULATOR !
FREE CURBSIDE DELIVERY IN ALL 48 STATES !

RedLine GT Game Theater Automobile Racing +
Air Flight Full Immersion 3D Simulator Machine -

• State-Of-The-Art REAL 3D AUTO RACING is now
available using 3D-Capable TV + Grand Turismo 5 !
• Arcade-Quality Cabinetry - Made in Chicago, USA
by the premier manufacturer of coin-operated games
• 5-Way, Fully Adjustable Cockpit allows player to adjust
for optimal comfort in seconds; Adjustments include Seat
Slider, Quick-Tilt Seat and Telescoping Steering Wheel
• Logitech G27 Driving Controls: Most advanced driving
controls on the market ! Includes True Force Feedback
Steering, Tri-Pedal Assembly (Gas Pedal, Brake Pedal
and Clutch Pedal) plus a Six (6) Speed Pro Shifter
• Immersive Audio With Custom-Build Five (5) Channel,
170 Watt Audio Amplifier, coupled with Four (4) Quality
Speakers immerse player in rich vibrant Digital Audio !
• Rapid-Adjust Pedals allow player to move the pedals
forward / back before locking into place, and the Quick
Set Armrests raises armrests instantly + Locks in place
• High Energy, 100 Watt Vibration Transducer rattles the
player physically reproducing every nuance of the road !
• Awesome Blue LEDs illuminate the undercarriage
creating a blue halo effect under the game !
• Game Control Switch : Press a button and instantly
switch Driving / Flight Simulator Controls from a PC
to PlayStation 3 ! Play PC Games, and with the push
of a button, play PS3 games without unplugging cables !
• Rear Storage Area - Can accommodate a Personal
Computer if desired, or serve as extra storage area
for your favorite games and gaming peripherals !
• Keyboard Drawer for quick access to Keyboard/Mouse
• Supports All PlayStation 3 and PC-Based Games !
• 42" Monitor, PS/3, PC, Keyboard or Mouse Not Included

The RedLine GT Driving Simulator does not come with
Monitor or PlayStation 3 Console - You will need to buy
a inexpensive Flat Panel TV (42" Recommended) plus a PlayStation 3 or PC of your choice - Then Hookup & Go !

PLEASE NOTE : SOME LIGHT ASSEMBLY REQUIRED



RedLine GT Simulator Owners Manual

RedLine GT Home Simulator Video

Optional Flight Simulator Controls - Add $CALL


Optional 220 Volt Power Conversion - Add $375



Product Condition: Brand New In Factory Box


Factory Warranty : Click For OEM Warranty Info


FREE Warranty : BMI Gaming One (1) Year Warranty !


Extended Warranty : Available - Click Here For Details


Power Requirements :
110 Volts | Optional 220V

Monitor : User Supplied (LCD or Plasma Flat Panel)


Players : 1 Player Racing / Flight Simulator Machine

Redline GT Game Theater Assembled Dimensions :


Height: 35", Width: 35", Depth: 82", Weight: 485 Lbs
(Ships In Two Pieces : Seat and Main Cabinet Sections
to fit through any standard doorway 32" or wider)