PowerPutt ®
LIVE

Factory Showpiece Cabinet Model

Coin + DBA
+ Credit Card
Operated Model

Commercial
Online Use Only

---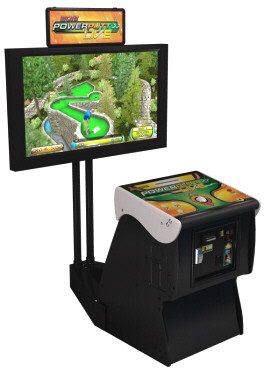 Shown With Optional TV Mount (TV Not included)





$ 3775 !


Power Putt LIVE Mini Golf Showpiece Cabinet -
This fun yet realistic Miniature Golf game comes with features like "Poker Putt", which brings the thrill of the poker table to your mini-golf putting ! Try to get the best hand! New "Accomplishment Badges" can earned for
hole-in-ones, rebound points, streaks and great shot s!

Power Putt LIVE Video Mini Golf Game Features :

▪ (11) Total Hyper Realistic 18-Hole Mini Golf Courses !
▪ Tournament Mode hosts anywhere from 4 -16 players !
▪ Scrolling LED Display -See game features and scores
from across the room! - Scrolling banner with simulated
red dot matrix type shows off player accomplishments.
▪ Local Leaderboards and Course Champion Screens to
find out who the REAL PowerPutt Bar Champions are !

Power Putt LIVE accepts credit cards, debit cards, bills and quarters for easy payments and profits, and can be can be used in locations without internet service. Connection costs are about $10 per month from Sprint

You just need to purchase a Flat Panel Monitor (32"-52")
and if not mounting monitor on a wall, we recommend
adding the Integrated Flat Panel Mount shown below.

Coins + $1 to $20 Bill Acceptors Included In Price !
DBA Accepts $1, $5, $10 and $20 Bills and Credit Cards



PowerPutt LIVE Information Page



PowerPutt LIVE Game Brochure



PowerPutt LIVE Operators Manual



PowerPutt Operator Fees + Forms



PowerPutt LIVE A/V Connect Guide



Integrated Flat Panel Mount Guide



Power Putt LIVE Factory Game Video



Optional Integrated Flat Panel Mount - Add $475


Optional 220 Volt Power Conversion - Add $375



Product Condition : Brand New In Factory Box


Factory Warranty : Click For OEM Warranty Info


Power Requirements : Standard 110 Volts Only


Monitor : User Supplied (32" to 60" Flat Panel Monitor)


Players : 1 to 16 Player Mini Golf Video Arcade Game

Power Putt LIVE Video Arcade Golf Game Dimensions :


Height: 39", Width: 24.5", Depth: 30", Weight: 205 Lbs
(w/42" TV + Stand : Height: 86", Width: 26", Depth: 54")
Click on the big arrow below to view a short Video Preview
of the

Power Putt Mini Golf

(shows older 2012 model)

in action !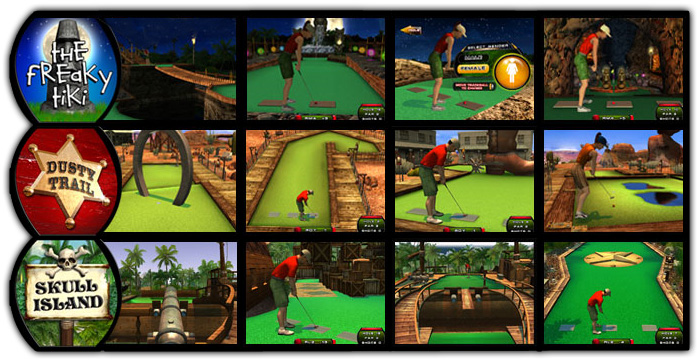 11 Hyper-Realistic 18-Hole Courses - Each hole is more challenging than the last!
1 to 8 Players Can Compete - Perfect for casual couples or organized leagues!
Tournament Mode for 4 - 16 players - Find out who is the PowerPutt Champion!
Leaderboards & Course Champion Screens - Everyone knows who is the best!
Unique New "Hit List" Music Feature ! Discover new music while you play !

Huge Variety of Gameplay Techniques - Take the risk, get the reward!

Bank Shots ! Trick Shots ! Jump Shots ! Lucky Shots ! Shortcuts ! Timed Shots !