Cotton Candy
Factory

Automatic
Cotton Candy
Vending Machine

---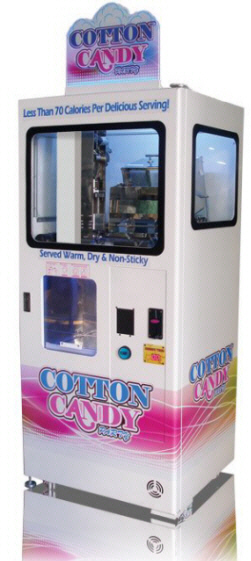 $ 7975 !




Cotton Candy Factory Vending Machine - Developed for simple operation and serviceability, its Stainless Steel Interior simplifies cleaning and extends service life, plus
the energy-efficient LED Lighting offers long life. Minimal
service required via exclusive patented "self-cleaning" system which cleans bowl ands unit after every 10 vends to prevent sticky build-ups that can impair product quality.

Fun to watch "spinning" process yields light, fluffy, dry and yummy cotton candy ! Spin head assembly runs at
3200 RPM, which "cooks through" the sugar completely without the excessive heat or torque of other models.

The Cotton Candy Factory produces about 300 vends per load. Cost for single vend is $ 0.15, and consists of 25g
of sugar at $0.02 and one stick at $0.13. 100% Natural Product (If no coloring is used) If using coloring, and the suggested cotton candy color is "Vanilla Pink", which
can be purchased directly from Gold Medal Products.

The Programmable Electronic Coin Acceptor can be programmed to accept ANY coin, and eliminates many jammed coin service calls. Comes with a ICT A6 Dollar
Bill Validator (DBA) for $1 & $5 dollar bills acceptance.

Cotton Candy Factory Machine Features :
▪ 100% Natural Snack Product ! (If coloring not used)
▪ Uses Ordinary Sugar or Optional Flavored Sugars
▪ Buy Sugar At Any Grocery or Wholesale Store !
▪ Uses No Water and has Automatic Bowl Cleaning
▪ All Steel Cabinet with Stainless Steel Interior
▪ 300 Vend Capacity / Holds 12 Lbs Of Sugar !
▪ Costs Around 10-15 Cents Per Vend !
▪ Operator Adjustable Vend Price
▪ Dollar Bill (DBA) and Coin Acceptor
▪ Easy to Clean and Restock

Cotton Candy Factory Brochure

Optional Cotton Candy Sticks (1500) - Add $CALL


Optional 220 Volt Power Conversion -
Add $250



Product Condition : Brand New In Factory Box


Factory Warranty :
See OEM Game Warranties

Power Requirements :
110V / 11As | Optional 220V
Cotton Candy Factory Vending Machine Dimensions :


Height: 76", Width: 36", Depth: 29.5", Weight: 675 Lbs
(Note: Height With Topper Sign Installed is 89" Tall)