Milk Jug Toss
Ticket Redemption
Ball Toss Game
---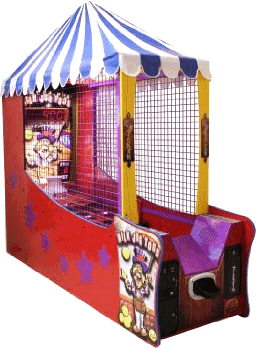 (Shows Deluxe Two Player Model)
Milk Jug Toss Carnival / Midway Style Ball Toss
Ticket Redemption Game - This all-time favorite
classic carnival / midway game has been transformed
into a eye-catching ticket redemption arcade game !

Players toss the balls into the milk jug or surrounding
holes to win ticket prizes using the patented vacuum mechanism, and also try to go for the "Super Bonus"
by getting all the balls in the jug - A instant "family
favorite" and a must have for all redemption arcades !

Milk Jug Toss Games Brochure

Milk Jug Toss Service Manual

Milk Jug Toss Live Video

Milk Jug Toss Factory Video

Optional Deluxe Game Marquee - Add $2475
Optional Dollar Bill Acceptor / Stacker - Add $425
Optional 220V Operation (Transformer) - Add $295

Product Condition : Brand New In Factory Box
Factory Warranty : Click For Warranty Information
Power Requirements : 110 Volts | Optional 220V
Electrical Usage : 110V @ 3A | 220V @ 2A
Players : 1 Player Ticket Redemption Ball Toss Game

Milk Jug Toss Carnival Ball Toss Game Dimensions :
Height: 108", Width: 35", Depth: 120", Weight: 896 Lbs



Milk Jug Toss
Deluxe

2 Player Deluxe Marquee Model

Ticket Redemption
Ball Toss Game
---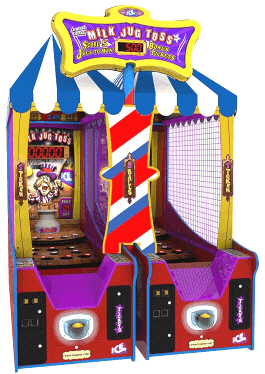 Shown Above With Included Deluxe Marquee



Milk Jug Toss Carnival / Midway Style Ball Toss
Ticket Redemption Game 2 Player Model - This
deluxe mode of the the all-time favorite classic carnival game has been transformed into a very eye-catching and super cool neat ticket redemption midway arcade game !

Players toss the balls into the milk jug or surrounding
holes to win ticket prizes using the patented vacuum mechanism, and also try to go for the "Super Bonus"
by getting all the balls in the jug - A instant "family
favorite" and a must have for all redemption arcades !

Milk Jug Toss Games Brochure

Milk Jug Toss Service Manual

Milk Jug Toss Live Video

Milk Jug Toss Factory Video

Optional Deluxe Game Marquee - Add $2475
Optional Dollar Bill Acceptor / Stacker - Add $425
Optional 220V Operation (Transformer) - Add $295

Product Condition : Brand New In Factory Box
Factory Warranty : Click For Warranty Information
Power Requirements : 110 Volts | Optional 220V
Electrical Usage : 110V @ 6A | 220V @ 4A
Players : 1 -2 Player Midway Style Ball Toss Game

Milk Jug Toss Deluxe Carnival Ball Toss Game Dimensions :
Height: 108", Width: 72", Depth: 120", Weight: 1989 Lbs





NBA
Game Time

Basketball
Arcade Machine

---


$ CALL

NBA Gametime Basketball Arcade Machine
-



Upcoming Item, More Info Coming Soon !



NBA Game Time Game Brochure

NBA Game Time Service Manual

NBA Game Time Arcade Video

Optional 220V Operation Transformer (4) - Add $1175

Product Condition : Brand New In Factory Box
Factory Warranty : Click For Warranty Information
Power Requirements : 110 Volts | Optional 220V
Electrical Usage : 110V @ 6A | 220V @ 3A
Players : 1 Player Basketball Sports Arcade Game

NBA Game Time Arcade Basketball Game Dimensions :
Height: XXX", Width: XX", Depth: XXX", Weight: XXX Lbs
(Height Does Not Include Optional Marquee Sign)



NBA Hoop Troop


Kids Basketball Arcade Game
---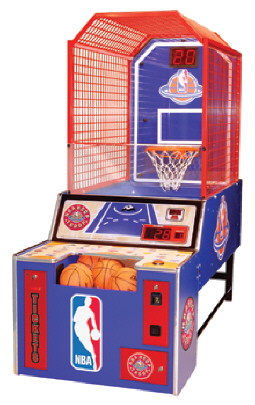 NBA Hoop Troop Kids Basketball Game
- NBA Hoop Troop is the most recent addition to the long list of ICE
branded sports-themed redemption games it offers!

NBA Hoop Troop is an exciting and kid-friendly game
that will be a staple piece for years to come. Featuring
an intense LED kit with over 100 LED's to enhance the already stunning graphics package, and paired with ?▪ acrylic backboard plus a gleaming hard wood floor,
NBA Hoop Troop is a SLAM DUNK for any location!

ICE incorporated the ever popular stationary basket,
ideal for minimal maintenance costs, and also uses a
5 1/2" ball which is easier for younger players to hold
and throw while being safer in case of bouncing back towards the player. Using the same software package
as ICE's other basketball games, Hoop Troop features
the 3 point hot shot during the last 10 seconds of every game making this competitive and enjoyable for all !



NBA Hoop Troop Game Brochure



NBA Hoop Troop Service Manual



NBA Hoop Troop Live Video Clip

Optional
LED Lighting Package
- Add $475


Optional Ticket Dispenser - Add $195


Optional Dollar Bill Acceptor / Stacker - Add $425


Optional 220V Operation (Transformer) - Add $295



Product Condition : Brand New In Factory Box


Factory Warranty : Click For Warranty Information


Power Requirements : 110 Volts | Optional 220V


Electrical Usage : 110V @ 4A | 220V @ 2A


Players :1 Player Kids Basketball Arcade Game

NBA Hoop Troop Kids Basketball Game Dimensions :


Height: 72", Width: 35", Depth: 79", Weight: 679 Lbs



NBA Hoops Basketball

Basketball
Arcade Game


Optional LED Lighting Package
---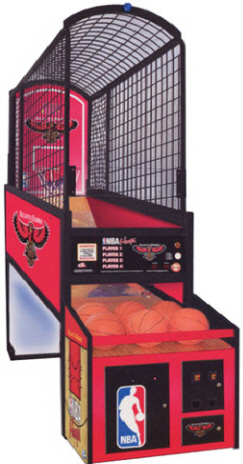 $ CALL !
(1 Player) $ CALL !
(2 Player)


NBA Hoops Basketball Arcade Machine - Attention basketball fanatics - Score a "slam dunk" with the NBA
by getting the new "NBA Hoops" with the official NBA license for this new style basketball game from ICE !

The very popular NBA Hoops Basketball Game has been recently re-designed with fully adjustable front cabinet, hardwood floor, NBA-sized hoops to accommodate 9" basketballs for realism and win ratios + a polycarbonate backboard for realistic scoring and long-term durability.

NBA Hoops Basketball includes a large 40 Second Game Clock located behind the backboard. Feel the pressure as time clicks down. Bring a new look to your arcade or FEC !

YOU CAN LINK UP TO 4 GAME UNITS FOR TRUE
HEAD TO HEAD COMPETITION AND SCORING !

NBA Hoops Basketball Game Brochure

NBA Hoops Basketball Service Manual

NBA Hoops Basketball Video

Optional LED Lighting Package - Add $475
Optional Deluxe Marquee Sign - Add $1475
Optional Single Game Beacon Light - Add $95
Optional Game Link + Beacon Light - Add $125

Optional Ticket Dispenser - Add $195
Optional Dollar Bill Acceptor / Stacker - Add $425
Optional 220V Operation (Transformer) - Add $295

Product Condition : Brand New In Factory Box
Factory Warranty : Click For Warranty Information
Power Requirements : 110 Volts | Optional 220V
Electrical Usage : 110V @ 2A | 220V @ 1A
Players : 1 Player Basketball Sports Arcade Game

NBA Hoops Basketball Arcade Game Dimensions :
Height: 116", Width: 33.5", Depth: 120", Weight: 749 Lbs