Mighty Mini
Merchandiser

Dinosaur
Claw Crane

Prize
Redemption Crane Game
---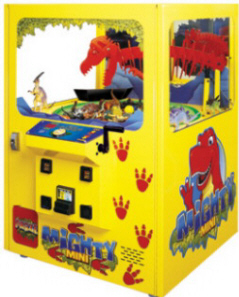 $ CALL !


Mighty Mini Dino Prize Merchandiser Crane Claw -
ICE's fantastic, innovative and very unique " dino " prize merchandiser game called the MIGHTY MINI DINO!

The Mighty Mini Claw Crane is a kids dinosaur-themed prize merchandiser machine that is ideal for super balls,
beanie plush, plastic dinosaurs and many other novel
kiddie toys besides plush that kids just love to win!

Players have FULL control of the rotating tub and can
open or close the jaws of the dinosaur. Never before
has a player seen so much control over a merchandise game. Right before player's eyes, they watch the cool
dinosaur DIG his jaws into the prizes while they open
and close his jaws and many times as they want !

The Mighty Mini comes with very bright cabinet colors,
attractive graphics as well as great sound effects!
In addition, it's ideal for young children as well..



Mighty Mini Crane Brochure

Mighty Mini Crane Manual

Mighty Mini Crane Video

Optional 220V Operation (Transformer) -

Add $295





Product Condition : Brand New In Factory Box


Factory Warranty :
Click For OEM Warranty Info

Power Requirements : 110 Volts | Optional 220V

Electrical Usage : 110V @ 1.5A | 220V @ 1A


Players : 1 Player Crane Redemption Arcade Game

Mighty Mini Merchandiser Claw Crane Game Dimensions :

Height : 48", Width: 36", Depth: 33", Weight: 421 Lbs