Emerald Treasure
Classic Coin Pusher Game

---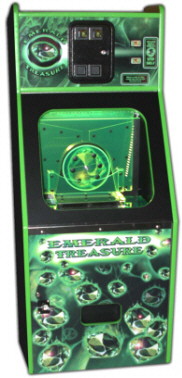 $ 2175 !


Emerald Treasure Coin Pusher - Straight up classic
coin and/or token pusher game from the folks at FunCo !

Unique cabinet design with attractive, eye-catching
LED "Glo" edge lighting, plus small footprint ! Accepts
either coins or tokens, customer choice. Great classic
coin pusher perfect for bars, truck stops, arcades, etc.

Emerald Treasure Coin Pusher Game Features :

▪ Players have the ability to start the coin wheel rotation
▪ Edge-Lit Plexiglas Creates Cool "Glo" Lighting Effects !
▪ Self Loading / Reloading Coin Bed
▪ Large Coin Bed + Coin Meter
▪ Long-Lasting LED Lighting
▪ Extensively Field Tested
▪ Security On All Doors



Product Condition : Brand New In Factory Box


Factory Warranty : Click For OEM Warranty Info


Power Requirements : Standard 110 Volts


Players : 1 Player Coin or Token Pusher Game

Emerald Treasure Coin Pusher Game Dimensions :


Height: 64.5", Width: 25.5", Depth: 24", Weight: 260 Lbs

Flip 2 Win
Coin Pusher
Redemption Game
---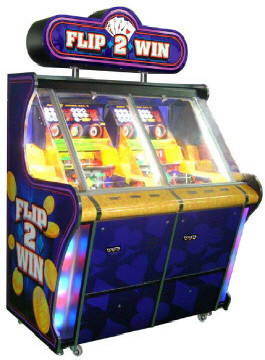 $ 12675 !



Flip 2 Win Coin Pusher -Flip 2 Win by Family Fun Companies is a 2 Player Coin / Token Pusher game.
There are three chutes that the player puts coins into. Each chute puts its corresponding spinning dice into action. With each coin, the player is looking to match
up the dice to win big. The players also win tickets
for coins over the edge just like other pushers do.

But what makes Flip 2 Win really different is that players get to choose which dice to change to help them win larger amounts of tickets from the Bonus Line.

The Bonus Lines challenges the player to get the best hand to win additional tickets.



Flip To Win Game Brochure



Flip To Win Service Manual



Flip To Win Coin Pusher Live Video



Optional Card Swipe Coin Hopper Kit - Add $1075


Optional 220 Volt Power Conversion - Add $ CALL



Product Condition : Brand New In Factory Box


Factory Warranty : Click For OEM Warranty Info


Power Requirements : 110 Volts | Optional 220V


Players : 1 - 2 Player Coin Pusher Redemption Game

Flip 2 Win Coin Pusher Redemption Game Dimensions :


Height: 80", Width: 56", Depth: 41", Weight: 742 Lbs